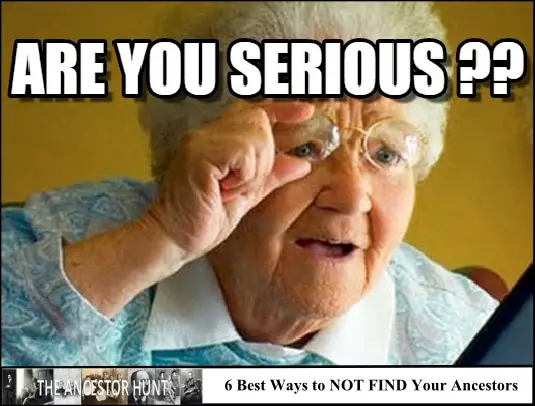 Genealogy researching is hard; nobody cooperates; the database you want to research is the next county over; you have names that have thousands of duplicates; the online family trees are all over the place, etc. So you continue to not find your ancestors.
In the interests of keeping this losing streak alive, here are 6 ways to continue to not find your ancestors:
Don't interview your older relatives – I have 3 of them left and what a pain they are. They can't hear you. They suffer from CRS disease (Can't Remember Squat). If you bring a bunch of technology, like voice recorders, smartphones, iPads, laptops – they freak out. Don't bother showing them your old photos because most of the answers will be "I don't remember" or "I don't know." And that is if you can get them to stop crying over all their old friends and close relatives who have died. And make sure you argue with them when they tell you something about somebody that you know is not true. They are probably wrong anyway. They were "there" but their memory is failing so they are probably making stuff up. Make sure you ask them about all the "skeletons in the closet" stories that you heard about them and others. That will really get them to cooperate, because at their age they like nothing better than to tell embarrassing stories about themselves that they forgot about 40 years ago. Yeah – older relatives – what a waste of time. And they will be mad at you afterwards for dredging up old crappy memories.
Always do exact searches – When you are searching online, like FamilySearch or that not free one – Ancestry? Or any other – make sure that you always do exact searches because those are the best. If you have written down that they lived in Georgia, why would you search in South Carolina – that's dumb. And oh yeah – regarding last name spelling – Imagine the census taker in the early 1900's. They show up at the door and ask your great grandmother a bunch of questions. He says – "What's your last name? And she says "Mankiewicz". He says "Huh?" She says "Mankiewicz" and knowing that most people have no clue how to spell it – she starts "M..A..N…." and he writes down the letters one by one. So no mistakes made there. And even if she didn't spell it out for him, he was smart enough to know how to spell it. They paid those census takers a lot of money – so they were smart and also had to have exceptional penmanship to get the job. So you say – what about the data entry of documents into an index? Ever heard of two pass verification or double data entry – problem solved – 99.5% success is pretty darn good. So you say – what about the changing of names at Ellis Island?  Don't even get me started on that hocus pocus baloney. Of course they were all changed – nobody could speak English, Duh!
Only search online – Everybody knows that everything is online, so why would you want to go to a library or an archive? You can't take pictures; you have to wear gloves, and forget going to a courthouse – all that dust and crabby people that work there? Not for me. And besides you have to get out of your pajamas, get dressed – shave or put makeup on – no way. And it takes too darn long looking for things one boring page at a time. You can't read half the stuff anyway. Don't get me started with microfilm readers. So 20th century!
Don't write down where you got stuff – all the experts tell you to write down where you found stuff – you know documents and things. Why? You already found it – so why would you write down where you found it? That's dumb. If you were walking down the street and found a twenty dollar bill would you rush home and write down the address of where you found it? Heck no – you'd spend it. Look – I found it – you didn't. if you want to prove me wrong – go find it yourself. That's your problem, not mine. Why? Cause I already found it. That's another "Duh". So you say – for future generations!. Again that's their problem – you'll be dead anyway – what do you care?
Copy from every tree you can find – this is my favorite because it makes it so easy to not find any of the right ancestors. There are tons of already perfect family trees out there – on Ancestry, FamilySearch, WikiTree, My Heritage, and many more. I have always felt that if it is written down and/or published then it has to be correct. So you want to join all these sites and copy all of the trees and merge them with your tree. Then you will have tons of possible ancestors all in one place. What a goldmine of ancestors – most of whom aren't yours.
Don't try to find living relatives – Okay – you have been at this "not finding ancestors" thing for quite awhile. Everybody says that you should try to find "cousins" – not necessarily first cousins, but 2nd, 3rd, removed ones, etc. Have you met my cousins? I don't need more cousins like them. But I digress. Here's the deal – if these so-called cousins were interested in genealogy wouldn't they have already contacted you? And if they haven't, then it means that they don't care. And let me tell you – some of these cousins make this "not finding ancestors" thing an art form. They hide old boxes of ancestor documents and photos in their garages and attics and claim to have no time to look through them. So don't even bother trying to find them and contact them. Keep your not finding ancestors streak alive.
FULL DISCLOSURE – everything written above is intended to be a joke. PLEASE do NOT do any of these things like I said. Meet with your older relatives NOW; don't rely on exact searches; get out of the house and to libraries and archives – that is where you will find some really great stuff; please write down your sources – if not for future generations but for yourself – so you don't have to ask yourself where you found it; be very careful with existing online family trees – use them as clues only and VERIFY!; and yes – try to find other "cousins" – not only will you expand your tree but you will meet some great people who may indeed help you.