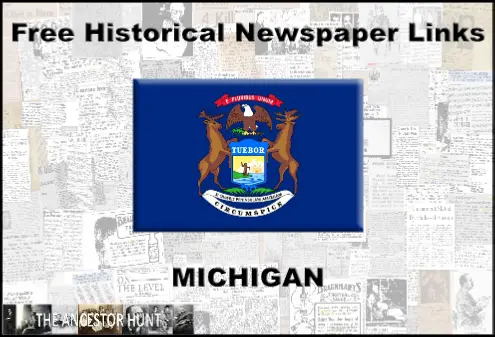 Michigan is one of the states that has a couple of central online repositories for searching historical newspapers. Several states use the Library of Congress Chronicling America site as their main central online site for searching old newspapers and the state makes use of this site as well. The online newspaper titles are also available from several different sites, many free, and many require a subscription. Below is a list of where the titles are stored and the link so that you can access them. 
There are around 4,000 newspapers that have been published in the Wolverine State – certainly not all of them are searchable online. But there are quite a few that are indeed available. So go for it – find your Michigan ancestors and all the interesting articles that capture the stories of their lives. 
Please note that I have not always entered the dates that are included in the collections, as I suspect they will change as more items are digitized. Also, I suspect that some of these links may change over time – so if there is a dead link – please use your favorite search engine to find their new location. 
(Updated July 2023; recently added links are in BOLD)
Michigan Historical Newspapers
Free Sites:
Statewide Collections:
Chronicling America – Michigan
Google News Archive
Antrim County News — Bellaire, Antrim County; Mancelona, Antrim County (Mich.) — 19 June 1947 – 22 December 1966
Clare Sentinel and the Democrat-Press — Clare, Clare County (Mich.) — 28 December 1894 – 24 July 1896
East Lansing Community Life — East Lansing, Ingham County (Mich.) — 10 January 1919 – 27 December 1923
East Lansing Towne Courier — East Lansing, Ingham County (Mich.) — 3 January 1963 – 18 December 1963
Grand Traverse Herald — Traverse City, Grand Traverse County (Mich.) — 3 November 1858 – 27 October 1910
Isabella County Enterprise — Mount Pleasant, Isabella County (Mich.) — 13 January 1875 – 27 August 1926
Jeffersonian, and Oakland, Lapeer, & Shiawassee Advertiser — Pontiac, Oakland County (Mich.) — 16 July 1839 – 29 November 1839
Leelanau Enterprise — Northport, Leland, Leelanau County (Mich.) — 1 January 1880 – 25 December 1997
Mount Pleasant Times and Isabella County Enterprise — Mount Pleasant, Isabella County (Mich.) — 9 September 1926 – 1 December 1927
Paw Paw Free Press and Courier — Paw Paw, Van Buren County (Mich.) — 2 January 1913 – 25 December 1913
Pinconning Journal and Bay County News — Pinconning, Bay County (Mich.) — 8 April 1925 – 23 December 1936
Michigan Digital Newspaper Portal (By County)
County and Library Collections:
Aitkin Memorial District Library
Croswell Jeffersonian

Sanilac County Jeffersonian

Sanilac County Jeffersonian/Advisor

Sanilac Jeffersonian

Sanilac Jeffersonian and the Sanilac County Times
Allegan County News and Gazette (1966-1994)
Allegan County's Chamber & Business News (1999-2001)
Allegan Democrat (1896)
Allegan Gazette (1882-1949)
Allegan Journal and Tribune (1883-1888)
Allegan Journal (1856-1897)
The Allegan County News (1994-2018)
The Allegan News-Gazette (1955-1964)
The Allegan Press (1906)
The Allegan News (1901-1955)
The Daily Gazette (1888)
The Kalamazoo Gazette (1963-1963)
Almanian

The Weekly Almanian
Ann Arbor District Library Historic Newspapers
Huron County Tribune (1909-1925) Free
Huron Tribune and Huron County Gazette (1883-1884) Free
The Bad Axe Democrat (1885-1891) Free
The Bad Axe Weekly Republican (1899) Free
The Huron County Republican (1901-1902) Free
The Huron Tribune and The Huron County Republican (1903-1905) Free
The Huron Tribune (1881-1909) Free
Benzie Shores District Library
Benzie Banner
Benzie County Patriot
Benzie Record
Benzie Record Patriot
Benzonia Citizen
Elberta Alert
Frankfort Express
Frankfort Times
South Frankfort Alert
Berrien County Record
Buchanan Argus
Buchanan Banner
Buchanan News
Buchanan Reporter
Buchanan Weekly Union
Michigan Independent
Canton Observer & Eccentric (1974-1976)
Canton Observer (1976-2017)
The Tuscola Advertiser (1868-1879)
Tuscola County Advertiser (1868-2018)
Dearborn Public Library
Greenville Daily News (1927-1949) 
Independent Daily News (1924-1927) 
The Daily News and Belding Banner (1974-1977) 
The Daily News (1949-2009) 
Jordan Valley District Library
Boyne Area And East Jordan Observer 2009-04-08 Thru 2009-07-01
Boyne Citizen 1952-06-19 Thru 1952-10-09
Charlevoix County Herald 1902-05-23 Thru 1953-07-24
Charlevoix County News 2009-06-18 Thru Present
Charlevoix County Press 1977-04-07 Thru 1991-12-25
Charlevoix County Press 1993-03-03 Thru 1993-03-09
Charlevoix County Press 1993-12-15 Thru 1993-12-21
East Jordan Journal 1993-11-24 Thru 1998-04-22
East Jordan News-Herald 1953-01-31 Thru 1967-03-30
East Jordan News-Herald 1955-01-06 Thru 1962-12-27
East Jordan Public Schools Newsletter August 1977
East Jordan Swan City Express July-August
Jordan Journal 1998-04-29 Thru 2001-11-28
Northland Press 1969-05-15 Thru 1972-07-17
Oakland Press Metro 1992-05-17
Petoskey News-Review 1972-05-25
The Citizen-Journal 2001-12-05 Thru 2009-01-28
The East Jordan News 1952-10-02 Thru 1953-07-23
The Torch And East Jordan Journal 1992-11-11 Thru 1993-11-17
Chelsea District Library Newspaper Archives 
Chelsea Standard

The Chelsea Herald

The Chelsea Standard

Chelsea Standard-Herald

The Chelsea Tribune

The Dexter Leader

The Sun Times News

Washtenaw Now
Coloma Public Library Newspaper Archives
Coloma Courier

Watervliet Record

Tri-City Record
The Concord News
Concord Independent
The Concord News And Jackson County Legal News
Farmington Enterprise (1888-1967)
Farmington Observer & Eccentric (1974)
Farmington Observer (1976-2019)
The Farmington Enterprise and Observer (1967-1974)
The Observer of Farmington (1967)
Grand Ledge Independent 

Grand Ledge News
Grand Rapids CIO News
Grand Valley AFL CIO News
Grand Valley Labor News
Work In Progress
Greenwood Cemetery (Petoskey) Newspaper Archives
Emmet County Democrat (1875-1876) Free

Emmet County Graphic (1931-1959) Free

Emmet County Independent (1881-1882) Free

Harbor Springs Graphic (1895-1896) Free

Levering Local (1915-1916) Free

Little Traverse Republican (1877) Free

Petoskey City Record (1878-1883) Free

Petoskey City Weekly Times (1874) Free

Petoskey News-Review (1954-2019) Free

The Daily Resorter (Harbor Springs) (1883-1885) Free

The Daily Resorter (Petoskey) (1887-1896) Free

The Independent Democrat (1875-1903) Free

The Northern Independent (1882-1886) Free

The Pellston Journal (1903-1915) Free

The Petoskey Evening News and Daily Resorter (1906-1954) Free

The Petoskey Independent (1906-1913) Free
Grosse Pointe News

Grosse Pointe Review

Grosse Pointe Civic News
Harbor Beach Area District Library
Harbor Beach Times

Huron County News

Huron Times

Sand Beach Times

Times Harbor Beach Edition
Ironwood Carnegie Library Newspaper Archives
Kalamazoo Public Library Historic Newspapers
Allegan County Record

Augusta Beacon

Climax Cereal

Climax Crescent

Evening Telegraph

Kalamazoo Daily Telegraph

Kalamazoo Evening Telegraph

Kalamazoo Telegraph-Press

Kalamazoo Weekly Telegraph

Michigan Telegraph

Kalamazoo Shopper

Kalamazoo Telegraph

Kalamazoo Weekly News and Shopper

Otsego Union

Parchment Journal

Parchment News

Scotts Cereal

Semi-Weekly Argus

The Argus

The Galesburg Argus

The Horizon News

The Independent

The Kalamazoo Gazette

The Kalamazoo Gazette Weekly

The Progressive Herald

The Weekly Union
The Kalkaska Leader and The Kalkaskian (1910-1926)
The Kalkaska Leader (1879-1910)
The Kalkaskian (1898-1910)
The Leader and The Kalkaskian (1926-2012)
Ledger Suburban Life

Lowell Journal

Lowell Ledger

Lowell Ledger Suburban Life

Lowell Weekly Journal

The Grand Valley Ledger
The Morenci Observer
State Line Observer
Morenci Observer
Marlette Index

Marlette Leader
Michigan Community Home Papers
Munising School Public Library (in library)
Alger County Democrat

Alger County Independent

Alger County Republican

Cloverland Farmer

Gazette

Grand Marais Herald

Grand Marais Pilot and Pictured Rocks Review

Lake Superior Breeze

Lake Superior Pilot

Munising News

Munising Republican

Wrights Weekly

Yearbook
North Branch Gazette

Weekly Gazette

The Brown City Banner
Sanilac County Press
The County Press
Peck Press
The North Branch News
The Western Chronicle
The St. Joseph County Observer
The Centreville Observer
Oakland County Historic Newspapers
Clarkston Advertiser

Clarkston Eccentric

Clarkston News

Clarkston Record

Lake Orion News

Oakland County Advertiser

Orion Review

Rochester Eccentric

Rochester Era

The Novi News

The Reminder
Otsego County Library Digital Archives
Gaylord Herald Times

Gaylord Herald Times

Herald Times (1970)

Herald Times (1976)

Northern Michigan Herald Times

Otsego County Herald

Otsego County Herald and Times

Otsego County Herald Times (1925)

Otsego County Herald Times (1970)

Otsego County Times
Plymouth Community Crier (1974)
Plymouth Mail (1887-1967)
Plymouth Observer and Eccentric (1974-1975)
Plymouth Observer (1983-2016)
The Community Crier (1976-1998)
The Livonian Observer Plymouth Edition (1962)
The Livonian Plymouth Edition (1961-1962)
The Livonian (1962)
The Observer of Plymouth (1962-1967)
The Observer (1962)
The Plymouth Mail and Observer (1967-1974)
Pontiac Herald
The Pontiac News
The Redford Observer (1955-2017) Free
The Redford Township News (1968-1971) Free
The Suburban News (1971-1990) Free
The Township News North End Edition (1967-1968) Free
The Township News (1963-1968) Free
Chesaning Argus

Chesaning Argus (1877)

Chesaning Semi-Weekly Argus

Chesaning Weekly Argus

Chesaning-Montrose Argus

Courier

Saginaw Valley Advertiser

Saginaw Valley News

Saginaw Valley Weekly News

The Tri-County Citizen

Tri-County Citizen
Royal Oak Public Library Digital Archive
Daily Tribune (1925-2019)
The Berkley Tribune (1923-1924)
The Clawson Tribune (1923-1925)
The Experiment (1877)
The Hazel Park Tribune (1924-1925)
The Royal Oak Midget (1879)
The Royal Oak Tribune (1908-1925)
Romulus Public Library Historic Newspapers
Romulus Roman
The Romulus News
The Little Paper
The Huron River Weekly
The Huron News
The Huron Highlighter
The Eagle and Enterprise
Brown City Banner

Brown City Bee

Carsonville – Port Sanilac Journal

Carsonville Journal

Carsonville News

Croswell Jeffersonian

Deckerville Recorder

Goderich Signal Star

Lex Minuteman

Lexington News

Marlette Leader

Melvin Banner

Minden City Herald

Sandusky Republican Tribune

Sandusky Tribune

Sanilac County Farmer

Sanilac County Herald

Sanilac County News

Sanilac County Press

Sanilac County Republican

Sanilac County Searchlight

Sanilac County Times

Sanilac Jeffersonian

Sanilac Recorder

Sanilac Republican

Times Herald

Tuscola County Advertiser
Oceanas Herald Journal
Oceana Herald
Shelby Independent
Shelby Herald
Traverse Area District Library
The Morning Record
Honest Opinion
The Evening Record
The Daily Eagle
Traverse City Press
Traverse Bay Eagle
Grand Traverse Press
Grand Traverse Herald Newspaper
Times Indicator
Fremont Times Indicator
Willard Library – Chronicling Battle Creek
Student Collections:
Ann Arbor Pioneer High School – Ann Arbor
Central Michigan University – Mount Pleasant
Eastern Michigan University – Ypsilanti
Ferris State University – Big Rapids
Grand Valley State University – Allendale
Hillsdale College – Hillsdale
Hope College – Holland
Kalamazoo College – Kalamazoo
Mercy College – Detroit
Mercy High School – Farmington Hills
Michigan State University – East Lansing
Northern Michigan University – Marquette
Oakland University – Rochester
Plymouth-Canton Educational Park
Saginaw Valley State University – University Center
Saugatuck High School
University of Michigan – Ann Arbor
University of Michigan Law School – Ann Arbor
University of Michigan – Dearborn
Washtenaw Community College – Washtenaw
Wayne State University – Detroit
Western Michigan University – Kalamazoo
Miscellaneous Collections and Indexes:
Upper Peninsula Digital Network
Independent Voices – Alternative Newspapers
Ann Arbor Argus

Ann Arbor Sun

Bogue Street Bridge

Broken Arrow

Burning Deck

Detroit Gay Liberator

Detroit Liberator

ETA – eat the apple

Fifth Estate

First Amendment

FPS: a Magazine of Young People's Liberation
Free Poems Among Friends

Gay Liberator

Generation East Lansing

Goob Yeak Gergibal

Her-self

Highschool Mobilizer Against the War in Vietnam
IO Magazine

Joint Issue

Lansing Beat

Lansing Star

Lesbian Connection

Logos

Paper, The

People Voice

Peoples Peace Treaty Newsletter

Red Apple News

Root, The

Spectacle, The

Spectre

Squeak, The
Sumac

Sun (Detroit)

Swill & Squeal

Veterans Peace Offensive
Work

Zeitgeist
Civilian Conservation Corps (CCC) Newspapers 1933-1942
Old Fulton Postcards
Newspaper Abstracts – Michigan
For Obituary Indexes, transcriptions, and other death/obituary information from historic newspapers, please check out the Obituaries page.
Other Free Sites:
Battle Creek
Belleville
Birmingham
Brimley
Cadillac
Camden
Canton
Cedar Springs
Charlevoix
Coopersville
Dearborn
Detroit
Frankenmuth
Gobles
Grand Rapids
Grayling
Hartford
Holland
Hudsonville
Kalkaska
Lake Orion
Lansing
Manchester
Marquette
Mayville
Middleville
Mt. Pleasant
Northville
Owosso
Pigeon
Pinckney
Plainwell
Romulus
Royal Oak
Saugatuck
Schoolcraft
South Lyon
St. Johns
Tawas City
Tecumseh
Weidman
Subscription or Pay Sites:
Ancestry.com:
There are currently 37 publications available on this site. See all the titles at Ancestry – Michigan Newspapers
Genealogy Bank:
There are currently 239 publications available on this site. See all the titles at Genealogy Bank – Michigan Newspapers
Newspaper Archive:
There are currently 181 publications available on this site. See all the titles at Newspaper Archive – Michigan
Newspapers.com:
There are currently 113 publications available on this site. See all the titles at Newspapers.com – Michigan 
And Finally:
You also need to check out the Library of Michigan site, which can tell you what newspapers have been digitized and are available via microfilm.
Please note – even more may be available via a local library where a library card is required. And of course, there is always microfilm for those that have not been made available online as yet.
For more links for different states, provinces, and countries – please see the Newspaper Links page on this website.