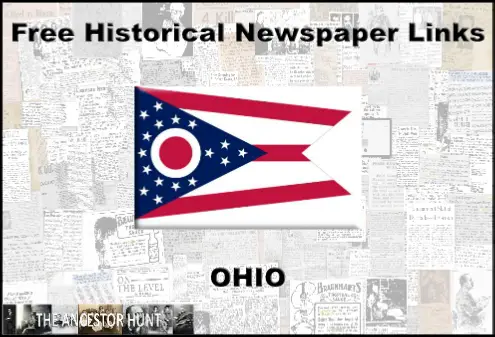 Ohio is one of the states that does have a single central online state repository for searching historical newspapers. Several states use the Library of Congress Chronicling America site as their main central online site for searching old newspapers, and many of Ohio's free newspapers are available on the Library of Congress site. There are many free online newspapers available on other sites and there are collections available on subscription sites. Below is a list of where the titles are stored and the link so that you can access them. 
There are over 7,500 newspapers that have been published in the Buckeye State – certainly not all of them are searchable online. But there are quite a few that are indeed available. So go for it – find your Ohio ancestors and all the interesting articles that capture the stories of their lives. 
Please note that I have not always entered the dates that are included in the collections, as I suspect they will change as more items are digitized. Also, I suspect that some of these links may change over time – so if there is a dead link – please use your favorite search engine to find their new location. 
(Updated July 2023; recently added links are in BOLD)
Ohio Historical Newspapers
Free Sites:
Statewide Collections:
Google News Archive
County and Library Collections:
Belmont County
Bellaire Daily Leader
Bellaire Independent
Belmont Chronicle
Daily Independent
The Bellaire Democrat
The Bellaire Herald
The Daily Times
The Evening Times
The Times Leader
The Daily Times And The Daily Leader
Brown County
Union Township Public Library
Bee
Brown County Democrat
Brown County News
Brown County Press
Castigator
Democrat And Journal
Democratic Standard
Democratic Union
Gretna Green
Independent Press
News Democrat
Ripley Bee
Ripley Saturday Budget
The Aberdeen Courier
The Adams County News
The Bee
The Benefactor
The Benefactor And Georgetown Advocate
The Blue Jay
The Brown County Press
The Castigator And Democratic Expositor
The Democratic Standard
The Georgetown Gazette
The Independent American
The Manchester Signal
The National Union
The News Democrat
The Ohio Valley Times
The Political Framler And Democratic Expositor
The Ripley Bazoo
The Ripley Bee
The Ripley Bee And Times
The Ripley Daily Record
The Ripley Herald
The Ripley Times
The Sentinel
The Signal
The Southern Ohio Argus
The True Jeffersonian
The Union
The Weekly National Union
Weekly Hustler
West Union Intelligencer
Champaign County
Champaign County Library
Urbana Citizen 

Urbana Daily Citizen

Logan Countys Indian Lake Current

Mechanicsburg Telegram 

Logan Countys River Current 

Urbana Daily Democrat 

Champaign Democrat 

Press Republic 

Urbana Democrat 

Citizen And Gazette 

Urbana Citizen And Gazette 

Urbana Citizen And Gazette And Champaign Republican 

Country Collustrator 

Country Collustrator And Mad River Courant

Urbana Morning Tribune 

Urbana Daily Times Citizen 

Daily Press 

Urbana Free Press 

Informer 

Mac A Cheek Press 

Mad River Courant

Urbana News Letter And Mad River Courant 

Ohioan And Mad River Journal 

Ohio State Democrat 

Urbana Press 

Urbana Record 

Rush Light 

Urbana Tribune 

Urbana Union 

Ways Of The World 

Western Citizen 

Western Citizen And Urbana Gazette

Western Dominion 

Logan County River Current
Champaign County Dispatch

Evening News Dispatch

Holiday Reporter

Lena Conover Searchlight

New Era

News Dispatch

Quiver

Saint Paris Enterprise

Saint Paris News

Saint Paris News Dispatch

Saint Paris Press

Searchlight

St Paris Dispatch

St Paris Era Dispatch

St Paris Examiner

St Paris New Era

St Paris News

St Paris News Dispatch
Columbiana County 
Amherst Reporter
Columbiana Heritage
Columbiana Independent
Columbiana Ledger
Columbiana True Press
Der Deutsche Beobachter
Fairfield Township
Guernsey Jeffersonian
Independent Register
Lyons Journal
Mechanicsburg News
Mechanicsburg News Item
Montpelier Enterprise
New Moon
New Paris Mirror
New Waterford Magnet
The Columbiana Globe
The Creek Journal
The Daily Telegram
The Morning Telegram
The Pleasantville Times
The Republican Leader
The Urbana Daily Citizen
Leetonia Community Public Library
Columbiana Correspondence
Columbiana True Press
Independent Register
Leetonia Democrat
Leetonia Reporter
Leetonia Semi-Weekly Reporter
The Leetonia Courier
Aurora 

Buckeye State 

Daily Patriot 

Evening Journal 

Fair Daily

Journal 

Morning Journal 

New Lisbon Journal 

Ohio Patriot 

Ohio Patriot And Farmers And Mechanics Shield 

Ohio Patriot And New Lisbon Gazette 

Ohio Patriot And New Lisbon Weekly Advertiser 

Republican Leader 

The Buckeye State And Lisbon Journal 

Western Palladium 
Erie County
Huron Public Library
Erie County Reporter

The Reporter 

Erie County Reporter And Berlin Call 

The Weekly Newspaper
Franklin County
Westland Area Library
West Columbus Messenger

The Westside Messenger 

Lincoln Village Railsplitter
Fulton County
Swanton Public Library
Bean Creek Valley History Center
Fayette Review
The Fayette Journal
The Fayette Record
The Fayette Review
Delta Public Library
Gallia County
Bossard Memorial Library
Gallipolis Daily Tribune

Times Sentinel

Gallia Times

Gallipolis Tribune

Daily Tribune

Saturday Times Sentinel

Daily Sentinel
The Gallipolis Daily Tribune 
Hancock County
Findlay-Hancock County Public Library
Courier Union

Daily Courier

Daily Jeffersonian

Democratic Courier

Evening Jeffersonian

Findlay Courier

Findlay Daily Courier

Findlay Daily Jeffersonian

Findlay Daily Republican

Findlay Daily Star

Findlay Jeffersonian

Findlay Republican

Findlay Union

Findlay Weekly Republican

Findlay Weekly Union

Hancock County Herald

Hancock County News-Democrat

Hancock Courier

Hancock Jeffersonian

Hancock Journal

Home Companion

McComb Herald

Morning Republican

Republican Jeffersonian

The Morning Republican

Weekly Jeffersonian
Hardin County
Ada Public Library
The Ada Herald 

The Ada Record

University Herald 

Herald

The Ada Commercial

The Commencement News
Harrison County
Cadiz Organ
Cadiz Republican
Cadiz Sentinel
Cincinnati Daily Commercial
Forneys War Press
Freeport Press Herald
Freeport Press Herald Scio
Guernsey Times
Harrison County Democrat
Harrison County Farmer
Harrison News Herald
Harrison Telegraph
Scio Herald
Scio Press Herald
St Clairsville Gazette
Steubenville Evening Gazette
Steubenville Sunday Gazette
Steubenville Weekly Herald
The Cadiz Democrat
The Cadiz Democrat Sentinel
The Cadiz News
The Cadiz Republican
The Cadiz Sentinel
The Cadiz Sentinel And Harrison County Farmer
The Cincinnati Commercial Gazette
The Democratic Sentinel
The Democratic Whig Standard And Public Advertiser
The Flambeau
The Freeport Press
The Harrison News
The Harrison Republican
The Harrison Tribune
The Liberty Advocate
The Philantropist
The Scio Herald
The Scio Weekly Herald
The Steubenville Daily Gazette
The Steubenville Gazette
The Steubenville Weekly Gazette
Holmes County
Holmes County District Public Library
Holmes County Farmer

Farmer And Democrat

Holmes County Farmer Free Press
Huron County
Bellevue Public Library
Bellevue Daily Gazette 

Bellevue Gazette 

Bellevue Local News 

Bellevue News 

Bellevue Record

Evening Gazette 
Huron County Community Library
Chicago Junction Telegraph

Chicago Times 

Enterprise Review 

Erie County Reporter 

Erie County Reporter And Berlin Call 

Fairfield County 

Greenwich Enterprise Review 

Huron County 

Independent Press 

New London Record 

North Fairfield Gazette 

The Reporter 

The Weekly Newspaper 

Times 

Wakeman Independent Press 

Wakeman Press 

Willard Junction 

Willard Telegraph 

Willard Times 

Willard Times Junction 

Year in Review 
Jackson County
The Jackson County Times-Journal
Licking County
Mary Babcock Library Newspapers
Johnstown Independent 

The Johnstown Independent 

The Johnstown Weekly Independent 
Lorain County
Avon Lake Public Library
Mercer County
Coldwater Public Library
Mercer County Chronicle

Coldwater Chronicle

St Henry Advocate

Mercer County Chronicle Journal

Celina Advocate
Fort Recovery Journal 

Fort Recovery Record 

Fort Recovery Times 

Fort Recovery Tribune 

Journal 

Journal and the Mercer County Photo News 

Journal Mercer County Photo Weekly 

Mercer County Chronicle Journal 

Mercer County Observer 

Tri County Record 
Medina County
Medina County District Library
Apple Blossom
Bank Notes
Bowman's Facts And Fun For Farmers
Brunswick Citizen
Brunswick Signal
Brunswick Times
Brunswick Times And The County Line
Daily Leader Post
Highlighter
Home Banner
Match Tips
Medina County Gazette
Medina County News
Medina Democrat
Medina Mirror
Medina Trading Post
Medinamite
Morning Star
Ohio Free Press
Permold News
Seville Weekly Times
The Brunswick Reporter
The Constitutionalist
The County Line
The Daily News
The Democrat
The Democratic Whig
The Lodi Advertiser
The Lodi Review
The Madison Pickle Vine
The Medina County Republican
The Medina Democrat
The Medina Examiner
The Ohio Free Press and Medina County Advertiser
The Seville Weekly Times
The Valley City Visitor
The Watchtower
The Young Folks
The Young Folks Gems
Tri-County News
Weber's Banner
Ottawa County
Oak Harbor Public Library
Exponent 

Ottawa County Exponent 
Paulding County
Paulding County Carnegie Library
Anthony Wayne Standard

Antwerp Argus

Antwerp Bee

Antwerp Bee Argus

Antwerp Gazette

Grover Hill News

Independent

Independent News

North Western Ohio Independent News

Oakwood News

Paulding County Gazette

Paulding County Progress

Paulding County Republican

Paulding Democrat

Paulding Independent

Paulding Journal

Paulding Progress

Paulding Republican

Payne Reflector

Payne Reflector and Press Review

Payne Star

Plain Dealer
Preble County
Brown Memorial Library
Leader 

Lewisburg Leader

The Lewisburg Leader 
Richland County
Mansfield and Richland County Public Library
Bellville Independent
Bellville Messenger
Bellville Star
Butler Enterprise
Butler Times
Daily Shield and Banner
Independent Star
Mansfield Daily Banner
Mansfield Daily Herald
Mansfield Daily Journal
Mansfield Daily News
Mansfield Daily Shield
Mansfield Democrat
Mansfield Flag
Mansfield Gazette
Mansfield Gazette and Richland Farmer
Mansfield Herald
Mansfield Semi Weekly Herald
Mansfield Sunday News
Morning Call
Ohio Liberal
Richland County Democrat
Richland County Leader
Richland Democrat
Richland Shield and Banner
Richland Star
Semi Weekly News
Sunday Morning Call
The Mansfield Journal
The Ohio Liberal
The Weekly News
Ulster County Gazette
Weekly Independent
Weekly News
Western Sentinel
Worthington Enterprise
Daily Globe

Express 

Independent News 

Shelby Chronicle 

Shelby Daily Globe

Shelby Independent News 

Shelby News

Shelby Times 

Plymouth Journal
The Globe Special
The Shoppers Helper
The Shoppers Helper – Plymouth
Seneca County
Seneca East Public Library 
Attica Hub

Attica Journal 

Attica Semi Weekly Hub 

Attica Weekly Hub 

Current Wave 

Hub

Republic Reporter
Stark County
Stark County District Library
Canton Daily News 

Canton Evening Times 

Canton Morning News 

Canton News Democrat 

Democratic Transcript 

News Democrat 

Stark County Democrat 

Stark County Republican 
Trumbull County
McKinley Memorial Library
Niles Daily Times

The Daily Times

The Niles Daily News

The Niles Standard 

The Niles Time

The Times 

The Niles Daily Times And The Niles Standard

The Niles Times 

Niles Evening Register 

Youngstown Telegram
Wayne County
Wayne County Public Library 
Community News

Creston Journal

Daily Republican

Dalton Advertiser

Dalton Gazette

Dalton Monthly Gazette

Iron Valley Reporter

Jacksonian

Main Street Press

Press

Rittman Press

Shreve Chronicle

Shreve Daily

Shreve News

Signal
Spencer News

Tri County News

Tri County Weekly News

Wayne County Democrat

Wayne County Herald

West Salem Messenger
West Salem Weekly

Wooster Daily News

Wooster Daily Republican

Wooster Democrat

Wooster Journal And Democratic Times

Wooster Morning Republican

Wooster Republican

Wooster Daily Record
Wood County
Rossford Public Library
Record 

Roosford Record Journal 

Rossford Record 
Buckeye Granger 

Democrat 

Fort Meigs Reveille

Perrysburg Journal

Weekly Perrysburg Journal 

Perrysburg Weekly Journal 

Perrysburg Semi-Weekly Journal 

Journal 

Messenger 

Maumee Valley Democrat 

Messenger News 

Perrysburg Messenger Journal 

Miami Of The Lake 

Miami Of The Lake Erie 

Perrysburg News

Northwestern Democrat 

Ohio Whig

Perrysburg Star 

Wood County Independent

Wood County Packet 

Perrysburg Messenger Journal 

Maumee Valley Pioneer 
Weston Leader 

Weston Weekly Leader 
Bloomdale Derrick 

Cygnet Review 

Prairie Depot Observer 

Salem Evangelical Lutheran Church

Wayne Observer 

Rittman Press

Dalton Gazette

Main Street Press

Press

Wayne County Herald

Creston Journal

Dalton Advertiser

Wooster Republican

Wooster Daily News

Dalton Monthly Gazette

Iron Valley Reporter
Wood County District Public Library
Beacon Street Fair Daily
Bowling Green Advocate
Bowling Green Democrat
Bowling Green Sentinel
Bradner Advocate
Daily Sentinel
Gospel Banner
Leader
North Baltimore Beacon
North Baltimore News
Pemberville Fairette
Pemberville Independent
Pemberville Leader
Pemberville Lecture Course
Pemberville Reporter
Risingsun Unique Weekly
Sentinel
The Beacon
The Beacon Street Fair Daily
The County Fair News
The Daily Gazette
The Daily Sentinel-Tribune
The Grade Gazette
The Junior Monthly
The Leader
The North Baltimore News
The Pemberville Press
The Press
The Weekly Beacon
The Wood County Democrat
The Wood County Free Press
Unique Derrick
Unique Weekly
Weekly Beacon
Wood County Democrat
Wood County Gazette
Wood County Index
Wood County News
Wood County Republican
Wood County Sentinel
Wood County Sentinel And Gazette
Wood County Tribune
Wood County Weekly Sentinel
Wyandot County
Dorcas Carey Public Library
Carey Daily Times 

Carey Progressor 

Carey Times 

Carey Weekly Times 

Mohawk Leader 

Progressor Times 

The Progressor Times
Cincinnati and Hamilton County Newspapers
Cleveland Public Library index only
Cleveland Necrology File

Cleveland Herald (1833, 1847–1848, 1876, 1878–1879)

Cleveland Plain Dealer (1850–1975)

Cleveland Press (1941–1975)

Cleveland News Index

Cleveland Magazine (1983–2014)

Northern Ohio Live (1990–2009)

Ohio Magazine (1990–2014)

Plain Dealer (1983–1999)
Cleveland Public Library Local Newspapers
Brooklyn News Times
Household Realm
Plain Press
East Side Daily News
The Tremonster
Vocero Latino News
Gay People's Chronicle
The Neighborhood News
Scene Entertainment Weekly
Findlay-Hancock County Public Library Digital Collection
Arcadia – The Arcadia News – 1904-1929
Arlington – Arlington Gazette – 1898
Arlington – The Arlington Hi-Crier – 1937
Findlay – Democratic Courier – 1845
Findlay – Findlay Courier – 1837-1841
Findlay – Findlay Courier and Hancock County Democrat – 1843-1844
Findlay – Findlay Daily Jeffersonian – 1880-1885
Findlay – Hancock Jeffersonian – 1862-1868
Findlay – Hancock Journal – 1850
Findlay – The American Patron – 1875
Findlay – The Blue and Gold – 1927
Findlay – The Western Herald – 1845
Jenera – The Jenera News – 1939
Van Buren – Hilltop Krier – 1931
Van Buren – The Aggravator – 1930
Vanlue – The Weekly Joy – 1883
Garnet A. Wilson Public Library of Pike County Digital Collection
Atomizer

Courier Watchman

Pike County Republican

Republican Herald

Waverly Democrat

Waverly News

Waverly Watchman

Weekly Courier
Norwalk Experiment
Norwalk Reflector 
Norwalk Reporter and Huron Advertiser 
Richland County Newspaper Index
Mansfield News Journal
Mansfield Observer
Mansfield Semi Weekly Herald
Mansfield Semi Weekly News
Mansfield Weekly News
Ohio Liberal
Ohio Observer
Richland Shield And Banner
Weekly News
Western Sentinel
Student Collections:
Alliance High School – Alliance
Antioch College – Yellow Springs
Ashland University – Ashland
Bluffton University – Bluffton
Bowling Green State University – Bowling Green
Capital University – Columbus
Case Western Reserve University – Cleveland
Cedarville University – Cedarville
Cleveland High School Student Newspapers (a few yearbooks)
Cleveland State University – Cleveland
College of Wooster – Wooster
Collinwood High School – Cleveland
Defiance College – Defiance
Denison University – Granville
East Technical High School – Cleveland
Findlay High School – Findlay
Glenville High School – Cleveland
Heights High School – Cleveland Heights
James Ford Rhodes High School – Cleveland
John Adams High School – Cleveland
John Carroll University – University Heights
John Hay High School – Cleveland
Kent State University – Kent
Kenyon College – Gambier
Lincoln High School – Cleveland
Marietta College – Marietta
Miami University – Oxford
Mount Saint Josephs University – Cincinnati
Oberlin College – Oberlin
Ohio Dominican University – Columbus
Ohio Northern University – Ada
Ohio State University – Columbus
Ohio University – Athens
Ohio Wesleyan University – Delaware
Otterbein University – Westervile
Salem High School – Salem
Shaker Heights High School – Shaker Heights
Sinclair Community College – Dayton
Tiffin University – Tiffin
University of Akron – Akron
University of Dayton – Dayton
University of Cincinnati – Cincinnati
University of Toledo – Toledo
The College of Wooster
Walnut Hills High School – Cincinnati
West High School – Cleveland
Western College – Oxford
West Technical High School
William Mason High School – Mason
Wittenberg University – Springfield
Wooster High School – Wooster
Wright State University – Dayton
Xavier University – Cincinnati
Youngstown State University – Youngstown
Miscellaneous Collections and Indexes:
Log Cabin

That Same Old Coon

Ohio Coon Catcher

Coon Dissector

Reserve Battery
African American Experience in Ohio 1850-1920
The Advocate
The Afro-American
The Colored Citizen
The Forum
The Gazette
The Informer
The Journal
The Ohio State Monitor
The Palladium of Liberty
The Union
The Tattler
Cleveland Jewish News Digital Archive 
Cleveland Jewish News (1964– )

Hebrew Observer (1889–1890, 1897–1898)

Jewish Independent (1906–1964)

Jewish Review (1895–1899)

Jewish Review and Observer (1899–1958)

Jewish World (1913–1952)
Wright Brothers Newspaper Collection
Cedarville University Local Newspaper Collection
Town Newspapers of the Five Colleges of Ohio
Independent Voices – Alternative Newspapers
Credences
Lost and Found Times
Marrahwannah Quarterly, The
OPAC Newsletter
Rich Man's War, Poor Man's Fight
Skydove

Sour Grapes

Star Spangled Bummer

USAF
Civilian Conservation Corps (CCC) Newspapers 1933-1941
Old Fulton Postcards
For Obituary Indexes, transcriptions, and other death/obituary information from historic newspapers, please check out the Obituaries page.
Other Free Sites:
Alliance
Ashland
Bowling Green
Cincinnati
Circleville
Cleveland
Columbus
Delta
East Liverpool
Eaton
Euclid 
Fremont
Kirtland
Mount Vernon
Newark
Oberlin
Orrville
Painesville
Parma
Salem
Springfield
Steubenville
Toledo
Xenia
Washington Court House
Waynesville
Westerville
Westlake
Willoughby
Wilmington
Wooster
Worthington
Yellow Springs
Youngstown
Subscription or Pay Sites:
Ancestry.com:
There are currently 190 publications available on this site. See all the titles at Ancestry – Ohio Newspapers
Genealogy Bank:
There are currently 516 publications available on this site. See all the titles at Genealogy Bank – Ohio Newspapers
Newspaper Archive:
There are currently 668 publications available on this site. See all the titles at Newspaper Archive – Ohio
Newspapers.com:
There are currently 389 publications available on this site. See all the titles at Newspapers.com – Ohio 
And Finally:
You also need to check out the Ohio National Digital Newspapers Project site, which can tell you what is occurring in the state with regard to newspaper digitization projects. 
Please note – even more may be available via a local library where a library card is required. And of course, there is always microfilm for those that have not been made available online as yet.
For more links for different states, provinces, and countries – please see the Newspaper Links page on this website.