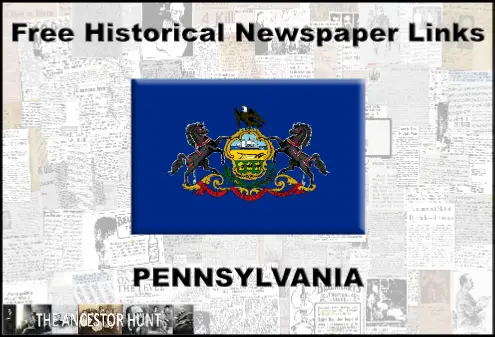 Pennsylvania is one of the states that has several central state-wide online repositories for searching historical newspapers. Several states use the Library of Congress Chronicling America site as their main online site for searching old newspapers. Pennsylvania does have many online newspapers available on that site. Pennsylvania currently also has its online availability from different websites and they house hundreds of newspapers. Many are free and many require a subscription. Below is a list of where the titles are stored and the link so that you can access them. 
There are almost 8.000 newspapers that have been published in the Keystone State – certainly not all of them are searchable online. But there are quite a few that are indeed available. So go for it – find your Pennsylvania ancestors and all the interesting articles that capture the stories of their lives. 
Please note that I have not always entered the dates that are included in the collections, as I suspect they will change as more items are digitized. Also, I suspect that some of these links may change over time – so if there is a dead link – please use your favorite search engine to find their new location. 
(Updated July 2023; recently added links are in BOLD)
Pennsylvania Historical Newspapers
Free Sites:
Statewide Collections:
Chronicling America – Pennsylvania
Google News Archive
Pennsylvania Newspaper Archive
Pennsylvania Civil War Newspapers 1831-1877
Altoona 
Altoona Tribune 2/4/1858 – 3/11/1865 
Bellefonte 
Bellefonte National – 9/4/1868 – 12/25/1868 

Bellefonte Republican – 1/6/1869 – 6/30/1869; 7/14/1869 – 12/22/1869 

Central Press – 9/24/1858 – 8/11/1859; 9/20/1860 – 8/16/1861; 2/28/1862 – 8/30/1867; 1/10/1868 – 8/21/1868 

Democratic Watchman 11/28/1855 – 10/27/1871 
Chambersburg 
Franklin Repository 7/8/1863 – 12/27/1865 
Clearfield 
Democratic Banner 10/9/1845 – 2/14/1849 

Country Dollar 6/20/1849 – 7/26/1850                              

Clearfield Republican 11/14/1851 – 12/30/1854; 4/7/1858 – 7/5/1865 
Columbia 
Columbia Spy 7/17/1847 – 12/31/1870  
Erie 
Erie Weekly Observer 4/18/1853 – 3/5/1859  

Erie Observer 3/12/1859 – 5/27/1869  
Gettysburg 
Star 2/23/1831 – 9/27/1831 

Star and Adams County Republican Banner 10/4/1831 – 4/3/1832  

Star and Republican Banner 12/23/1834 – 5/14/1847 

Star and Banner 5/28/1847 – 5/8/1857 

Star and Sentinal 5/29/1867 – 3/17/1871 

Republican Compiler 9/11/1854 – 5/1/1857 

Compiler 5/18/1857 – 5/14/1866 

Gettysburg Compiler 5/21/1866 – 12/25/1868 
Greencastle 
Pilot 2/3/1863 – 7/26/1864*  
Harrisburg 
Daily Patriot and Union 10/15/1860 – 10/31/1863*  

Pennsylvania Daily Telegraph 1/21/1859 – 11/26/1862*  

Evening Telegraph 11/28/1862 – 3/11/1864*  

Pennsylvania Telegraph 3/12/1864 – 12/31/1864 
Huntingdon 
Huntingdon Globe 1/8/1855 – 6/18/1856 

Huntingdon Journal 10/3/1838 – 8/27/1880  

Globe 6/25/1856 – 12/13/1870 
Lancaster 
Father Abraham 6/12/1868 – 4/29/1870; 10/25/1872 – 12/13/1872  

Lancaster Intelligencer 12/28/1847 – 12/27/1871 
Lebanon 
Lebanon Advertiser 6/24/1857 – 9/13/1865* 
Lehigh 
Lehigh Register 1/4/1849 – 12/25/1872  
Marietta 
Weekly Mariettian 7/21/1860 – 7/20/1861 

Mariettian 8/3/1861 – 8/3/1867* 
Philadelphia 
American Presbyterian 1/5/1860 – 12/30/1869* 

Daily Evening Bulletin 2/2/1864 – 10/8/1870 

Our Daily Fare  6/8 – 21/1864; 9/11/1865 

Press 8/1/1857 – 7/30/1864; 2/22/1858-10/14/1865* 
Pittsburgh 
Daily Morning Post 9/10/1842 – 7/28/1843 

The Mystery 4/16/1845 

Pittsburgh Morning Post 7/29/1843 – 9/16/1846 

Daily Morning Post 9/17/1846 – 11/24/1855  

Pittsburgh Morning Post 11/26/1855 – 2/19/1859  

Pittsburgh Post 2/21/1859 – 1/17/1860 

Pittsburgh Daily Gazette and Advertiser 3/29/1847 – 3/31/1847 

Daily Pittsburgh Gazette 4/1/1847 – 1/8/1851 

Daily Pittsburgh Gazette and Commercial Journal 5/9/1861 – 5/20/1863 

Daily Pittsburgh Gazette 5/21/1863 – 1/6/1866 

Pittsburgh Gazette 1/8/1866 – 7/30/1870 

Presbyterian Banner and Advocate 9/27/1856 – 3/3/1860*  

Presbyterian Banner 3/10/1860 – 9/14/1864* 
Reading 
Reading Eagle 8/20/1868 – 3/22/1869 

Reading Gazette and Democrat 5/24/1862; 1/3/1863 – 12/26/1863 
Waynesboro 
Village Record 1/3/1862 – 6/15/1871 

Waynesboro Village Record 6/29/1871 – 12/31/1874 
Waynesburg 
Waynesburg Messenger – 8/21/1861 – 3/22/1865 
Wellsboro 
Agitator 7/13/1854 – 11/22/1865 

Tioga County Agitator 11/29/1865 – 12/20/1871 

Wellsboro Agitator 1/3/1872 – 11/25/1873 
County and Library Collections:
Allegheny County
Oakmont Carnegie Library
Advance Leader

Verona Leader

Allegheny Valley Advance

Leader

Advance
Chester County
Spoke Newspaper
Conestoga Spoke 

Conestoga Spook 

Eastfrin Echoes 

Spoke
Franklin County
Alexander Hamilton Memorial Free Library
Record Herald

Village Record

Waynesboro Record

Blue Ridge Zephyr 

Daily Record

Evening Review
Columbia County Local Newspapers Collection
Columbia County Republican: 1857-1915 (complete 1875-94, 1901-02, 1914)

Bloomsburg Daily: 1892-1904, 1906-08 (complete February 1892 – February 1902)

Daily Mail: August 1908 – January 1909

Democratic Sentinel: 1872-1912 (complete 1885, 1890-91, April 1901 – June 1910)
Daily Banner
Daily Gazette And Bulletin
Daily Morning Standard
Gazette And Bulletin
Grit
Grit Daily Sun And Banner
Industrial Union
Lycoming Daily Gazette
Lycoming Gazette
Lycoming Recorder
Marriage Licenses
Muncy Meeting
News-Mirror
Pennsylvania Grit
Port Byron Chronicle And Cayuga County News
Star Of Hope
Sunday Grit
The Daily Sun And Banner
The Daily Truth
The Democratic Banner
The Evening News
The Grip
The Holiday Grit
The Item
The Labor Record
The Luminary
The Lycoming Chronicle
The Lycoming Chronicle And West Branch Record
The Lycoming Gazette And Chronicle
The Morning News
The Muncy Luminary And Lycoming County Advertiser
The Port Byron Chronicle
The Times
The West Branch Bulletin
The Williamsport Examiner
The Williamsport News
The Williamsport Sun
The Williamsport Sun And Banner
The Williamsport Sun And Lycoming Democrat
The Williamsport Times
Tri-Weekly Gazette And Bulletin
Weekly Democratic Banner
Weekly Sun And Banner
West Branch Beobachter
West Branch Republican
West-Branch Democrat
Williamsport Daily Standard
Williamsport Meginnes Diaries
Williamsport Morning Standard
Williamsport Republican
Lancaster County Digitization Project 
Columbia Spy (1830-1889)
F&M Student Newspaper Collection (1873-2011)
Lancaster Daily Intelligencer (1880-1890)
Lancaster Examiner and Herald (1834-1872)
Lancaster Intelligencer (1847-1871)
Lancaster Journal (Weekly) (1816-1836)
Lititz Newspaper Collection
Millersville University Snapper (1925-2005)
New Holland Clarion (1873-1950)
The Lancaster Farmer (1869-1884)
Student Collections:
Allegheny College – Meadville
Arcadia University – Glenside
Behrend College – Erie
Bloomsburg University – Bloomsburg
Bryn Mawr College – Bryn Mawr
Bucknell University – Lewisburg
Carlisle Indian Industrial School – Carlisle
Chatham University – Pittsburgh
Clarion University – Clarion
Clarion University – Venango
Delaware Valley High School – Milford
Dickinson College – Carlisle
Dilworth Hall Preparatory School – Pittsburgh
Drexel University – Philadelphia
Duquesne University – Pittsburgh
Elizabethtown College – Elizabethtown
Franklin and Marshall College – Lancaster
Friends Central Upper School – Wynnewood
Gettysburg College – Gettysburg
Hazleton College – Hazleton
Juniata College – Huntingdon
Kiskiminetas Springs School – Saltsburg
Kutztown University – Kutztown
Lafayette College – Easton
Lebanon Valley College – Annville
Lehigh University – Bethlehem
Lincoln University
Lock Haven University – Lock Haven
Lycoming College – Williamsport
Manor College – Philadelphia
Mansfield University – Mansfield
Mars Area High School – Mars
Millersville University – Millersville
Montgomery County Community College – Blue Bell
Muhlenburg College – Allentown
Neshaminy High School – Langhorne
Northern Lehigh School – Slatington
Pennsylvania State University – Harrisburg
Pennsylvania State University – Hazleton
Pennsylvania State University – State College
Pine-Richland High School – Gibsonia
Saint Josephs University -Philadelphia
Shaler Area High School – Glenshaw
Slippery Rock University – Slippery Rock
Southern Lehigh High School – Center Valley
Susquehanna University – Selinsgrove
Swarthmore College – Swarthmore
Temple University – Philadelphia
University of Pennsylvania – Philadelphia
University of Pittsburgh – Pittsburgh
University of Scranton – Scranton
Ursinus College – Collegeville
Villanova University – Villanova
Villanova University School of Law – Villanova
West Chester University Student Newspapers – West Chester
Miscellaneous Collections:
Pittsburgh Jewish Newspaper Project 
Jewish Criterion (1895-1962)

American Jewish Outlook (1934-1962)

Jewish Chronicle (1962-present)

Y-JCC series (1926-1975).
Radnor Historical Society Newspaper Collection
Wayne Weekly Gazette
The Wayne Signal
Suburban and Wayne Times
Valley of the Shadow: Civil War Era Newspapers
Republican Vindicator

Franklin Repository and Transcript

Staunton Spectator

Valley Spirit 
Villanova University Digital Library
Clan-na-Gael Journal [Philadelphia] (13 issues between 1902-1918)

Irish Press [Philadelphia] (1918-1922)
American Prison Newspapers, 1800-2020
Independent Voices – Alternative Newspapers
April Action
Damascus Road

Dandelion

Destroyer, The

Gay Alternative

Mothball Blues
MOTHER (Pittsburgh)

New Gay Life

Paper Air

Philadelphia Gay News

Tell-a-Woman

Ultimate Weapon, The
Civilian Conservation Corps (CCC) Newspapers 1933-1942
German Society of Pennsylvania Historical Newspaper Collection
Schwäbischer Merkur.
Philadelphia Schwäbischer Merkur.
Philadelphia Morgen-Gazette.
Philadelphia freie Presse.
Philadelphia Demokrat.
Philadelphia Tageblatt.
Old Fulton Postcards
Newspaper Abstracts – Pennsylvania
For Obituary Indexes, transcriptions, and other death/obituary information from historic newspapers, please check out the Obituaries page.
Other Free Sites:
Allentown
Antes Fork
Clearfield
Connellsville
Cross Fork
Erie
Garnet Valley
Greensburg
Harrisburg
Karthaus
Kutztown
Marienville
Narberth
New Castle
Muncy
New Berlin
Philadelphia
Pittsburgh
Pottstown
Pottsville
Reading
Stroudsburg
Upper Providence Township
Warren
Waterville
Subscription or Pay Sites:
Ancestry.com:
There are currently 143 publications available on this site. See all the titles at Ancestry – Pennsylvania Newspapers
Genealogy Bank:
There are currently 661 publications available on this site. See all the titles at Genealogy Bank – Pennsylvania
Newspaper Archive:
There are currently 482 publications available on this site. See all the titles at Newspaper Archives – Pennsylvania
Newspapers.com:
There are currently 570 publications available on this site. See all the titles at Newspapers.com – Pennsylvania. 
And Finally:
You also need to visit the Pennsylvania Digital Newspaper Program site from time to time, which can tell you what is occurring in the state with regard to online newspaper availability. The site also has additional resources that help you find online and microfilm resources in the state.
Please note – even more may be available via the State Library or a local library where a library card is required. And of course, there is always microfilm for those that have not been made available online as yet.
For more links for different states, provinces, and countries – please see the Newspaper Links page on this website.