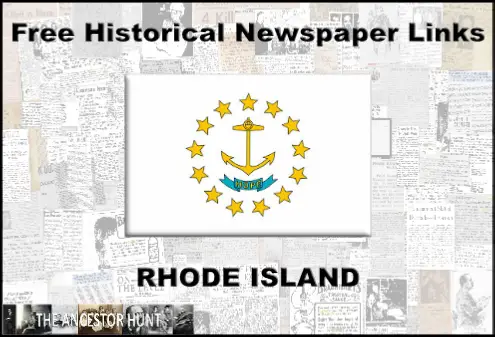 Rhode Island is one of the states that does not have a single central online state repository for searching historical newspapers, nor do they use the Library of Congress Chronicling America site as their main site for searching old newspapers. There are some free online newspapers on other sites and collections available on subscription sites. Below is a list of where the titles are stored and the link so that you can access them. 
There are about 750 newspapers that have been published in the Ocean State – certainly not all of them are searchable online. But there are several that are indeed available. So go for it – find your Rhode Island ancestors and all the interesting articles that capture the stories of their lives. 
Please note that I have not always entered the dates that are included in the collections, as I suspect they will change as more items are digitized. Also, I suspect that some of these links may change over time – so if there is a dead link – please use your favorite search engine to find their new location. 
(Updated July 2023; recently added links are in BOLD)
Rhode Island Historical Newspapers
Free Sites:
Statewide Collections:
Chronicling America – Rhode Island
Google News Archive
County and Library Collections:
Bristol County
The Bristol Phoenix 
Bristol Phoenix

Bristol Phenix

The Phoenix

Bristol Gazette and Family Companion

Bristol Gazette
Kent County
East Greenwich Free Library 
Rhode Island Pendulum

Warwick Beacon

East Greenwich Pendulum

The Weekly Pendulum

The Rhode Island Pendulum 
Newport County
Jamestown Philomenian Library 
Jamestown Press

The Jamestown Press
Providence County
Cranston Public Library
Cranston City Times

Cranston Herald

Cranston Herald News

Cranston Herald Today

Cranston Leader

Cranston News

Cranston Today

Herald News

Howard Times

Neighborhood News

The Bridge
The Cranston Critic
Cranston Mirror
Hammonds Floral Friend and Household Journal
Pawtucket Times

Evening Times

Pawtucket Evening Times

The Pawtucket Times
Gazette and Chronicle
Pawtucket Chronicle and Manufacturers and Artizans Advocate
Pawtucket Chronicle and Rhode Island and Massachusetts Register
Pawtucket Gazette and Chronicle
The Providence Daily Post
Woonsocket Harris Public Library
Providence County Times
The Evening Call
The Evening Reporter
The Woonsocket Call And Evening Reporter
Washington County
Maury Loontjens Memorial Library 
Standard Times

Timeout

Standard

Wickford Standard

The Standard-Times

Time Out

North Kingstown Standard

Wickford Village Fair News
The Westerly News and Rhode Island Telephone
Block Island Fly 

Block Island Hooter 

Block Island Newsletter 

Way It Is

Block Island

Block Island Reporter 

Block Island Times 

Ebb Tide 

Manisses Journal 

The Block Island Times
The Works
Block Island Summer Times 
Narragansett Times
Narragansett Times and Washington County Advertiser
Student Collections:
Brown University – Providence
Bryant University – Smithfield
Community College of Rhode Island – Warwick
Johnson and Wales University – Providence
Naval War College – Newport
New England Institute of Technology – East Greenwich
Providence College – Providence
Rhode Island College – Providence
Rhode Island School of Design – Providence
Roger Williams University – Bristol
Salve Regina University – Newport
University of Rhode Island – Kingston
Miscellaneous Collections and Indexes:
Independent Voices – Alternative Newspapers
All hands abandon ship

Joglars
Civilian Conservation Corps (CCC) Newspapers 1933-1942
Old Fulton Postcards
Newspaper Abstracts – Rhode Island
For Obituary Indexes, transcriptions, and other death/obituary information from historic newspapers, please check out the Obituaries page.
Other Free Sites:
Newport
Pawtuxet Village
Providence
Subscription or Pay Sites:
Ancestry.com:
There are currently 25 publications available on this site. See all the titles at Ancestry – Rhode Island Newspapers
Genealogy Bank:
There are currently 97 publications available on this site. See all the titles at Genealogy Bank – Rhode Island Newspapers
Newspaper Archive:
There are currently 16 publications available on this site. See all the titles at Newspaper Archive – Rhode Island
Newspapers.com:
There are currently 16 publications available on this site. See all the titles at Newspapers.com – Rhode Island. 
And Finally:
You also need to visit the Rhode Island Historical Society site, which can tell you what is occurring in the state with regard to newspaper projects. The Brown University and Providence College libraries are also good sites to visit.
Please note – even more may be available via a local library where a library card is required. And of course, there is always microfilm for those that have not been made available online as yet.
For more links for different states, provinces, and countries – please see the Newspaper Links page on this website.