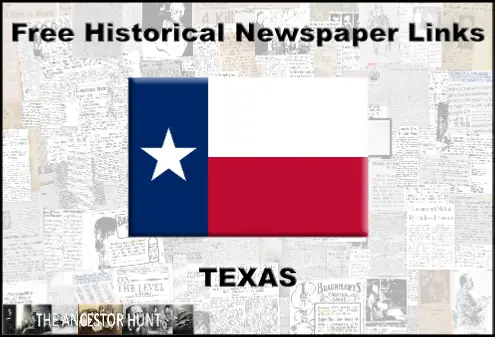 Texas has a sizable state-wide free online collection for searching historical newspapers. Many states use the Library of Congress Chronicling America site as their main central online site for searching old newspapers and currently, Texas has quite a few newspapers also available on that site. There are free online newspapers available on other sites and there are collections available on subscription sites. Below is a list of where the titles are stored and the link so that you can access them. 
There are over 5,700 newspapers that have been published in the Lone Star State – certainly not all of them are searchable online. But there are several that are indeed available. So go for it – find your Texas ancestors and all the interesting articles that capture the stories of their lives. 
Please note that I have not always entered the dates that are included in the collections, as I suspect they will change as more items are digitized. Also, I suspect that some of these links may change over time – so if there is a dead link – please use your favorite search engine to find their new location. 
(Updated July 2023; recently added links are in BOLD)
Texas Historical Newspapers
Free Sites:
Statewide Collections:
Google News Archive
Portal to Texas History – Newspapers (# of issues after the title)
Southwest Collection – Texas Tech Library
County and Library Collections:
Andrews County
Andrews County Library
Andrews County News 

Guadalupe Gazette 

Lone Star Lutheran 

Mountain Eagle 

Santa Anna Daily News

Santa Anna News 

Savoy Star 

Seagoville Herald

Seagraves Signal 

Seguin Times

Seymour News 

Shafter Lake Herald 

Shamrock Texan

Sherman Daily Democrat 

Sherman Daily Register 

Sherman Saturday Chronicle 

Shiner Enterprise

Shiro Advertiser

Sipe Springs Record 

Sun 

Mustang

Shafter Lake Findley

Sipe Springs Record
Austin County
Bellville Public Library
Austin County Times 

Bellville Countryman 

Bellville Times 

Bellville Wochenblatt 

Circuit Rider 

Times Standard 

The Bellville Times
Baylor University – Historic Waco Collection
Artesia
The Day
The Gossip
Society Gossip
The Waco Daily Advance
Waco Daily Day Globe
The Waco Daily Examiner
Waco Daily News
Waco Evening News
Waco Evening Telephone
Waco Morning News
Waco Farm and Labor Journal
Waco Semi-Weekly Tribune
Waco Times Herald
Bee County
Joe Barnhart Bee County Library
Beeville Bee

Beeville Weekly Picayune 

Beeville Picayune

Bee Picayune 

Beeville Bee Picayune 

The Bastrop Advertiser
Beeville Bee-Picayune
Bell County
The Belton Journal
The Belton Journal and Bell County Democrat
The Belton Weekly Journal
Blanco County
Blanco County North and South Library Districts
Record Courier 

Blanco County News 

Ranchland Post Dispatch 

Blanco County Record 

The Blanco News 

Brackett News 

Brackett News Mail 

Blessing News 

Blanco Courier 

Bogata News
Cameron County
The Brownsville Daily Herald
The Daily Herald
The Brownsville Weekly Herald
Valley Sunday Star-Monitor Herald
Semanario Del Valle
Valley Morning Star 

Valley Sunday Star Monitor Herald 

The Harlingen Star 

Valley Weekly 

Valley Weekly Star

Rio Grande Farmer

Star Farmer

Harlingen Valley Morning Star
Camp County
Pittsburg Camp County Public Library
Chambers County
Chambers County Library System
The Progress 

Hometown Press 

Progress Of Chambers County 

Barbers Hill Oil Review

Progress
Barbers Hill Dayton Press
Star Courier
Seabreeze Beacon
Colorado County
Nesbitt Memorial Library
Colorado County Citizen

Eagle Lake Headlight 

Columbus Banner Press 

Banner Press Newspaper 

Weimar Mercury
Comal County
New Braunfels Public Library
New Braunfels Herald 

New Braunfels Herald and Zeitung

New Braunfels Zeitung Chronicle 
Crane County
Crane County Public Library
Dallam County
XIT Museum
Dalhart Texan

Dalhart Daily Texan 

Hartley County News

Jawhawker Domino 

Dalhart Buzzer 

Texline Weekly Herald 
Dallas County
Seagoville Public Library
Seagoville Leader
Suburbia News
The Seagoville Gazette
The Seagoville News
The Seagoville Star
The Seagoville Sun
The Sentinel
The Southeast Star
Falls County
The Rosebud News
The Olney Enterprise
Frio County
Dilley Public Library
Dilley Herald 

Cotulla Record

Frio-Nueces Current

The South Texas News 

Frio Nueces Current 
Galveston County
Friendswood Public Library
Friendswood Journal 

Friendswood News 

Friendswood Reporter News 

Journal 

News 

Reporter News 

Reporter-News

Weekend Journal 
Grayson County
Denison Public Library
Denison Daily Cresset

Denison Daily Herald 

Denison Herald 

Denison Semi Weekly Herald 

Denison Sunday Herald 

Sunday Gazetteer
Grayson-Collin Times
Van Alstyne Leader
Van Alstyne News
Van Alstyne Times
Hays County
San Marcos Public Library
Asterope
Daily Leader
Daily Record
Daily Times-Herald

Hays Free Press

La Otra Voz

San Marcos Daily Herald
San Marcos Daily News

San Marcos Daily News and San Marcos Record

San Marcos Daily Record
San Marcos Free Press
San Marcos Record
San Marcos Record and Daily News
Texas Democrat
The Hays County Times And Farmers' Journal
The Kyle News
The Laurel
The People's Business
The People's Era
The San Marcos Daily Times
The San Marcos Record
The San Marcos Times
The Wimberley View
West Texas Free Press
West Texas Free Press And San Marcos Valley Times

Wimberley View

Hays County Free Press
Onion Creek Free Press
The Citizen
The Free Press
Citizen Advertiser
Hidalgo County
Speer Memorial Library
Mission Citizen 

Mission Times 

Progress 

Progress Times 

Times

Upper Valley Progress 
Hood County
Hood County Public Library
Granbury News 

Hood County Informer News 

Hood County News 

Hood County News Tablet 

Hood County Tablet 

The Granbury Graphic Democrat

The Granbury News 

The Granbury Weekly News
Hunt County
Commerce Public Library
Commerce Journal

Daily Journal

Commerce Weekly Farm Journal

Journal

Tiger Tips

William Henry Harder

Weekly Herald

Morning Journal
Hutchison County
Jefferson County
Chronicle
Community Post
Grove Chronicle
MidCounty Chronicle Review
Nederland Flyer
Nederland Groves Chronicle
Nederland MidCounty Chronicle
Nederland MidCounty Review
People Press
Port Neches MidCounty Chronicle
Jim Wells County
Alice Echo News
The Alice Daily Echo
The Alice Echo
The Altus Times-Democrat
Karnes County
Kenedy Public Library
Karnes Citation 

Karnes County Times 

Karnes Countywide 

Kenedy Advance 

Kenedy Advance Times 
Kendall County
The Comfort News
The Independent Courier
The West Texas Independent Courier
Limestone County
The Groesbeck Journal
The Bi-Stone Weekly Review
The Coolidge Herald
The Groesbeck Journal
The Kosse Cyclone
The Thornton Hustler
The Wortham Journal
Live Oak County
Live Oak County
Live Oak County Herald
Live Oak County Leader
Southern Messenger
The Beeville Bee
The Oakville Optimist
Medina County
Driscoll Public Library
Mitchell County
Mitchell County Library
Collinsville Times

Colorado City Record

Colorado County Citizen

Colorado Record

Federal Census

Fire Insurance Maps

Loraine Advertiser

Mitchell County News

Permian Basin Oil History

Record

Texas Ranger History

Weekly Record
Moore County
Dumas Dollar Day News
Dumas Sunday News
Moore County Daily News
Moore County News
Moore County News Press
North Plains Press
Sunray Oil Dispatch
The Dumas Evening News
The Dumas Weekly Headlight
The Moore County Pioneer
The North Plains Progress
The Sunray Dispatch
Oldham County
Oldham County Public Library
Orange County
Bridge City Library
Pecos County
Fort Stockton Public Library
Fort Stockton Pioneer

The Fort Stockton Pioneer

The Fort Telegraph
Reeves County
Reeves County Library
Scurry County
Scurry County Library
Swisher County
Swisher County Public Library
The Tulia Herald 

Tulia Herald 

Swisher County News 
Tarrant County
John Ed Keeter Public Library
North County Messenger 

Northwest Sentinel 

Sentinel 

Times Record 
Tom Green County
Tom Green County Library
Trinity County
Blanche K. Werner Library 
Glendale Star

Trinity County News 

Trinity County Star

Trinity News

Trinity Standard 

Trinity Times 

Trinity Tribune
Victoria County
Victoria College Library (in library only)
Daily Advocate

Deutsche Beitung fur Texas

Fact

Goliad Messenger

Morning Times

Texian Advocate

Uvalde News

Valley Mills Tribune

Van Alstyne Era

Van Alstyne News

Velasco Times

Velasco World

Vernon Weekly Call

Vernon Weekly Guard

Victoria Advocate

Victoria Daily Advocate

Victoria Daily Times

Victoria Fact

Weekly Advocate
Ward County
Abernathy Weekly Review
Amarillo Champion
Amarillo Daily News
Amarillo News-Globe
Amarillo Times
Borger Daily Herald
Brownfield News
Childress County News
County Wide News
Dawson County Courier
Del Rio Evening News
Eagle Pass News-Guide
Lamb County Leader
Lubbock Avalanche-Journal
Matador Tribune
Meeting Minutes
Monahans Daily Bulletin
Monahans Express
Pecos Valley Irrigationist
Post Medical Records Fort Stockton
Post Medical Reports Fort Davis
Post Medical Reports Fort Griffin
Quanah Tribune-Chief
Ranger Success
Richmond Opinion
Richmond Reflector
Richmond Register
San Angelo Standard-Times
Sanhills Free Press
Sweetwater Reporter
The Albany News
The Andrews County News
The Canadian Record
The Canyon News
The Central Texas Belt
The Childress Index
The Colorado Weekly Clipper
The Concho Herald
The Crosbyton Review
The Dalhart Texan
The El Paso Times
The Floyd County Hesperian
The Foard County News and Crowell Index
The Fort Bend Flag
The Fort Stockton Pioneer
The Hudspeth County News
The Levelland Daily Sun News
The Loraine Leader
The Lubbock Avalanche
The Midland Reporter-Telegram
The Mitchell County News
The Monahans American
The Monahans News
The Motley County News
The Nation
The Odessa American
The Ozona Stockman
The Panhandle Herald
The Pecos Enterprise
The Post Dispatch
The Pyote Gazette
The Pyote Signal
The Pyote Signal and Ward County News
The Quanah Times
The Quinlan Review
The Radium Record
The Rattler
The Register
The Rhome News
The Richmond Democrat
The Riesel Rustler
The Robstown Record
The Rotan Advance
The San Angelo Standard
The Sandstorm
The Scurry County Times
The Seminole Sentinel
The Shamrock Texan
The Slaton Slatonite
The South-Texan
The Stanton Reporter
The Sunday Spokesman
The Terry County Herald
The Texas Spur
The Texas Spur and The Dickens Item
The Titusville Herald
The Tulsa Herald
The Ward County News
The Western-Enterprise
The Winkler County News
War Pension Documents
Ward County News
Wellington Leader
West Texas Journal
Willancy County News
Wichita County
Burkburnett Public Library
Burkburnett Informer Star

Burkburnett News

Burkburnett Star
Electra Star-News 

The Electra News 

Electra News

Star News

The Electra Daily News 

The Town Tattler 

Harold Howler 

Wichita Falls Record News

The Electra Leader 

The News Electra 

The Electra Star
Wichita Falls Public Library (in library)
The Grapevine Sun 

The Sheppard Senator 

Times Record News

Wichita Falls Record News 

Wichita Falls Times 
Williamson County
Eula Hunt Beck Florence Public Library
Wood County
Gilbreath Memorial Library
The Winnsboro Tribune 

Hopkins County Echo

Morning Advertiser

Whitesboro News Record

Winnsboro News

Winnsboro Weekly News

Wood County Democrat
Student Collections:
Abilene Christian University – Abilene
Archer City High School –  Archer City
Argyle High School – Argyle
Baylor University – Waco
Daniel Baker College – Brownwood
Golden High School – Mineola
Hardin Simmons University – Abilene
Howard Payne College – Brownwood
Lamar University – Beaumont
Lubbock High School – Lubbock
McCallum High School – Austin
McMurry College – Abilene
Midwestern State University – Wichita Falls
Mineola High School – Mineola
Mineral Wells High School – Mineral Wells
North Texas State Teachers College- Denton
North Texas State University – Denton
Panola College – Carthage
Polytechnic College – Fort Worth
Ranger College – Ranger
Rice University – Houston
Rider High School – Wichita Falls
Rusk High School – Rusk
Siimmons University – Abilene
Southern Methodist University – Dallas
South Texas College of Law – Houston
Southwest Texas State Normal College – San Marcos
Southwest Texas State Teachers College – San Marcos
Southwestern University – Georgetown
St. Edward's University – Austin
St. Edward's College – Austin
St. Mark's School of Texas – Dallas
St. Mary's University San Antonio
St. Philip's College – San Antonio
Stephen F. Austin University – Nacogdoches
Sulpher Springs High School – Sulpher Springs
Tarleton State University – Stephenville
Temple Junior College – Temple
Texas A&M University – College Station
Texas Christian University – Fort Worth
Texas Lutheran College – Seguin
Texas State University – San Marcos
Texas Tech University – Lubbock
Texas Wesleyan College – Fort Worth
Texas Woman's College – Fort Worth
Trinity University – San Antonio
Tyler Junior College – Tyler
University of Dallas – Dallas
University of Houston – Houston
University of North Texas – Denton
University of Texas – Arlington
University of Texas – Austin
University of Texas – Dallas
University of Texas – El Paso
University of Texas – Rio Grande Valley
University of Texas – San Antonio
University of Texas – Tyler
Vidal M. Trevino School of Communications and Fine Arts – Laredo
Weatherford High School – Weatherford
West High School – West
Western Texas College – Snyder
Miscellaneous Collections:
Independent Voices – Alternative Newspapers
About Face (Bergstrom AFB)

Chickenshit Weekly

El Deguello

El Despertador

El Servidor

Fatigue Press

Fort Hood 3 Defense Committee News Release

GI Community

GI Organizer, The

GI Voice, Fort PolkY

Gigline, The

Grassroots Struggl

Inferno

Life Lines – A Patriotic Voice of Freedom

Rag, The

Southern Conservative, The

Up-Tight

Your military left
Civilian Conservation Corps (CCC) Newspapers 1933-1942
Civil War Newspaper Articles (transcribed by University of Texas, Tyler)
Tyler Newspapers Special Topics (transcribed)
Old Fulton Postcards
Historical Mexican and Mexican American Press (Some El Paso Newspapers included)
For Obituary Indexes, transcriptions, and other death/obituary information from historic newspapers, please check out the Obituaries page.
Other Free Sites:
Arlington
Austin
Baytown
Camp Ford:
Corsicana
Dallas
El Paso
Fort Hood
Fort Worth
Galveston
Gatesville
Grapevine
Houston
La Marque
Levelland
Panola
Robstown
San Antonio
San Juan
Stafford
Travis County
Tyler
Victoria
Wellington
Wichita Falls
Subscription or Pay Sites:
Ancestry.com:
There are currently 69 publications available on this site. See all the titles at Ancestry – Texas Newspapers
Genealogy Bank:
There are currently 671 publications available on this site. See all the titles at Genealogy Bank – Texas Newspapers
Newspaper Archive:
There are currently 696 publications available on this site. See all the titles at Newspaper Archive – Texas
Newspapers.com:
There are currently 260 publications available on this site. See all the titles at Newspapers.com – Texas.
And Finally:
You also need to visit the Texas Digital Newspaper Program site from time to time, which can tell you what is occurring in the state with regard to online newspaper availability. The Texas State Library site is also a good resource for finding Texas newspapers and where they are held.
Please note – even more may be available via a local or state library where a library card is required. And of course, there is always microfilm for those that have not been made available online as yet.
For more links for different states, provinces, and countries – please see the Newspaper Links page on this website.