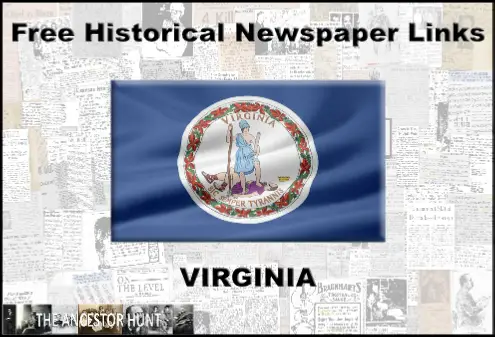 Virginia is one of the states that have a single central online state repository for searching historical newspapers. Several states use the Library of Congress Chronicling America site as their main central online site for searching old newspapers, and several of Virginia's free newspapers are available on the Library of Congress site. There are many free online newspapers available on other sites and there are collections available on subscription sites. Below is a list of where the titles are stored and the link so that you can access them. 
There are over 2,800 newspapers that have been published in the Old Dominion – certainly not all of them are searchable online. But there are many that are indeed available. So go for it – find your Virginia ancestors and all the interesting articles that capture the stories of their lives. 
Please note that I have not always entered the dates that are included in the collections, as I suspect they will change as more items are digitized. Also, I suspect that some of these links may change over time – so if there is a dead link – please use your favorite search engine to find their new location.
(Updated July 2023; recently added links are in BOLD)
Virginia Historical Newspapers
Free Sites:
Statewide Collections:
Chronicling America – Virginia Newspapers
Google News Archive
Library of Virginia – Virginia Chronicle
County and Library Collections:
Virginia Mountaineer
The Virginia Mountaineer
The Carroll News

Grayson-Carroll Gazette

Galax Gazette
Clarke County
Clarke County Historical Association
Fairfax County Historical Newspaper Index 1785-2000
 Alexandria Gazette (1785-1788), (July 25, 1854-December 31, 1855) and (May 3, 1860-January 20, 1865) 

 Arlington County Record (1932-1933) 

 Fairfax City Times (1961-1968) 

 Fairfax County Independent (1929-1932) 

 Fairfax Herald (1886-1973) 

 Fairfax News (1872-1875, includes original image) 

 Fairfax News – Herndon Observer (1925-1943) 

 The Local News (1861-1862) 

 The Rambler, Washington Star (1912-1928, includes transcribed text) 

 Reston Times (1965-1987) and (2000) 
Fauquier County
Frederick County
Daily Independent 

Daily Item 

Morning News Item

Peoples Voice 
Philanthropist 
Postscript To The Winchester Advertiser 
Potowmac Guardian And Berkeley Advertiser 
Republican Constellation 
Virginia Centinel
Virginia Centinel And Gazette
Virginia Gazette
Virginia Gazette And Winchester Advertiser 
Virginia Journal And Alexandria Advertiser 
Winchester Gazette 
Winchester Journal 
Winchester Sentinel
Fredericksburg Newspaper Indexes 1736-1926 (Index only)
Apollo 1803=1804

Christian Banner, 1850 and 1862 

Courier 1800-1801

Democratic Recorder 1842-1861 

Fredericksburg Ledger, 1865-1874 

Fredericksburg New Era, 1865-1866 

Fredericksburg News 1847-1884 

Genius of Liberty 1799

Impartial Observer and the Rights of Man, 1811 

Political Arena 1827-1841 

The Free Lance 1885-1900 

The Free Lance Star 1926-1928 

Virginia Gazette 1736-1780 

Virginia Herald 1787-1876 

Virginia Star 1869-1884

Fredericksburg Star 1884-1923

Daily Star, 1877-1926 

Weekly Advertiser 1853-1860 

Weekly Recorder 1844-1847 
James L. Hamner Public Library
The Amelia Bulletin Monitor
Montgomery-Floyd Regional Library
Petersburg Public Library Newspaper Index
​American Constellation

Charleston Courier

Daily Courier

Daily Democrat

Daily Express

Daily Index

Daily Intelligencer

Daily National Intelligencer

Daily Progress

Daily South Side Democrat

Morning Advertiser

National Intelligencer

Petersburg Daily Index

Petersburg Daily Times

Petersburg Index

Petersburg Index and Appeal

Petersburg Intelligencer

Press

Progress

Republican, Daily Republican, Petersburg Daily Republican

Richmond Enquirer

Rural Messenger

The Intelligencer & Petersburg Commercial Advertiser

The Little Cockade

Virginia Gazette & Petersburg Intelligencer
Mecklenburg County Public Library Digitized Newspapers
Prince William County Newspapers (1721–1986) 
Prince William County local newspaper index (1993– ) 
Bull Run Observer
Daily Journal
Daily News
Gainesville Times
Inside Nova/Prince William
Journal Messenger
Manassas Journal Messenger
Manassas Observer
News & Messenger
Old Bridge Observer
Other
Potomac News
Potomac News/Manassas Journal Messenger
Prince William Journal
Prince William Times
Prince William Today
Radford Public Library Newspaper Archives
Rappahannock County​
Essex Public Library
The Rappahannock Times
Tidewater Democrat
Rappahannock Times
American

Conservative Democrat

Harrisonian

Marion Democrat

Marion Herald

Marion Journal

Marion News

Marion Record

Marion Times

Marion Visitor

Patriot and Herald

Smyth County News

Southern Star
Smyth County News and Messenger

Saltville Progress
Washington County Digitized Newspapers Index
Washington County Journal (1912-1926)
Journal-Virginian (1927-1949)
Glade Spring Citizen (1887-1893)
Washington County News
Political Prospect (1812-1813)
Virginia Beach Public Library Newspapers
Princess Anne Times
Virginia Beach News
Virginia Beach Sun News
Sun, Moon, and Stars
Heritage Discovered
Alexandria Gazette
City Gazette
Enquirer
Student Collections:
Basic High School – Basic
Bluefield College – Bluefield
Christopher Newport University – Newport News
College of William and Mary  – Williamsburg
Eastern Mennonite University – Harrisonburg
Fairfax Hall – Waynesboro
Fauquier High School – Warrenton
Ferrum College – Ferrum
George C Marshall High School – Falls Church
George Mason University – Fairfax
Hollins University – Roanoke
James Madison University – Harrisonburg
John Marshall High School – Richmond
Liberty University – Lynchburg
Longwood University – Farmville
Oakton High School – Oakton
Old Dominion University – Norfolk
Radford University – Radford
Randolph College – Lynchburg
Roanoke College – Salem
St. Catherine's School – Richmond
Suffolk Collegiate Institute – Suffolk
Suffolk Female Institute – Suffolk
Sweet Briar College – Sweet Briar
Towers High School – Mount Solon
University of Mary Washington – Fredericksburg
University of Richmond – Richmond
University of Virginia – Charlottesville
University of Virginia – Wise
Virginia Commonwealth University – Richmond
Virginia Military Institute – Lexington
Virginia Tech – Blacksburg
Washington and Lee University – Lexington
Washington College – Lexington
William & Mary Law School – Williamsburg
Miscellaneous Collections and Indexes:
Independent Voices – Alternative Newspapers
The Ghost

Grapes Of Wrath

Rough draft

The Paper Bag

Defense Committee, The
Liberated Castle, The
Mordor News
On the Beach
Spartacus
Square Wheel
Tidewater African, The
Tactics
Civilian Conservation Corps (CCC) Newspapers 1933-1942
Geography of Slavery in Virginia 1736-1803 (statewide)
Race & Place: Newspapers 1890-1935
Charlottesville Reflector

Richmond Planet
Valley of the Shadow – Civil War Era Newspapers
Staunton Vindicator (1859-1870)

Franklin Repository (1859-1870)

Staunton Spectator (1857-1870) 

Semi-Weekly Dispatch (1861-1862)

Valley Virginian (1865-1870) 

Valley Spirit (1859-1870)

Waynesboro Village Record (1863)
Old Fulton Postcards
Newspaper Abstracts – Virginia
​​For Obituary Indexes, transcriptions, and other death/obituary information from historic newspapers, please check out the Obituaries Page ​
Other Free Sites:
Alexandria
Arlington
Charlottesville
Hampton
Harrisonburg
Petersburg
Richmond
Roanoke
Virginia Beach
Warrenton
Williamsburg
Winchester
Subscription or Pay Sites:
Ancestry.com:
There are currently 30 publications available on this site. See all the titles at Ancestry – Virginia Newspapers
Genealogy Bank:
There are currently 320 publications available on this site. See all the titles at Genealogy Bank – Virginia
Newspaper Archive:
There are currently 183 publications available on this site. See all the titles at Newspaper Archives – Virginia
Newspapers.com:
There are currently 119 publications available on this site. See all the titles at Newspapers.com – Virginia 
And Finally:
You also need to check out the Virginia Memory site, which can tell you what is occurring in the state with regard to newspaper digitization projects.
Please note – even more may be available via a local library where a library card is required. And of course, there is always microfilm for those that have not been made available online as yet.
For more links for different states, provinces, and countries – please see the Newspaper Links page on this website.