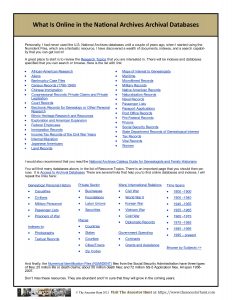 Personally, I had never used the U.S. National Archives databases until a couple of years ago, when I started using the Numident Files, which are a fantastic resource. I have discovered a wealth of documents, indexes, and a search capability that you can get lost in!
Make sure that you take a look at all the Resource Topics that have been created. They list online descriptions, indexes, browsable databases, and databases that you can search.  There is an overwhelming amount of pertinent information for researchers.
To obtain the one-page Quicksheet pdf for easy reference of these websites. You can download it by clicking on the Download button below:
For all the previously published Quick Reference Guides, click on QuickSheets. 
Good Luck and Happy Huinting!