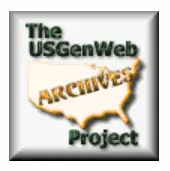 The USGenWeb Archives, in my opinion, is one of the top 5 free genealogy websites. Its pages are almost all the same, so the user experience is excellent. There are state websites, further divided into county websites. Each county website presents links to collections and records by category. The naming conventions are universal, and it is very easy to navigate.
From the USGenWeb Archives website: "In June 1996, the USGenWeb Digital Library (USGenWeb Archives) was developed to present actual transcriptions of public domain records on the Internet. This huge undertaking is the cooperative effort of volunteers who either have electronically formatted files on census records, marriage bonds, wills, and other public documents or are willing to transcribe this information to contribute."
The site also has developed some special projects that provide even more collections. The ones that are still active follow.
Census Project
USGWArchives.net/census
Pension Project
USGWArchives.net/pensions
Digital Map Project
USGWArchives.net/maps
Special Collections
USGWArchives.net/special
Obituaries Project
USGWArchives.net/obits
Marriages Project
USGWArchives.net/marriages
I highly recommend the usage of this website. The number of collections available is amazing.
To access the site, go to USGWArchives.net
Click HERE for other Free Online Genealogy Websites of the Day