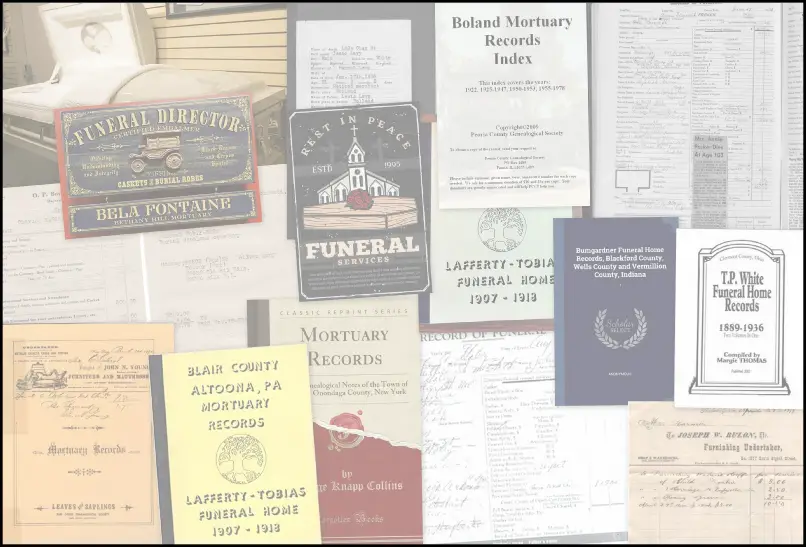 Mortuary and Funeral Home records are yet another little used resource by genealogy researchers.  They are difficult to obtain, especially in hard copy from the original funeral home.  You can contact them, but often, mortuaries went out of business, or were sold to another company. And many of the original records have been lost or destroyed.
Never fear though, there are a number of mortuary records that have been digitized and made available online.
Online record collections are available from subscription sites such as Ancestry.com and My Heritage – about 20 in total.
But there are other state and local collections available as well, and some of them are indexes only (from ledger books). And some are free and available online!
Here are some articles that may entice you to research Mortuary and Funeral Home records:
Have you ever looked at a mortuary record? There is an abundance of great information available! Here is a list of some of the information on such a record, besides the brand and cost of the casket:
Name of informant and person paying for the service

Cause of death

Address of the deceased

Burial location "to be"

In some cases – the name of the father and mother

Name of attending physician as well as hospital or place of death

Date of birth

Date of death

Date of planned burial

Obituary from multiple newspapers

Occupation

Birth Place

Marital Status

Gender

Race

Plus much more
Below are links to collections for the U.S. that are online and available for free. Be aware that some collections have full mortuary records, some are glorified death indexes, and some are just indexes to the actual mortuary records.
Note 1: There may appear to be duplicate titles in the links. This is because there is scanned images of an original typed list or scanned images of original applications, and also a transcribed copy of a voter registration list.
Note 2: Many of the links listed below take you to a FamilySearch Collection of digital images. Near the bottom of the page under Film/Digital Notes is the name of each sub-collection. If there is a camera icon at the right of the name (in the Format column) then the collections' images are browsable. If there is a camera with a key icon, it is only available at a Family History Center or affiliated library. If there is a film reel icon, then it is only available in microfilm format, not digital.
(Updated September, 2020; recently added links are in BOLD)
Alabama
Alaska
Arizona
Arkansas
California
Alhambra, Pierce Brothers Hayden Cunningham & O'Connor Alhambra Mortuary, Funeral Records, 1985-1992
Orland, F. D. Sweet & Sons Funeral Directors, Death Certificates, 1938-1973; Records of Funerals, 1974-1993
San Francisco, Clark & Booth Funeral Home, Funeral Records, 1894-1906
Santa Clara, Index and Funeral Home Records to the Amos O. Williams and other Santa Clara County Funeral Books, 1902-1953 & 1957-1979
Solano County Genealogical SocietyIndex to various cemeteries ; includes a few funeral Homes in Solano County, earliest to present (ca. 1996?)
West Hollywood, Pierce Brothers Cunningham and O'Connor Funeral Directors, Funeral Records, 1972-1981
West Hollywood, Pierce Brothers Cunningham and O'Connor Funeral Directors, Funeral Records, 1979-1982
West Hollywood, Pierce Brothers Cunningham and O'Connor Funeral Directors, Funeral Records, 1981-1983
Colorado
Connecticut
Delaware
District of Columbia
Florida
Georgia
Hawaii
Idaho
Illinois
Indiana
Iowa
Kansas
Kentucky
Louisiana
Maine
Maryland
Massachusetts
Michigan
Minnesota
Mississippi
Missouri
Montana
Nebraska
Nevada
New Hampshire
New Jersey
New Mexico
New York
North Carolina
North Dakota
Ohio
Oklahoma
Oregon
Pennsylvania
Rhode Island
South Carolina
South Dakota
Tennessee
Texas
United States
Utah
Vermont
Virginia
Washington
West Virginia
Wisconsin
Wyoming
Good Luck and Happy Hunting!