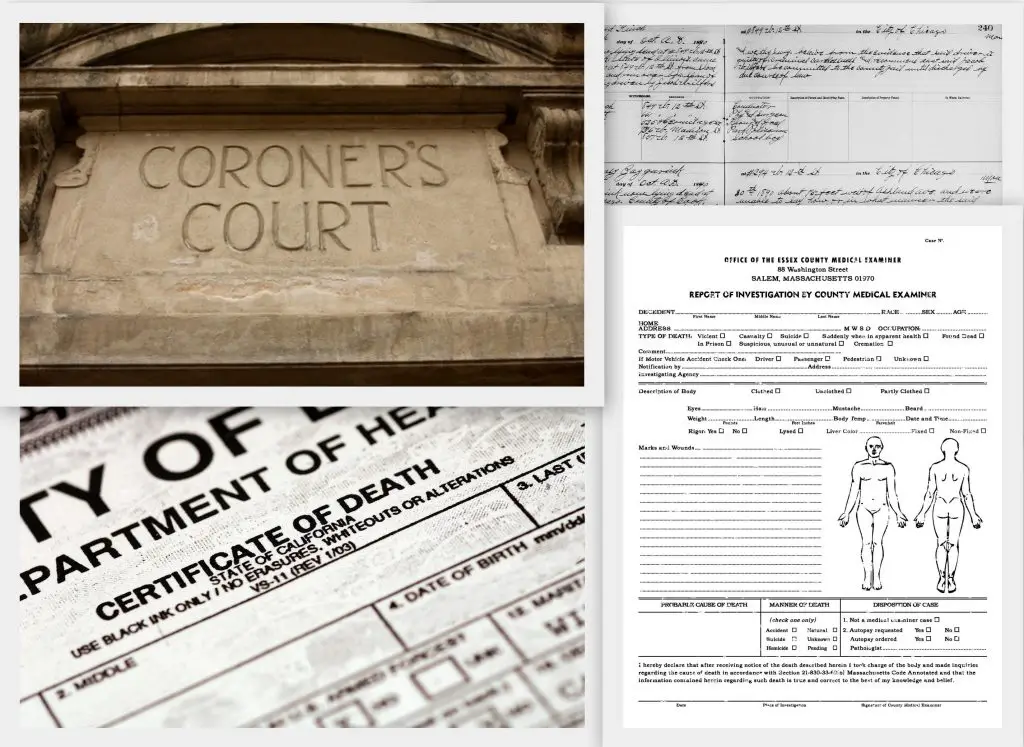 Coroner records are available online and offline from all over the U.S. and are what I consider a hidden gem of information that can assist you in advancing your family history and genealogy research.
The way I like to think of it is:
"We spend a lot of our research time trying to find the story of our ancestors' lives. It is also important to discover the story of our ancestors' deaths".
Getting the County Coroner involved was not just for splashy murders that end up on the front page of the newspaper. Usually, they get involved in any suspicious death, or even deaths from natural causes, where someone discovers the deceased after not hearing from them for a few days. What got me interested in researching Coroner Records was discovering the startling ​​Inquest Records for my Great Aunt, who died in 1911. Since that shocking discovery, searching Coroner Records has been part of my research repertoire.
Most coroner records are still in paper form or have been microfilmed. There is some online though, and I am capturing those links and they are below. Some of the paid subscription sites such as Ancestry and FindMyPast have coroner record collections also, but there aren't that many. 
Below, listed by each state are links to coroner records and indexes available for free online. There is a wide range of information in each collection. For example, a collection may just have the deceased name and date, or name, date, and county file #, or may have the cause of death. The best collections also have a digitized copy of the actual coroner's record for the deceased.
Obtaining a complete copy of a Coroner's record may be a challenge, depending on the laws of the state where the person died. Often they are restricted to next of kin, and there might be a fee to obtain copies of the records.
Note: Some of the links listed take you to a FamilySearch Collection of digital images. Near the bottom of the page under Film/Digital Notes is the name of each sub-collection. If there is a camera icon at the right of the name (in the Format column) then the collections' images are browsable. If there is a camera with a key icon, it is only available at a Family History Center or affiliated library. If there is a film reel icon, then it is only available in microfilm format, not digital. To take full advantage, please make sure that you are logged in to FamilySearch. The results may be different if you are signed in, rather than not.
Note: if there are no collections listed under a state name, it means that I have searched for free collections for that state, but to date have not found any.
(Updated June 2023)
Alabama
Alaska
Arizona
Arkansas
California
Colorado
Connecticut
Delaware
Florida
Georgia
Idaho
Illinois
Indiana
Iowa
Kansas
Kentucky
Louisiana
Maine
Maryland
Minnesota
Mississippi
Missouri
Montana
Nevada
New Jersey
New York
North Carolina
North Dakota
Ohio
Oklahoma
Oregon
Pennsylvania
South Carolina
Tennessee
Texas
Utah
Virginia
Washington
West Virginia
Wisconsin
Wyoming
Good Luck and Happy Hunting!