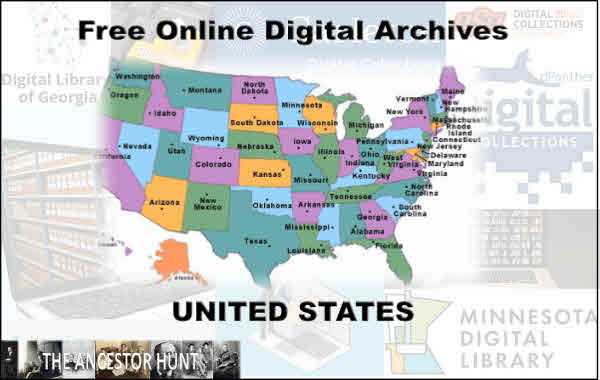 The Ancestor Hunt has been cataloging and listing links to free online genealogy collections in over 20 different record categories since 2014. These are available for you to view and use via the Resources tab above.
It occurred to me, however, that there is a massive amount of genealogy and historical material that can help us researchers as we discover who belongs in our family tree, and more importantly, what is their life story. But this genealogical and historical material doesn't fit nicely into a specific genealogy record category.
As researchers, we should avail ourselves of the types of materials listed below. They definitely will help us in our genealogy and family history research  These online resources are available generally at state libraries and archives, larger public libraries, and college and university digital collections. Hence the creation of these lists of free online digital archives. I hope they prove useful to you in your pursuit
Types of Information Available in Digital Archives
Scrapbooks
Diaries
Family Papers, Biographies, and Other Collections
Letters
Oral Histories
Maps
Bulletins and Newsletters
Corporate Collections
Local Community and County Histories
Photographs and Postcards
Rare Books and Manuscripts
Government Publications and Documents
and Yes, Genealogy Record Collections and Indexes
The link to Free Online Digital Archives for each state are listed below:
United States
Good Luck and Happy Hunting!