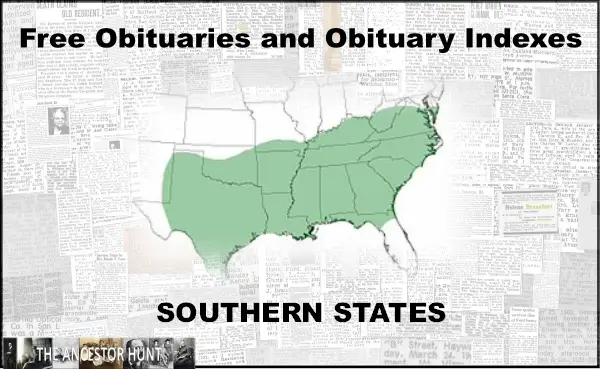 One of the main goals for genealogists in searching historic newspapers is to find obituaries.  Obituaries are a gold mine of information. They provide death dates and locations, funeral and cemetery information, and sometimes more importantly – information about the relatives of the deceased's family and extended family.  This family name information is often not found anywhere else.
Over the past few decades, thanks to volunteers, librarians, and archivists, a great number of indexes to death information and obituaries from newspapers have been provided for free online.  These searchable indexes often provide the location in old newspapers where the obituary can be found. Sometimes the obituary clipping is even provided.
​
So not only can we search old newspapers for these gems, we can get transcriptions and get directed to the location of the obituaries from these indexes.
Here are alternative means to newspaper searching to find obituary information, listed by the link to each state's list of free links. Please be aware that if you find a desired obituary in an index, that the holder of the actual obituary (e.g., library or genealogical society) may charge a small fee to send you a copy of the obituary itself.
(Updated May 2022)
​Good Luck and Happy Hunting!