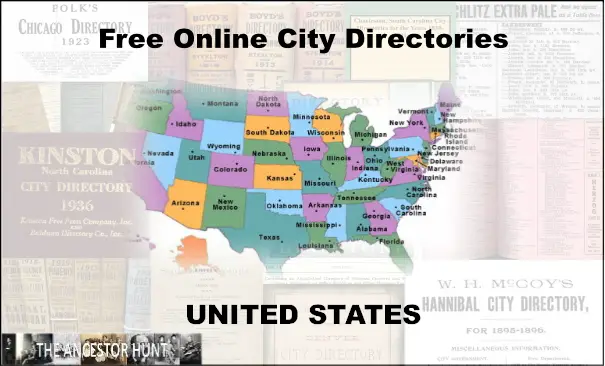 City and business directories are available online from all over the U.S. and are what I consider another important set of information that can assist you in advancing your family history and genealogy research.
This activity of presenting links is a collaborative effort between The Ancestor Hunt and Miriam Robbins, who for years has made available the Online Historical Directories website, which presents links to directories of all types that are available online, including free collections as well as those available only via subscription. I wish to thank Miriam for her help in launching this category of records at The Ancestor Hunt.
So, what kinds of directories are available to the researcher?  Naturally city and business directories, but also telephone directories, and alumni, farm, lodge, rural, and social directories.
What can you find in these records? How about:
Here are a few good primers on the benefits of searching historical city and other directories:​
And here are various places where you can find city directories online: 
(Updated September 2021; recently added links are in BOLD)
Select your state of interest, and the links to free online directories will be listed for you to choose from.
Good Luck and Happy Hunting!