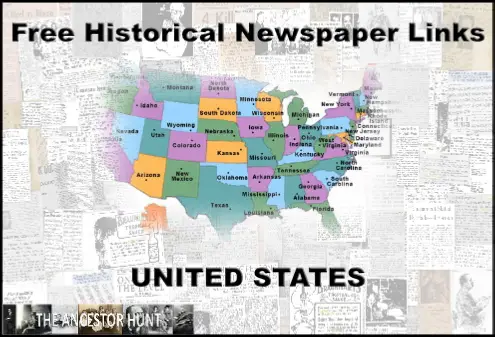 On this website, the first set of free online links to U.S. historical newspapers was published in February 2014. with about 10,000 titles. There have been at least two updates published each year since then. 
This initial update of 2021 adds another 2,600 titles.
The grand total is about 37,500 links to Historical American Newspapers that can be searched for Free!
More and more newspapers are being digitized and are being made available for all of us to research. Some are full-text searchable and others are browsable.
I will continue to follow the digitization activities across the country and hope to publish the next update in Late 2021. 
To search the new (and old)  and updated links, choose your state link below and see all the newspapers that are available for you to research. 
(Please note – there may be more that I have not yet discovered, and if you are aware of some that I have not included, please let me know in the comments)​
Good Luck and Happy Hunting!