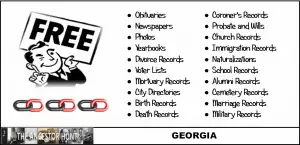 Are you doing Georgia genealogy research and looking for Free Online Georgia Genealogy Records? Click on a link for your desired categories free collection links (5,407 total links to Free Collections for Georgia):
By the way, you can always access these all the time on the By Location page.
Good Luck and Happy Hunting!​