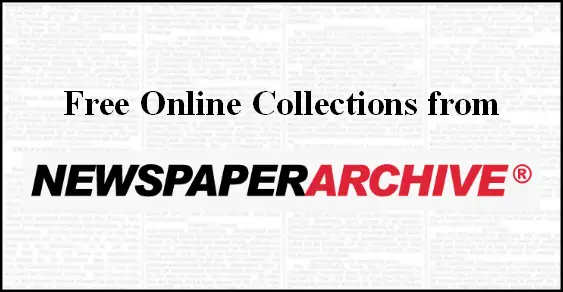 The NewspaperArchive collections of digitized newspapers require a subscription, as is widely known.
But wait…. They do have some free collections that you can use to perform your online newspaper research. In fact, currently, there are 84 collections from 22 states in the U.S.
All you have to do is register for a free account at the collection site of your choosing.  You will be sent a verification email. Just respond to that and you are ready to go!
Here are the states with the free online collections available from Newspaper Archive:
Alabama
Arizona
Arkansas
California
Idaho
Illinois
Indiana
Iowa
Kansas
Louisiana
Maryland
Massachusetts
Michigan
Missouri
Nebraska
New Jersey
New York
North Carolina
Ohio
Pennsylvania
Texas
Wisconsin
Good Luck and Happy Hunting!