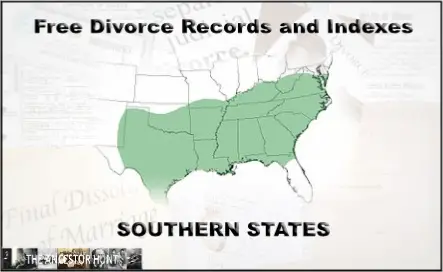 Divorce records from all over the U.S. are sometimes difficult to find online. They are another hidden gem of information that can assist you in advancing your family history and genealogy research.
What can you find in these records? Obviously the dates and location of the divorce proceeding, the date and location of the marriage, the woman's maiden name, names of minor children, and the reason for the divorce. The reason can not only provide another part of your ancestor's story but also may lead to more clues, especially in the case of desertion, where you may be able to find the location where the "deserting" party moved to.
WARNING: Some of the information in the Divorce Petitions may be difficult to read. There may be shocking claims, especially related to your ancestors' physical and emotional cruelty, or other behavior. Be prepared.
In most cases, I did not include the links to County Courts, where most divorce records are now processed and the documents held. But these divorce documents for most states are partially held in either state archives or county clerk records. So you may wish to avail yourself of the county clerk and court archives, especially those that can be searched online.
(Updated August 2023)
Choose your desired state from the list below:
Good Luck and Happy Hunting!