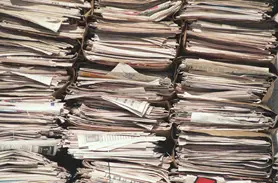 For the last 3 years, I have been tracking the online collections made available by the Advantage Archives (formerly Advantage Preservation) company, which has contracted with several hundred libraries and other institutions across the U.S. to digitize and host their online newspaper collections.
These links have also been incorporated in the state collection summaries found in the Newspaper Links page on this site. 
The most recent update from Advantage Archives totals 775 collections from 47 states (plus one Canadian province) and a total number of pages exceeding 90 million! Of those, 20 are non-newspaper collections (e.g., yearbooks, directories, local documents). Also, another 35 of the collections are only available to access in the library.
Some of the collections are small, but others have over 50 different newspaper titles. Although Advantage Archives gets the credit for making these available, much of the credit should go to the individual libraries, library systems, historical societies, and other institutions, who do the really hard work of obtaining the funds via grants and other funding sources to digitize these old newspapers and make them available online for their patrons. In these times where funding for digitization of old newspapers from libraries, archives, and other institutions is not easy to get, those of us who want to research our genealogy through newspapers and other documents owe a large debt of gratitude to the librarians and archivists who make all of this possible. The moral of the story is "Support your local libraries and archives!"
Here is a list by state and county of the online newspaper collections available to search for free:
Alabama
Baldwin – Bay Minette Public Library
Baldwin – Fairhope Public Library
Calhoun – Oxford
Alaska
Kodiak Island Borough – Kodiak Daily Mirror
Wrangell-Petersburg – Petersburg Public Library
– Alaska Media Newspapers (in library only)
– Alaskan Newspapers (in library only)
Arizona
Pinal – Casa Grande Public Library
Pinal – Eloy Santa Cruz Library
Arkansas
Pulaski – Quapaw Quarterly Association
Sebastian – Fort Smith Public Library
California
Los Angeles – Italian American Museum (in library only)
Colorado
San Juan County – San Juan County Historical Society
Yuma – Yuma Public Library
Connecticut
Fairfield – Bridgeport Public Library
Fairfield – Weston Library
Hartford – Farmington Libraries
Hartford – New Britain Public Library
Hartford – Windsor Locks Historical Society
Litchfield – Beardsley & Memorial Library
Litchfield – Scoville Memorial Library
Litchfield – Thomaston Public Library
Middlesex – East Hampton Public Library
New Haven – Ansonia Historical Commission
New Haven – James Blackstone Memorial Library
New Haven – North Haven Public Library
New Haven – Wallingford City Directories
New London – Stonington Historical Society
Delaware
New Castle – New Castle Public Library
Florida
Calhoun – Calhoun County Public Library
Georgia
Colquitt – Moultrie Colquitt County Library System
Dawson – Dawson County Library
Glynn – Marshes of Glynn Library
Laurens – Oconee Regional Library System (in library only)
Lee – Lee County Library
Morgan – Azalea Regional Library System
Worth – Worth County Library
Idaho
Bannock – Marshall Public Library
Bear Lake – Bear Lake County Library
Bingham – Blackfoot Library
Cassia – Burley Public Library
Clearwater – Elk River Free Library
East Bonner – East Bonner County Library District
Franklin – Franklin County Library District
Jerome – Jerome Public Library
Kootenai – Hayden Community Library Network
Lemhi – Salmon Public Library
Payette – Armoral Tuttle Public Library
Teton – Valley of the Tetons District Library
Twin Falls – Twin Falls Newspapers
Illinois
Adams – Camp Point Public Library
Adams – Quincy Public Library
Brown – Brown County Public Library
Cass – Beardstown Houston Memorial Library
Clark – Marshall Public Library
Cook – Bellwood Public Library
Cook – Forest Park Public Library
Cook – Midlothian Public Library
Cook – Park Ridge Library (in library only)
Cook – River Forest Public Library
DeKalb – Hinckley Historical Society
DeKalb – Shabbona Lee Rolo Historical Museum 
DeWitt – Farmer City Library
DuPage – Addison Public Library
DuPage – St. Charles Public Library
Hancock – Warsaw Public Library
Henry – Cambridge Library
Henry – Clover Public Library District
Henry – Galva Public Library
Henry – Geneseo Public Library District
Henry – Kewanee Public Library District
Henry – Western District Library
Kane – Town and Country Public Library District
LaSalle – Earlville Library District
Lawrence – Lawrence Public Library
Logan – Atlanta Public Library and Museum 
Marshall – Henry Public Library
McHenry – Harvard Diggins Library
Ogle – Byron Public Library
Ogle – Polo Public Library
Peoria – Brimfield Public Library
Peoria – Peoria Heights Public Library
Rock Island – Moline Public Library
Rock Island – Rock Island County Historical Society
Schuyler – Rushville Illinois
St. Clair – Freeburg Area Library District
St. Clair – New Athens District Library
Stark – Bradford Public Library District
Stark – Toulon Public Library
Tazewell – Morton Public Library
Tazewell – Tazewell County Genealogical Society
Whiteside – Erie Illinois Public Library
Whiteside – Sterling Public Library
Will – Plainfield Public Library District
Winnebago – Talcott Free Library District
Woodford  – Illinois Prairie District Public Library
Indiana
Adams – Berne Public Library
Knox – Knox County Public Library
Iowa
Adair – Casey Public Library
Allamakee – Meehan Memorial Lansing Public Library
Allamakee – Postville Public Library
Appanoose – Centerville Iowegian
Benton – Baseball Museum of Norway
Benton – Belle Plaine Community Library
Benton – Blairstown Public Library
Benton – Schroeder Public Library
Benton – Vinton Public Library & the Benton County Historical Society
Black Hawk – La Porte City
Bremer – Sumner Public Library
Bremer – Waverly Public Library
Buchanan – Jesup Public Library
Buchanan – Lamont
Buena Vista – Albert City Historical Society
Buena Vista – Buena Vista University
Buena Vista – Marathon Public Library
Buena Vista – Newell Public Library
Buena Vista – Sioux Rapids Public Library
Buena Vista – Storm Lake Public Library
Butler – Aplington Legion Memorial Library
Butler – Clarksville Public Library
Butler – Greene Public Library
Butler – Kothe Memorial Library
Calhoun – Pomeroy
Calhoun – Rockwell City
Carroll – Carroll Public Library
Carroll – Coon Rapids Public Library
Cass – Cass County Genealogical Society
Cass – Griswold Public Library
Cedar – Clarence Newspaper
Cedar – West Branch Public Library
Cerro Gordo – Clear Lake
Cherokee – Aurelia Public Library
Cherokee – Cherokee Public Library
Cherokee – Marcus Public Library
Chickasaw – Chickasaw County Public Libraries
Clarke – Oseola Public Library
Clay – Kirchner French Public Library
Clay – Spencer Public Library
Clayton – Elkader Public Library
Clayton – Garnavillo Historical Society
Clayton – Guttenberg Public Library
Clayton – McGregor Historical Museum
Clayton – Monona Public Library
Clinton – Central Community Historical Society
Clinton – Clinton Public Library
Crawford – Charter Oak
Crawford – Norelius Community Library
Crawford – Schleswig Public Library
Dallas – Adel
Dallas – Minburn
Dallas – Perry Iowa
Dallas – Woodward
Decatur – Lamoni
Delaware – Manchester Iowa Archive
Dickinson – Dickinson County
Dubuque – City of Dubuque
Dubuque – Dyersville
Dubuque – The Witness
Emmet – Estherville Public Library
Emmet – Ringsted Public Library
Fayette – Elgin Public Library
Fayette – Fayette Public Library
Fayette – Maynard
Fayette – Oelwein
Fayette – The Collegian
Fayette – West Union Community Library
Floyd – Charles City
Floyd – Rockford Public Library
Greene – Jefferson Public Library
Grundy – Beaman Community Memorial Library
Grundy – Conrad Museum
Grundy – Kling Memorial Library
Grundy – Ostfriesen Heritage Society
Guthrie – Bayard Public Library
Guthrie – Mary Burnett Memorial Library
Guthrie – Stuart Public Library
Hamilton – Ellsworth Public Library
Hamilton – Hamilton County
Hancock – Hancock County
Hardin – Ackley Public Library
Hardin – Hardin County Iowa (in library only)
Harrison – Dunlap
Harrison – Missouri Valley Public Library (in library only)
Henry – Winfield Public Library
Howard – Howard Winnishiek-Cresco
Humboldt – Gilmore City
Humboldt – Humboldt County Genealogical Society
Ida – Battle Creek
Ida – Ida Grove Public Library
Ida – Stubbs Memorial Library
Iowa – Iowa County Genealogical (in library only)
Iowa – Iowa County Iowa (in library only)
Iowa – Williamsburg Iowa (in library only)
Jasper – Colfax
Jasper – Monroe Public Library
Johnson – Coralville Courier
Johnson – Iowa City Public Library
Johnson – Oxford Public Library
Johnson – Solon Economist
Jones – Jones County Genealogical Society
Jones – Ross & Elizabeth Baty Public Library, Monticello
Keokuk – Hedrick Public Library
Keokuk – North English
Kossuth – Algona Public Library
Kossuth – Kossuth County Newspapers
Linn – Cedar Rapids Public Library
Linn – Coe College
Linn – Coggon Historical Society
Linn – Cornell College
Linn – Linn County Atlas
Linn – Marion Public Library
Linn – Mount Vernon Public Library
Louisa – Mellinger Public Library
Lucas – Chariton Public Library
Lyon – Rock Rapids Public Library
Madison – Earlham Echo
Madison – Winterset Public Library
Marion – Central College
Marion – Marion County
Marion – Pella Public Library
Marshall – Gutekunst Public Library
Marshall – Marshalltown Public Library
Mills – Malvern Public Library
Mills – The Silver City Historical Society
Mitchell – Nissen Public Library
Mitchell – Osage Public Library
Monona – Mapleton Public Library
Monona – Onawa Public Library
Monroe – Monroe County Historical Society
Montgomery – Red Oak Community
Montgomery – Stanton Historical Society
Montgomery – Villisca Public Library
O'Brien – General N.B. Baker Library
O'Brien – Hartley Public Library
O'Brien – O'Brien County Archives
O'Brien – Paullina Public Library
O'Brien – Sanborn Public Library
Osceola – Sibley Public Library
Page – Essex Lied Public Library
Page – Lied Public Library
Page – Shenandoah Public Library (in library only)
Palo Alto – Graettinger Public Library
Palo Alto – Palo Alto County
Plymouth – Akron Public Library
Plymouth – Kingsley Public Library
Plymouth – LeMars Public Library
Plymouth – Remsen Public Library
Pocahontas – Laurens Public Library
Pocahontas – Pocahontas Public Library
Pocahontas – Rolfe Public Library
Polk – Children and Families of Iowa
Polk – Johnston Public Library
Pottawattamie – Botna Valley Genealogy Society
Pottawattamie – Buena Vista Genealogical Society
Pottawattamie – Walnut Public Library
Ringgold – Mount Ayr Preservation
Ringgold – Tingley Vindicator
Sac – Odebolt Public Library and Museum
Sac – Wall Lake
Scott – Catholic Messenger
Scott – Scott County Library
Shelby – Harlan Public Library
Sioux – Hawarden
Sioux – Libraries of Sioux County
Sioux – Northwestern College
Story – Ames Public Library
Story – Bertha Bartlett Public Library
Story – Nevada Iowa Archive
Tama – Tama County
Taylor – Lenox Public Library
Wapello – Eddyville Public Library
Wapello – Wapello
Warren – Warren County Historical Society
Washington – Kalona Public Library 
Washington – Washington County Library Association
Wayne – Seymour Community Library
Webster – Fort Dodge Public Library
Webster – Lehigh
Winnebago – Forest City Archive
Winnebago – Lake Mills
Winneshiek – Luther College
Woodbury – Catholic Globe
Woodbury – Correctionville
Woodbury – Morningside College
Worth – Worth County Historical Society
Wright – Clarion Public Library
Wright – Eagle Grove Memorial Library
Wright – Talbot Belmond  Public Library (in library only)
Kansas
Allen – Humboldt Public Library
Anderson – Garnett Public Library
Brown – Morrill Public Library
Butler – Douglass Historical
Chase – Chase County Historical Society
Coffey – Coffey County Library
Cowley – Arkansas City Public Library
Ford – Dodge City Public Library
Franklin – Ottawa University
Geary – Dorothy Bramlage Public Library
Gove – Grinnell-Angelus Heritage Center
Harvey – Bethel College
Harvey – Newton Public Library
Logan – Oakley Public Library
Lyon – Emporia Public Library
Lyon – Lyon County Library
Marion – Peabody High School Yearbooks
Marion – Peabody Township Library
Marshall – Waterville Public Library
Montgomery – Independence Public Library
Nemaha – Mary Cotton Public Library
Nemaha – Seneca Free Library
Osborne – Osborne Public Library
Pawnee – Jordaan Memorial Library
Pottawatomie – Wamego Public Library
Rooks – Plainville Memorial Library
Russell – Russell Public Library
Sedgewick – Derby Public Library
Stevens – Stevens County Library
Kentucky
Adair – Adair County Library
Clark – Clark County Public Library
Clinton – Clinton County Public Library
Edmonson – Edmonson County Public Library
Green – Green County Public Library
Johnson – Johnson County Library
McCreary – McCreary County Public Library
Meade – Meade County Public Library
Metcalfe – Metcalfe Library
Pulaski – Pulaski
Russell – Russell County Public Library
Scott – Scott County Public Library
Todd – Todd County
Wayne – Wayne County Public Library
Louisiana
Acadia – Acadia Parish Library
Bienville – Bienville Parish Public Library
Caldwell – Caldwell Parish Library
Concordia – Concordia Parish Public Library
East Baton Rouge – East Baton Rouge Parish Library
Jefferson Davis – Jennings Carnegie
Lafayette – Lafayette Public Library
LaSalle – LaSalle Parish Library
Livingston – Livingston Parish News
Rapides – Rapides Parish Library
Union – Union Parish Library
Vermilion – Vermilion Yearbooks
Vermillion – Vermilion Parish Library
Vernon – Vernon Parish Library
Webster – Webster Parish Library
Maine
Aroostook – Caribou Public Library
Aroostook – Fort Fairfield Public Library
Aroostook – Houlton High School Yearbooks
Aroostook – Mark and Emily Turner Memorial Library
Aroostook – Walter TA Hansen Memorial Library
Cumberland – Bridgton Public Library
Cumberland – Curtis Memorial Library
Cumberland – Scarborough Public Library
Kennebec – Gardiner Public Library 
Knox – Camden Public Library
Lincoln – Lincoln County News
Lincoln – Skidompha Library
Lincoln – Skidompha Public Library (in library only)
Lincoln – Skidompha Public Library (in library only)
Penobscot – Bangor Public Library
Penobscot – Old Town Public Library
Piscataquis – Thompson Free Library
Somerset – Pittsfield Public Library
Waldo – Alice L. Pendleton Library
Waldo – Belfast Free Library
York – McArthur Public Library
York – Springvale Public Library and Goodall Memorial Library
Manitoba
Westman Region – Brandon Sun
Maryland
Montgomery – Montgomery County Public Libraries
Queen Anne's – Queen Anne's County Library
Worcester – Worcester County Library
Massachusetts
Berkshire – Lee Public Library
Bristol – Ames Free Library of Easton (in library only)
Bristol – Attleboro Public Library
Bristol – Fall River Public Library
Bristol – Mansfield Public Library
Bristol – Somerset Public Library (in library only)
Essex – Abbott Public Library
Essex – Amesbury Public Library
Essex – Beverly Public Library
Essex – Boxford
Essex – Flint Public Library
Essex – GAR Memorial Library
Essex – Ipswich Public Library
Essex – Lynn Public Library
Essex – Manchester by the Sea
Essex – Manchester Cricket
Essex – Newburyport Public Library
Essex – Newburyport Public Library
Essex – Topsfield Library
Franklin – Montague Public Libraries
Franklin – Wheeler Memorial Library
Hampden – Westfield Athenaeum Library
Hampden – Wilbraham Public Library
Hampshire – Granby
Middlesex – Acton Memorial Library
Middlesex – Bedford Public Library
Middlesex – Cary Memorial Library
Middlesex – Cary Memorial Library
Middlesex – Flint Memorial Library
Middlesex – Goodnow Library
Middlesex – Hudson Public Library
Middlesex – J V Fletcher Library
Middlesex – Lincoln Public Library
Middlesex – Morse Institute Library
Middlesex – Morse Private
Middlesex – Stoneham Public Library
Middlesex – Tewksbury Public Library
Norfolk – Brookline Public Library
Norfolk – Foxborough Historical Commission
Norfolk – Holbrook Public Library
Norfolk – Morrill Memorial Library (in library only)
Norfolk – Sharon Public Library
Norfolk – Turner Free Library
Plymouth – East Bridgewater
Plymouth – Scituate Town Library
Plymouth – Middleboro Public Library
Suffolk – Revere Public Library
Worcester – Beals Memorial Library
Worcester – Haston Free Library
Worcester – Leominster Public Library
Worcester – Optical Heritage Museum
Worcester – Oxford Public Library
Worcester – Stevens Memorial Library
Worcester – Thayer Memorial Library
Michigan
Alger – Munising School Public Library (in library only)
Bay – Delta College Collegiate
Berrien – Bridgman Public Library
Genesee – Kettering University Library
Gratiot – Alma College
Kent – Grand Rapids Public Library
Lenawee – State Line Observer
Newaygo – White Cloud Community Library
Oceana – Shelby Area District Library
Otsego – Otsego County Library
St. Joseph – Nottawa
Minnesota
Goodhue – Redwing
Martin – Martin County Public Library (in library only)
Martin – Martin County Public Library
Mississippi
Coahoma – Carnegie Public Library
Wayne – Waynesboro Wayne County Library System (in library only)
Missouri
Grundy – Grundy County Jewett Norris Library
Livingston – Livingston (in library only)
Putnam – Putnam County Public Library
Montana
Gallatin – Bozeman High School
Hill – Havre Hill County Library
Hill – Havre Hill Obituaries
Yellowstone – Billings Public Library
Nebraska
Antelope – Neligh Public Library
Boone – Albion Public Library
Brown – Ainsworth Public Library
Brown – Ainsworth Public Library
Burt – Burt County
Burt – Decatur Herald Newspaper
Burt – Lyons Public Library
Burt – Oakland Public Library
Cass – Cass County Nebraska
Cedar – Lied Randolph Public Library (in library only)
Cheyenne – Dalton Delegate
Cheyenne – Sidney Public Library
Cuming – John A Stahl Library
Custer – Sargent Public
Dixon – Dixon County Nebraska
Dixon – Gardner Public Library
Dixon – Ponca Carnegie Library
Dodge – North Bend Public Library
Dodge – Scribner Public Library
Douglas – Catholic Voice
Douglas – Jewish Federation of Omaha
Douglas – The Reader
Fillmore – Fillmore County Public Library
Furnas – Arapahoe (in library only)
Furnas – Arapahoe Public Library
Furnas – Butler Memorial Library
Gage – Hometown Adams
Greeley – Scotia Public Library and Heritage Center
Hall – Hall County
Holt – Atkinson Library
Howard – Saint Paul Library
Kimball – Kimball Public Library
Knox – Creighton Public Library
Knox – Verdigre Public Library
Lincoln – North Platte Genealogical Society
Madison – Norfolk Public Library (in library only)
Madison – Tilden
Merrick – Central City Public Library
Nuckolls – Nelson Public Library
Otoe – Otoe County Archives
Pawnee – Pawnee City Library (in library only)
Perkins – Hastings Memorial Library
Pierce – Lied Pierce Public Library
Pierce – Plainview News
Platte – Humphrey Library
Polk – Polk County Historical Society 
Saline – Crete Heritage Society
Saline – Doane University
Scotts Bluff – Mitchell Public Library
Seward – Seward Memorial Library
Stanton – Stanton Public Library
Valley – North Loup Public Library
Wheeler – Village of Bartley
Nevada
Douglas – Douglas County Public Library
Nye – Smoky Valley Library
White Pine – White Pine County Library
New Hampshire
Carroll – Conway Public Library
Coos – Colebrook Public Library
Grafton – Bethlehem Public Library
Hillsborough – Bedford Public Library (in library only)
Hillsborough – Fuller Public Library
Hillsborough – Peterborough Town Library
Hillsborough – Wadleigh Memorial Library
Hillsborough  – Nashua Public Library
Merrimack – New Hampshire State Library
Rockingham – Derry Public Library
Rockingham – Kelley Library
Rockingham – Plaistow Public Library
Rockingham – Portsmouth Public Library
Rockingham – The Nesmith Library
Strafford – Dover Public Library
Strafford – Farmington News of Farmington New Hampshire
Strafford – Lee Public Library
Sullivan – Fiske Free Library
Sullivan – Richards Free Library
New Jersey
Bergen – Our Town Newspapers
Bergen – Ramsey Free Library
Camden – Audubon Free Public Library
Camden – Cherry Hills Public Library
Camden – Haddon Heights Library
Camden – Haddonfield Public Library
Cape May – Avalon Free Library
Gloucester – Woodbury Public Library
Hudson – Jersey City Free Library
Hunterdon – Lambertville Free Library
Morris – Boonton Holmes Times-Bulletin
Morris – Randolph Township
Union – New Providence Memorial Library
New York
Albany – Roman Catholic Diocese of Albany
Broome – George Johnson Memorial Library
Broome – Lisle Free Library
Broome – Mary L. Wilcox Memorial Library
Cattaraugus – Allegany Public Library
Cattaraugus – Saint Bonaventure University – Friedsam Memorial Library
Cayuga – Lock 52 Historical Society
Cayuga – The Seymour Public Library
Chenango – Afton Free Library
Chenango – Bainbridge (NY) Historical Society
Chenango – Guernsey Memorial Library
Chenango – Oxford Memorial Library
Chenango – Sherburne Public Library
Columbia – Roeliff Jansen Community Library
Delaware – Sidney Memorial Library
Delaware – William B. Ogden Free Library
Greene – Catskill Public Library
Jefferson – Carthage Free Library
Jefferson – Roswell P Flower Memorial Library
Madison – Canastota Public Library
Madison – Cazenovia Public Library
Madison – Oneida Public Library
Nassau – Glen Cove Public Library
Nassau – Hewlett Woodmere Public Library
Nassau – Locust Valley Library
Nassau – Long Beach Public Library
Nassau – Massepequa Public Library
Nassau – Port Washington
Onondoga – Fayetteville Free Library
Onondoga – Marcellus Free Library
Orange – Albert Wisner Public Library
Orange – Josephine – Louise Public Library
Orange – Warwick Advertiser (in library only)
Otsego – Huntington Memorial Library
Otsego – The Village Library of Morris
Otsego – Unadilla Public Library
Rensselaer – Troy Public Library
Rockland – Nyack Library
Steuben – Addison Public Library
Steuben – Hornell Public Library
Suffolk – Lindenhurst Public Library
Suffolk – Long Island Republic Airport Historical Society
Suffolk – Long Island Republic Airport Historical Society
Sullivan – The Liberty Public Library
Tompkins – Southworth Library
Tompkins – Trumansburg Public Library (in library only)
Tompkins – Ulysses Philomathic Library
Ulster – Saugerties Public Library
Ulster – Woodstock Public Library
Wayne – Clyde-Savannah Public Library
Wayne – Sodus Community Library
Wayne – Williamson Public Library
Westchester – Chappaqua Public Library
Westchester – Katonah Village Library
Westchester – Mount Pleasant Public Library
Westchester – North Castle Public Library
Westchester – Port Chester – Rye Brook Public Library
Wyoming – Perry Public Library
Wyoming – Pioneer Library System
Wyoming – Stevens Memorial Library & The Attica Historical Society
North Carolina
Dare – Dare County Library
Dare – Dare County Library
Dare – Dare County Library
Haywood – Haywood County Public Library
Nash – Braswell Memorial Library
Robeson – Mary Livermore Library
Rowan – Rowan Public Library
North Dakota
Bottineau – Bottineau Public Library
Dickey – Ellendale Historical Society
Divide – Divide County Library
Morton – Flasher
Mountrail – New Town
North Dakota – North Dakota Archives
Traill – Hillsboro
Williams – Tioga Tribune
Ohio
Belmont – Bellaire
Brown – Union Township Public Library
Champaign – Champaign County Library
Champaign – St. Paris Public Library
Columbiana – Carnegie Public Library
Columbiana – Lepper Public Library
Erie – Huron Public Library
Franklin – Southwest Public Libraries
Franklin – Westland Area Library
Fulton – Archbold Community Library
Fulton – Bean Creek Valley History Center
Fulton – Fulton County Chapter O.G.S.
Fulton – Swanton Public Library
Gallia – Bossard Memorial Library
Hancock – Findlay-Hancock County Public Library
Hardin – Ada Public Library
Hardin – Forest Jackson Public Library
Holmes – Holmes County District Public Library
Huron – Bellevue Public Library
Huron – Huron County Community Library
Jackson – Jackson City Library
Lawrence – Briggs Lawrence County Public Library
Licking – Mary Babcock Library
Lorain – Avon Lake Public Library
Medina – Medina County District Library
Medina – Medina County District Library
Mercer – Coldwater Public Library
Mercer – Fort Recovery Public Library
Ottawa – Oak Harbor Public Library
Paulding – Paulding County Carnegie Library
Preble – Brown Memorial Library
Richland – Mansfield and Richland County Public Library
Richland – Marvin Memorial Library
Seneca – Seneca East Public Library
Stark – Stark County District Library
Trumbull – McKinley Memorial Library
Wayne – Wayne County Public Library
Wayne – Wayne County Public Library
Wood – Rossford Public Library
Wood – Way Public Library
Wood – Wayne Public Library
Wood – Weston Public Library
Wood – Wood County District Public Library
Wyandot – Dorcas Carey Public Library
Oklahoma
Bryan – Donald W Reynolds Community Center & Library
Kingfisher – Hennessey Public Library
Texas – Guymon Public Library
Oregon
Coos – Flora M Laird Memorial Library
Umatilla – The Weston Public Library
Wallowa – Enterprise City
Wallowa – Wallowa History Center
Pennsylvania
Allegheny – Oakmont Carnegie Library
Chester – Spoke Newspaper
Franklin – Alexander Hamilton Memorial
Lycoming – James V Brown Public Library (in library only)
Lycoming – James V Brown Public Library
Rhode Island
Bristol – Bristol Phoenix
Kent – East Greenwich Free Library
Kent – East Greenwich Post 2000 Newspapers (in library only)
Kent – Warwick Public Library (in library only)
Kent – West Warwick Public Library
Newport – Jamestown Philomenian Library
Providence – Cranston Public Library
Providence – Greenville Public Library (in library only)
Providence – Pawtucket Public Library
Washington – Island Free Library
Washington – Maury Loontjens Memorial Library
Washington – North Kingstown Library
South Dakota
Clay – Vermillion Public Library
Union – Beresford Public Library (in library only)
Union – Beresford Public Library
Tennessee
Coffee – Coffee County Library
Hamilton – Chattanooga Newspapers
Texas
Andrews – Andrews County Library
Austin – Bellville Public Library
Bee – Joe Barnhart Bee County Library
Bell – Killeen (in library only)
Blanco – Blanco County North and South Library Districts
Cameron – Harlingen Public Library
Camp – Pittsburg-Camp County Public Library
Chambers – Chambers County Library System
Colorado – Nesbitt Memorial Library
Comal – New Braunfels Public Library
Comal – New Braunfels Public Library (in library only)
Crane – Crane County Public Library
Dallam – XIT Museum
Dallas – Seagoville Public Library
Falls – D Brown Memorial Library
Frio – Dilley Public Library
Galveston – Friendswood Public Library
Grayson – Denison Public Library
Grayson – Van Alstyne Public Library
Hays – San Marcos Public Library
Hidalgo – Speer Memorial Library
Hidalgo – Speer Memorial Library
Hood – Hood County Public Library
Hunt – Commerce Public Library
Jefferson – Marion & Ed Hughes Library
Karnes – Karnes City Public Library
Karnes – Kenedy Public Library
Limestone – Groesbeck Public Library
Live Oak – Live Oak County
Medina – Driscoll Public Library
Mitchell – Mitchell County Library
Oldham – Oldham County Public Library
Pecos – Fort Stockton Public Library
Pecos – Iraan Public Library
Reeves – Reeves County Library
Scurry – Scurry County Library
Swisher – Swisher County Public Library
Tarrant – John Ed Keeter Public Library
Tom Green – Tom Green County Library (in library only)
Trinity – Blanche K. Werner Library 
Victoria – Victoria College Library (in library only)
Victoria – Victoria Public Library
Wichita – Burkburnett Public Library
Wichita – Electra Public Library
Wichita – Wichita Falls Public Library (in library only)
Williamson – Eula Hunt Beck Florence Public Library
Wise – Decatur Public Library
Wood – Gilbreath Memorial Library
Vermont
 Chittenden – Charlotte News
Franklin – Arvin A Brown Public Library
 Lamoille – Stowe Free Library
Rutland – Sherburne Memorial Library
Virginia
Amelia – James L. Hamner Public Library
Buchanan – Buchanan County Library
Frederick – Handley Regional Library
Frederick – Wayside Theater
Rappahannock – Essex Public Library
Russell – Russell County Library
Washington
Pend Oreille – Pend Oreille County Library District
West Virginia
Hancock – Weirton Area Museum
Mercer – Princeton Public Library
Mineral – Potomac State College Mary Shipper Library
Ohio – Ohio County Public Library
Wisconsin
Barron – Rice Lake Public Library
 Chippewa – Chippewa Falls Public Library
Columbia – Kilbourn Public Library
Dunn – Menomonie Public Library
Forest – Crandon Public Library
Jefferson – Irvin L Young Memorial Library
Juneau – Elroy Public Library