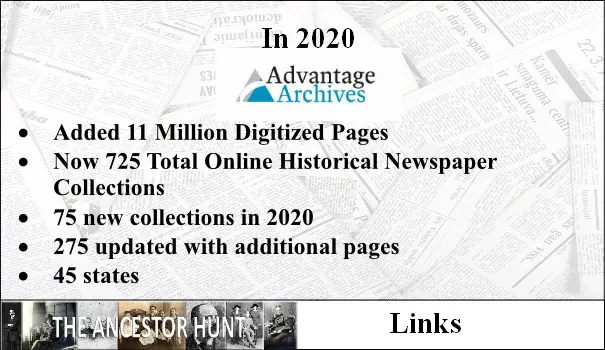 I have been tracking the online historical newspaper collections from Advantage Archives (formerly called Advantage Preservation) since February, 2017, The list has grown a lot since then. Now there are over 725 collections – 75 of which are newly added this year.
Below is a list of all the collections that were new or updated during 2020. To see the most recent complete list, click on 80 Million Historic U.S. Newspaper Pages Now Available from Advantage Archives. Please be aware that this list of 80 Million does not include the collections added or updated in the last 2 or 3 months.
In 2020, there were over 11 million pages added to 275 collections (of which 75 were brand new in 2020). These 275 collections represent about 38% of the entire set of Advantage Archives collections. They come from 45 states in the United States and one Canadian province.
New and Updated Collections in 2020
The list by state and county of the new collections and the updated online collections that had pages added in 2020 that are available to search for free is below.
​Alaska
Arizona
Arkansas
Colorado
Connecticut
Delaware
Georgia
Idaho
Illinois
Indiana
Iowa
Kansas
Kentucky
Louisiana
Maine
Manitoba
Maryland
Massachusetts
Michigan
Missouri
Montana
Nebraska
Nevada
New Hampshire
New Jersey
New York
North Carolina
North Dakota
Ohio
Oklahoma
Oregon
Pennsylvania
Rhode Island
South Dakota
Texas
Vermont
Virginia
Washington
West Virginia
Wisconsin
For more links to free historical collections for these states and others – please see the Newspaper Links page on this website.