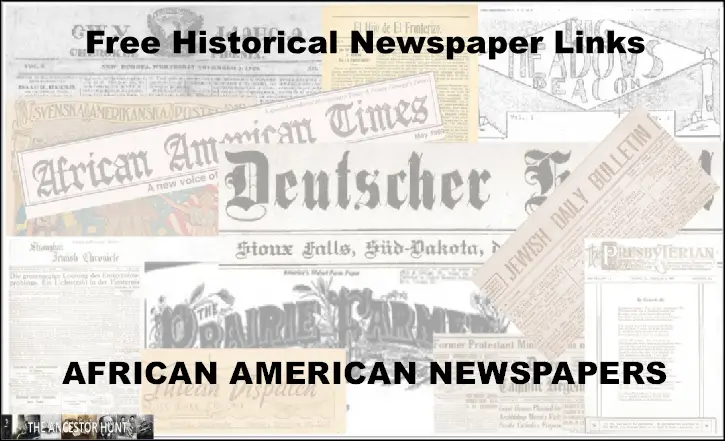 Just like newspapers of all types and sources, many of these African-American newspapers have been digitized and are available for research – some for free, some only available at a library or archive, and some via subscription. And of course, most are still in paper form or microfilm and have not been digitized, so must be searched offline. See below to find out where non-digitized publications may be found.
The sites below include newspaper publications from a variety of sources.  The others are available via state-based newspaper collections; and the remainder via individual sites, including those of historically African-American colleges and universities.  There are also collections only available at libraries. They are sorted by state. 
Please note that I have not always entered the dates that are included in the collections, as I suspect they will change as more items are digitized. Also, I suspect that some of these links may change over time – so if there is a dead link – please use your favorite search engine to find their new location.
(Updated August 2023; recently added links are in BOLD)
Free Sites:
Alabama
Arkansas
Arizona
California
Colorado
District of Columbia
Delaware
Florida
Georgia
Idaho
Iowa
Illinois
Indiana
Kansas
Kentucky
Louisiana
Massachusetts
Maryland
Michigan
Minnesota
Missouri
Mississippi
Montana
New Jersey
North Carolina
New York
Ohio
Oklahoma
Oregon
Pennsylvania
South Carolina
Tennessee
Texas
Utah
Virginia
Washington
West Virginia
Wisconsin
Black Abolitionist Newspapers (clippings)
Subscription and Free Library Sites:
If you have access to a library that has a ProQuest or ReadEx (or any other online newspaper site) subscription, then there may be additional historic newspapers available to you for free. Below is a list of some of those, as well as a summary of newspaper collection websites that require a paid subscription.
Accessible Archives – There are 11 publications in the collection (per their website): The Christian Recorder, The Colored American, Weekly Advocate, Frederick Douglass' Paper, Freedom's Journal, The National Era, The North Star, Provincial Freeman, Frederick Douglass Monthly, The Freedmen's Record, and The Negro Business League Herald.
ProQuest – There are 11 publications in the collection (per their website): Atlanta Daily World, Baltimore Afro-American, Chicago Defender, Cleveland Call and Post, Los Angeles Sentinel, Louisville Defender, Michigan Chronicle, New York Amsterdam News, Norfolk Journal and Guide, Philadelphia Tribune, and Pittsburgh Courier.
Ancestry.com – According to their website there are over 200 African-American newspapers in their collection.
Newspapers,com – there is no breakdown on their website (that I could find) that divides their collection by topic as opposed to location. But I did check and some of the titles of African-American newspapers are indeed in their collection.
Genealogy Bank – Over 270 newspapers are available through this subscription site. Here is a link to their African American Collection.
Newspaper Archive – There is no breakdown (that I could find) of all of their titles that provide information as to what number of African-American newspapers exist in their collection.
Readex – Their website states that they have 350 publications covering over 35 states.
Paper and Microfilm Collections:
If you want to know where non-digitized collections of African-American newspapers may be held, either in paper or in microfilm, follow these instructions:
If you wish more information about newspaper research for genealogy, including access to tutorials and dozens of articles about becoming a proficient researcher as well as lists of links to thousands of other free U.S. online newspaper titles, please visit the Newspapers page on this website.
Good Luck and Happy Hunting!