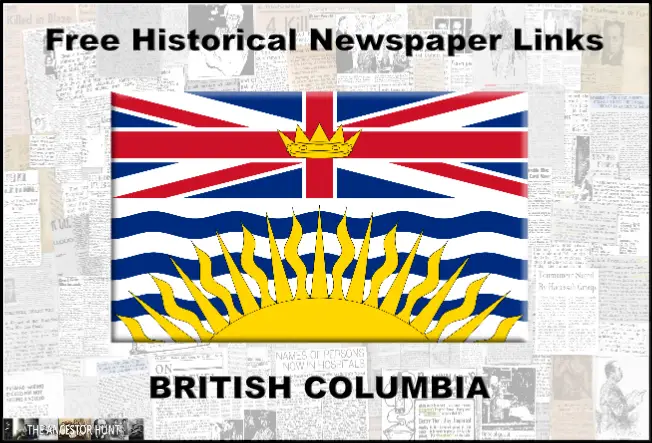 British Columbia is one of the Canadian provinces that does have a single central online repository for searching historical newspapers. . Also, there are quite a few free publications available on other sites and there are collections available on subscription sites. Below is a list of where the titles are stored and the link so that you can access them.
So go for it – find your British Columbia ancestors and all the interesting articles that capture the stories of their lives. 
Please note that I have not always entered the dates that are included in the collections, as I suspect they will change as more items are digitized. Also, I suspect that some of these links may change over time – so if there is a dead link – please use your favorite search engine to find their new location. 
(Updated July 2021; recently added links are in BOLD)
Free Sites:
Provincewide Collections:
British Columbia Historical Newspapers
Google News Archive​
Prince George Newspapers Project 1909-2009
Simon Fraser University – Multicultural Canada
Squamish Review

Squamish Times

Squamish Advance

Squamish Chief
Thompson-Nicola Regional District Library (1882–2014)
Clinton Lariat

Inland Sentinel

Kamloops Daily News

Kamloops Daily Sentinel

Kamloops News

Kamloops Sentinel

Kamloops Standard

Kamloops Standard-Sentinel

Kamloops This Week

Merritt Herald

Merritt News

Sun Peaks Independent news
Victoria Newspapers 1858-1936 (Index only, but some search results have links to page image)
Colonist Daily News 

Evening Express 

The (Daily) Press 

Vancouver Daily Evening Post 

Victoria Daily Chronicle 

Victoria Daily Standard 

Victoria Gazette 

Victoria Times 

Victoria Times & Evening Express
Bill Silver Digital Newspaper Archive 1917-2007
​Vancouver Public Library – British Columbia Index
British Columbia Regional Digitized History
Student Collections:
British Columbia Institute of Technology – Burnaby
Camosun College
Capilano University – North Vancouver
College of New Caledonia – Prince George
Douglas College  New Westminster
Kwantlen Polytechnic University – Surrey
Langara College – Vancouver
Simon Fraser University – Burnaby
Thompson Rivers University – Kamloops
Trinity Western University – Langley
University of British Columbia, Okanagan – Kelowna
University of British Columbia – Vancouver
University of Northern British Columbia – Prince George
University of the Fraser Valley – Abbotsford
Miscellaneous Collections:
Eleanor Muehle Newspaper Archive
For Obituary Indexes, transcriptions, and other death/obituary information from historic newspapers, please check out the Obituaries page.​​
Other Free Sites:
Abbotsford
Canterbury
Cassiar
Chilliwack
Duncan
Nanaimo
Port Alberni
Prince Rupert
Quesnel
Salt Spring Island
Summerland
Vancouver​
Victoria
Whistler
White Rock
Subscription or Pay Sites:
Ancestry.com:
There are currently 2 publications available at this site. See all the titles at Ancestry – British Columbia Newspapers
Newspapers.com:
There are currently 51 publications available at this site. See all the titles at Newspapers.com – British Columbia. 
Paper of Record:
There are currently 4 publications available at this site. See the titles atPaper of Record – British Columbia
And Finally:
You might want to check out the British Columbia Genealogical Society site from time to time to see what is available online or otherwise. There are a number of links to many newspaper and obituary collections throughout the province. 
Please note – even more may be available via a local or provincial library where a library card is required.  And of course, there is always microfilm for those that have not been made available online as yet.
Good Luck and Happy Hunting!
For more links for different states, provinces, and countries – please see the Newspaper Links page on this website.
For other Free British Columbia Links, click on the category of interest:​​
Newspapers
Obituaries
BMD Records
Photos
Yearbooks
Directories