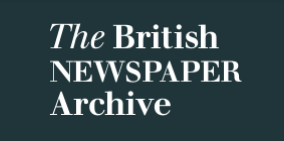 The British Newspaper Archive, a subscription site with over 54 million historical newspaper pages to search, has made available about 1 million pages from about 100 titles for free to search without a subscription (You must register to create an account).
The British Newspaper Archive is a partnership between the British Library and Findmypast to digitize the British Library's vast collection of newspapers. The majority of the titles are from the United Kingdom and the Republic of Ireland.
There are two articles that you might wish to read if you are seeking to make use of the search for titles in the free collection. They are:
And here is the list of the current titles that are available for free:
The Age (1825-1843)
Alston Herald and East Cumberland Advertiser (1875-1879)
Argus, or, Broad-sheet of the Empire (1839-1843)
Atherstone, Nuneaton, and Warwickshire Times (1879-1879)
Baldwin's London Weekly Journal (1803-1836)
The Barbadian (1822-1861)
Barbados Mercury, Barbados Mercury, and Bridge-town Gazette (1783-1789, 1807-1848)
Barrow Herald and Furness Advertiser (1863-1879)
Beacon (Edinburgh) (1821-1821)
Beacon (London) (1822-1822)
Bee-Hive (1862-1878)
Birkenhead News (1878-1879)
Blackpool Gazette & Herald (1874-1879)
Blandford and Wimborne Telegram (1874-1879)
Bridlington and Quay Gazette (1877-1877)
Bridport, Beaminster, and Lyme Regis Telegram (1865, 1877-1879)
Brighouse & Rastrick Gazette (1879-1879)
Brighton Patriot (1835-1839)
British Emancipator (1837-1840)
British Liberator (1833-1833)
British Luminary (1818-1823)
British Miner and General Newsman (1862-1867)
British Press (1803-1826)
Caledonian Mercury (1720-1867)
The Cannock Chase Examiner (1874-1877)
Central Glamorgan Gazette (1866-1879)
The Champion (1836-1840)
The Charter (1839-1840)
The Chartist (1839-1839)
Chartist Circular (1839-1841)
Cleave's Weekly Police Gazette (1835-1836)
Cobbett's Weekly Political Register (1802-1836)
Colored News (1855-1855)
Cradley Heath & Stourbridge Observer (1864-1879)
Darlington & Richmond Herald (1870-1870, 1873-1874)
Denton and Haughton Examiner (1873-1879)
Dewsbury Chronicle and West Riding Advertiser (1872-1875)
Dorset County Express and Agricultural Gazette (1858-1879)
The Examiner (1808-1880)
Express (London) (1846-1869)
Forest of Dean Examiner (1875-1877)
Glasgow Chronicle (1844-1857)
Glasgow Courier (1802, 1844-1866)
Imperial Weekly Gazette (1808-1810, 1818-1825)
Royal Gazette of Jamaica (1779-1836, 1838-1840)
Jewish Record (1868-1871)
Kenilworth Advertiser (1872-1879)
Lady's Newspaper and Pictorial Times (1847-1863)
Lady's Own Paper (1866-1872)
Lancaster Herald and Town and County Advertiser (1831-1832)
Liverpool Weekly Courier (1867-1879)
London Dispatch (1836-1839)
Manchester Examiner (1848-1848)
Manchester Times (1828-1848)
Midland Examiner and Times (1877-1878)
Mirror of the Times (1800-1823)
Morning Chronicle (1801-1865)
Morning Herald (London) (1801-1869)
National Register (London) (1808-1823)
New Weekly True Sun (1836-1836)
The News (London) (1805-1839)
Northern Daily Times (1853-1861)
Northern Liberator (1837-1840)
Northern Star and Leeds General Advertiser (1838-1852)
Nuneaton Times (1878-1879)
The Odd Fellow (1839-1842)
The Operative (1838-1839)
Pictorial Times (1843-1848)
Pierce Egan's Life in London, and Sporting Guide (1824-1827)
Pontypridd District Herald (1878-1879)
Poole Telegram (1879-1879)
Poor Man's Guardian (1831-1835)
Potteries Examiner (1871-1879)
Press (London) (1853-1866)
Runcorn Examiner (1870-1879)
St. Helens Examiner (1879-1879)
Saint James's Chronicle (1801-1866)
Shropshire Examiner (1874-1877)
South Staffordshire Examiner (1874-1874)
Brighton Patriot (1840-1840)
Star (London) (1801-1831)
Statesman (London) (1806-1824)
Stockton Gazette and Middlesbrough Times (1860-1865, 1868-1879)
Stretford and Urmston Examiner (1879-1879)
Sun (London) (1801-1871)
Swansea and Glamorgan Herald (1847-1879)
Warrington Examiner (1885-1879)
Weekly Chronicle (London) (1836-1867)
Westminster Journal and Old British Spy (1805-1810)
Weymouth Telegram (1862-1878)
Widnes Examiner (1876-1879)
Wolverhampton Times and Bilston, Willenhall, Wednesfield, and Sedgley Journal (1874-1876)
To go to the British Newspaper archive, go HERE
Good Luck and Happy Hunting!