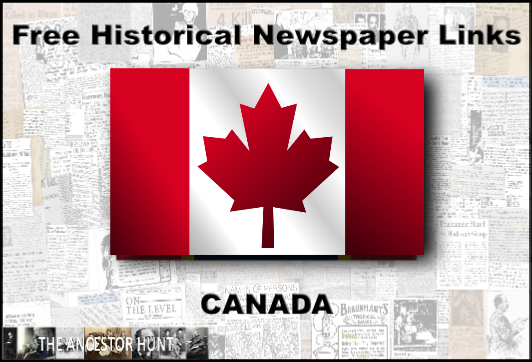 This past week I have been updating the articles published in the past that contain links to free online historical newspapers for Canada. Each article focuses on one single province (the territories are grouped into one article). 
There are about 4,335 historical newspapers available online for free, and the links are included in these articles. All publication dates for each newspaper are not online and not all newspapers ever published in Canada are either. But the 4,335 newspapers that are available online are a great place to start.
Several provinces have province-wide online databases, whether sponsored by a government agency or university, or library, and other provinces have multiple collections. Alberta, British Columbia, Manitoba, Quebec, and Ontario all have sizable collections, and their links are included in these articles. Most of the other provinces have added more digitized newspapers as well.
Below is a list of all 10 province articles (plus the territories). 
I encourage you to take advantage of these links and find interesting articles and stories about your ancestors. In other words – click on the links below, proceed to the article and find the newspaper links that may be of interest to you.
Please note that any article that includes links to free or other newspaper research sites is accurate at the time of publication. Collection updates may occur (as well as dead links) in the future, both of which are out of my control. It is not the intention of the author (me) to maintain a complete or constantly updated list for all time. In other words, please don't yell at me if this is not 100% complete and/or accurate forever.
Links By Province 
I would suggest bookmarking the Newspapers page on this website and visiting it regularly. Additional articles that are either informational or contain links are frequently added.
Good Luck and Happy Hunting!