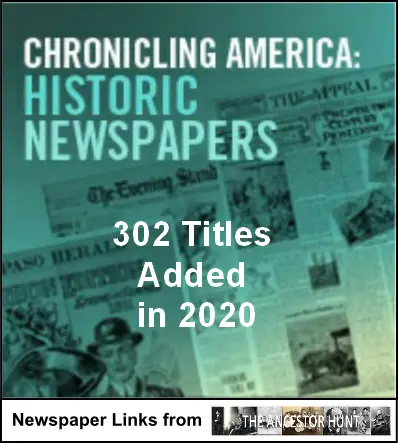 Chronicling America, the newspaper collection available for online research of United States historic newspapers, regularly updates their collection. At the end of 2020, there were almost 17,500,000 online pages available from over 3,300 titles.
In 2020, 302 titles were added and/or updated to the collection from 27 states and the District of Columbia.
Here are the newspaper titles added to Chronicling America in 2020: (Please note that some newspapers may be listed multiple times because they were updated more than once by the Library of Congress and have different date ranges for the same title).
Alabama

Alaska
Arizona
California
Colorado
District of Columbia
Florida
Georgia
​Idaho
Illinois
Indiana
Iowa
Maine
Maryland
Michigan
Montana
Nebraska
Nevada
New Jersey
North Carolina
Ohio
South Dakota
​
Texas
Utah
Virginia
​Washington
West Virginia
​
​Wisconsin
​Wyoming
For more Chronicling America and other free links for these states and others – please see the Newspaper Links page on this website.