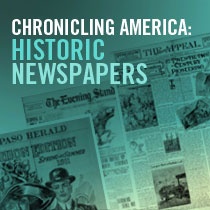 Chronicling America, through its new labs.loc.gov capability, is adding crowdsourcing of historic newspaper cartoons and photographs, which will allow users to provide captions for these images.
From the announcement of this new feature, entitled "Beyond Words":
"The Library of Congress today launched labs.loc.gov, a new online space that will host a changing selection of experiments, projects, events and resources designed to encourage creative use of the Library's digital collections. To help demonstrate the exciting discoveries that are possible, the new site will also feature a gallery of projects from data challenge winners and innovators-in-residence and blog posts and video presentations from leaders in the field.
​
"We already know the Library of Congress is the ultimate treasure chest, but with labs.loc.gov we are inviting explorers to help crack open digital discoveries and share the collections in new and innovative ways," said Librarian of Congress Carla Hayden. "Whether you're tagging images from our digitized historic newspapers to help future visitors, or exploring the changing nature of democracy through the 25 million bibliographic records the Library recently made public, we are providing tools and inspiration that will lead to new uses and new ways of looking at the incredible materials here at the Library."
One of the first features on labs.loc.gov is Beyond Words, a website that invites the public to identify cartoons and photographs in historic newspapers and provide captions that will turn images into searchable data. This fun crowdsourcing program grows the data set of text available for researchers who use visualization, text analysis and other digital humanities methodologies to discover new knowledge from Chronicling America—the Library's large collection of historic American newspapers. Beyond Words is available as a pilot project to help the Library of Congress learn more about what subsets of Library data researchers are interested in and to grow the Library's capacity for crowdsourcing."
To read the entire article click on Library Launches labs.loc.gov
This is exciting news that will enable users through crowdsourcing to add captions that when added to the search index, will enable an added search experience of Chronicling America.