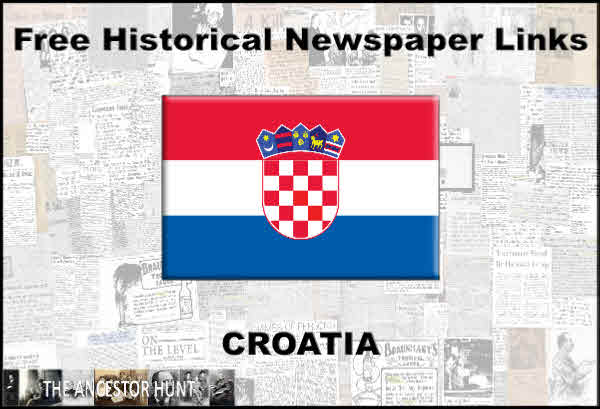 In 2014, this website began to curate links to free online newspapers in the United States. The initial publication listed about 10,000 titles. A few years later, digitized and free Canadian newspaper collection links were curated and published. Today, between the two countries there are over 47,500 historical newspaper titles that are listed. The common denominator is that they are free to search and/or browse online.
Quick Tips for Searching Historical...
This brings us to Europe. There are 44 countries in Europe. I suspect that we will not be able to find free titles in all the countries, but that is our goal.
Each country's page will list nationwide titles, titles from other collections, and individual titles that are free to search and browse. Many countries have titles from other countries in their national libraries. They will be listed on the page of the collection that holds that title.
Croatia
Nationwide Collections
Other Collections
DIKAZ – Digitalna knjižnica Zadar
Digitalne zbirke Knjižnica grada Zagreba
Novinstvo Varaždina,  1848->
Varaždinske vijesti,  1945->
Varteksov vjesnik,  1953-1980
Visov vjesnik,  1964-1991
Zdravstveni vjesnik,  1976-1987
Sportske informacije,  1976-1981
Vijesti,  1945
Hrvatsko jedinstvo,  1937-1945
Varaždinski vjesnik,  1930
Jugoslavija,  1930-1931
Varaždinske novosti,  1929-1941
Varaždinac,  1929
Hrvatski blok,  1928
Narodno jedinstvo,  1925-1929
Podravska oblast,  1925-1928
Naše pravice,  1924
Hrvatsko jedinstvo,  1924
Narodni sporazum,  1923
Glas Međimurja i Zagorja,  1922-1926
Narodno jedinstvo,  1921-1923
Smola naroda,  1919
Slobodni građanin,  1919-1921
Bratstvo,  1919-1920
Volja naroda,  1918-1922
Hrvatsko pravo,  1914-1918
Varaždinske novosti,  1911
Hrvatske pravice,  1907-1911
Varaždinac,  1906-1907
Zavičaj,  1906
Naše pravice,  1904-1914
Štefek z mustači,  1905-1907
Hrvatska pošta,  1898
Varaždinski viestnik,  1890-1906
Hrvatska straža,  1885-1890
Varaždinski glasnik,  1885
Prijatelj puka,  1880
Pučki prijatelj,  1867-1877
Der Lucifer,  1848
Miscellaneous Titles
Arhiv Slobodne Dalmacije – Slobodne Dalmacija
Good Luck and Happy Hunting!