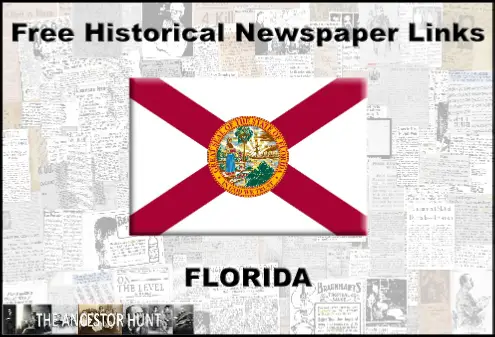 Florida has a sizable state-wide free online collection for searching historical newspapers. Many states use the Library of Congress Chronicling America site as their main central online site for searching old newspapers and currently, Florida has quite a few newspapers also available on that site. There are free online newspapers available on other sites and there are collections available on subscription sites. Below is a list of where the titles are stored and the link so that you can access them. 
There are over 2,300 newspapers that have been published in the Sunshine State – certainly not all of them are searchable online. But there are several that are indeed available. So go for it – find your Florida ancestors and all the interesting articles that capture the stories of their lives. 
Please note that I have not always entered the dates that are included in the collections, as I suspect they will change as more items are digitized. Also, I suspect that some of these links may change over time – so if there is a dead link – please use your favorite search engine to find their new location. 
(Updated July 2023; recently added links are in BOLD)
Florida Historical Newspapers
Free Sites:
Statewide Collections:
Google News Archive
Florida Digital Newspaper Library
County and Library Collections:
Boca Raton News (1955–1970)
The Pelican (1948–1953)
The Spanish River Papers (1973–1987)
The Weekly Tattler (June–September 1938)
Boynton Beach Public Library Digital Newspapers
Boynton Beach Monday Paper 
Boynton Beach News
Boynton Beach News Journal
Boynton Beach Star
Boynton Bugle
Boynton Herald
Boynton Hi-Lite
Lake Worth Herald
Lucene Herald
Palm Beach Post Brown Wrapper
Sun Sentinel Sunday Brown Wrapper
The Boynton News
The Boynton Progress
The Examiner
The Times-Leader
Central Florida Memory Newspapers
DeLand Collegiate

Florida Home Farm and Field

Illustrated Orange County Florida

John B Stetson Collegiate

Lochmede

Orange County Reporter

The Rollins Sandspur

Sanford Chronicle

Sanford Today

Sandspur

St. Cloud Tribune

Stetson Collegiate

Stetson Weekly Collegiate

The Greeter

The Script

This Week in Sanford
Coral Gables Memory – Newspapers
Coral Gables Times
The Guide
The Times-Leader
Panama City Pilot
Panama Kraft Messenger
Panama Kraft News
St Andrews Bay News
The Bay Liner
Jackson County Floridan
Papoose
Smoke Signals
Destin Log
Destin Weekly Log
Lynn Haven Free Press
Lynn Haven Tribune
The Weekly Spokesman
De Funiak Springs Signal
Okaloosa News-Journal
The Breeze
The Defuniak Herald
The Florala News
The Florala News Democrat
West Florida Daily Globe
University of South Florida Newspaper Archives
Student Collections:
Barry University – Miami Shores
Broward College – Fort Lauderdale
Christopher Columbus High School – Miami
College of Boca Raton – Boca Raton
Coral Reef Senior High School – Miami
Daytona State College – Daytona Beach
Eckerd College – St. Petersburg
Embry–Riddle Aeronautical University – Daytona Beach
Flagler College – St. Augustine
Florida A&M University – Tallahassee
Florida Atlantic University – Boca Raton
Florida Gulf Coast University – Fort Meyers
Florida Institute of Technology – Melbourne
Florida International University – Miami
Florida Southern College – Sutherland
Florida State College – Jacksonville
Florida State University – Tallahassee
Florida State University College of Law – Tallahassee
Gulf Coast State College – Panama City
Jacksonville University – Jacksonville
Lakeland High School – Lakeland
Lakewood High School – St.Petersburg
Lynn University – Boca Raton
Marymount College – Boca Raton
Miami Dade College North – Miami
Miami Dade College – Miami
Miami Palmetto Senior High School – Palmetto
Miami Senior High School – Miami
New College of Florida – Sarasota
Nova Southeastern University – Fort Lauderdale
Palm Beach Atlantic University – West Palm Beach
Palm Beach State College – Lake Worth
Rollins College – Winter Park
Roosevelt Junior College – West Palm Beach
Saint Leo University – St. Leo
Seminole State College – Sanford
Stetson University – DeLand
Tallahassee Community College – Tallahassee
University of Central Florida – Orlando
University of Florida – Gainesville
University of Miami – Coral Gables
University of North Florida – Jacksonville
University of South Florida – St. Petersburg
University of South Florida – Tampa
University of Tampa – Tampa
University of West Florida – Pensacola
Valencia College – Orlando
Miscellaneous Collections and Indexes:
Jacksonville Newspaper Indexes
The Jacksonville Journal
The Florida Times-Union
The Florida Times-Union Star Edition
Independent Voices – Alternative Newspapers
Balaklava
The Flamingo Park Gazette
WomaNews
Defense Committee Newsletter
Hogarm
Instauration
Olive Branch, The
Civilian Conservation Corps (CCC) Newspapers 1933-1942
For Obituary Indexes, transcriptions, and other death/obituary information from historic newspapers, please check out the Obituaries page. ​​
Other Free Sites:
Broward County    
Camp Blanding
Clearwater
Cocoa
Deland
Dunedin
​Ft. Lauderdale
Gainesville
Hollywood
Jacksonville
Key West
Miami​
Miami Beach
Miami-Dade County
Pensacola
Safety Harbor
St. Augustine
St. Cloud
St. Petersburg​
Starke
Tampa
Temple Terrace
Winter Park
Subscription or Pay Sites:
Ancestry.com:
There are currently 26 publications available on this site. See all the titles at Ancestry – Florida Newspapers
Genealogy Bank:
There are currently 289 publications available on this site. See all the titles at Genealogy Bank – Florida Newspapers
Newspaper Archive:
There are currently 143 publications available on this site. See all the titles at Newspaper Archive – Florida
Newspapers.com:
There are currently 116 publications available on this site. See all the titles at Newspapers.com – Florida.
And Finally:
You also need to visit the University of Florida Libraries site from time to time, which can tell you what is occurring in the state with regard to online and other format newspaper availability.
Please note – even more may be available via a local or state library where a library card is required. And of course, there is always microfilm for those that have not been made available online as yet.
For more links for different states, provinces, and countries – please see the Newspaper Links page on this website.