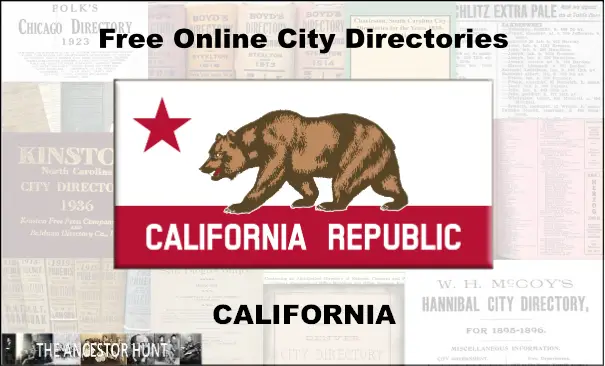 City and business directories are available online from all over the U.S. and are what I consider another important set of information that can assist you in advancing your family history and genealogy research.
This activity of presenting links is a collaborative effort between The Ancestor Hunt and Miriam Robbins, who for years has made available the Online Historical Directories website, which presents links to directories of all types that are available online, including free collections as well as those available only via subscription. I wish to thank Miriam for her help in launching this category of records at The Ancestor Hunt.
So, what kinds of directories are available to the researcher?  Naturally city and business directories, but also telephone directories, and alumni, farm, lodge, rural, and social directories.
What can you find in these records? How about:
Here are a few good primers on the benefits of searching historical city and other directories:​
And here are various places where you can find other city directories online: 
Note: Some of the links listed below take you to a FamilySearch Collection of digital images. Near the bottom of the page under Film/Digital Notes is the name of each sub-collection. If there is a camera icon at the right of the name (in the Format column) then the collections' images are browsable. If there is a camera with a key icon, it is only available at a Family History Center or affiliated library. If there is a film reel icon, then it is only available in microfilm format, not digital.
(Updated September 2021; recently added links are in BOLD)
Links to these free collections are presented initially with statewide collections, followed in alphabetical order by city or county. Generally, the publishing company is included in the reference to the collection, along with the collection title, and the date(s) of the directory:
Statewide
Alameda County
Berkeley
Butte County
Calaveras, San Joaquin, Stanislaus, and Tuolumne County
Carpinteria
Chico
Chico and Oroville
Daly City
Daly City and Colma
Del Norte County
Escondido
Escondido and Valley Center
Escondido, San Marcos, and Valley Center
Glendale
Goleta
Granada Hills
Hollywood
Inglewood
Lomita
Long Beach
Los Angeles
Merced County
North Hollywood
Northridge and Chatsworth
Oakland
Oakland, Alameda and Berkeley
Orange County
Palo Alto
Pasadena
Placer County
Placerville
Pomona
Porterville
Redlands
Richmond
Riverside
Sacramento
San Benito County
San Bernardino
San Bruno
San Clemente
San Diego
San Fernando Valley
San Francisco
San Francisco and Oakland
San Joaquin County
San Jose
San Luis Obispo
San Pedro
San Pedro and Wilmington
Santa Barbara
Santa Maria
Santa Monica
Santa Monica and Venice
Sonoma County
South San Francisco
Stockton
Sunland – Tujunga
Torrance
Tuolumne
Vacaville
Van Nuys
Watts
Watts – Compton
West Los Angeles
Westwood
Westwood Hills
Westwood, Brentwood, and Bel Air
Whittier
Yolo County
Yuba, Sutter, Colusa, Butte & Tehama County
​Good Luck and Happy Hunting!
​For other Free California Links, click on the category of interest:​
Newspapers
Obituaries
BMD Records
Photos
Yearbooks
Directories
Divorce Records
Naturalizations
Church Records
School Records
Coroner Records
Voter Records
Probate and Wills
Immigration
Mortuary Records
Alumni Records
Cemetery Records