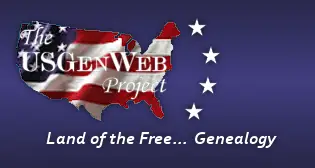 The USGenWeb Project was formed in 1996. It is a marvelous assortment of highly usable genealogy collections of all varieties and categories. It is a diverse (and sometimes eclectic) variety of genealogy records. It was and still is managed by and contributed to by volunteers.
Its history (from the USGenWeb project website): "In the spring of 1996, a group of genealogists led by Jeff Murphy organized the Kentucky Comprehensive Genealogy Database Project, which evolved into the KyGenWeb Project. The idea was to provide a single-entry point for genealogy data and research for all counties in Kentucky. In addition, the information for each county would be indexed and cross-linked to make it easier for researchers to find a name or data that they sought. In June 1996, as the KyGenWeb Project was nearing 100% county coverage, interested volunteers decided to create a similar set of pages for all states, establishing The USGenWeb Project. "
It is separated into state and county websites. Each county website has a collection of pages that are contained within the county site, as well as outbound links to collections on non-USGenWeb sites. There also are some special projects that have been created over the years:
Family Group Sheets Project
Kidz Project
Tombstone Project
US African American Griots Project
It is difficult to describe the breadth and depth of the material that is available via the USGenWeb Project. From lists to indexes to scanned images and old photos, it must be seen to be believed. It is in a word – Magnificent.
There are a few "negatives", however, in my opinion. Most of the sites have a different look and feel. So, you might find menus or link lists in different places from one county site to another. The colors are different from site to site and the presentation is totally different. It does make navigation a challenge. Many of the pages have not been updated for years, and there are broken links.
Despite the negatives, this important collection of websites should be used in your research.  It is very likely that you will not find some of these records and indexes anywhere else.
To access the site, go to www.USGenWeb.org
Click HERE for other Free Online Genealogy Websites of the Day