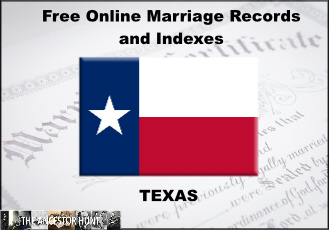 One of the main goals for genealogists is finding marriage information about their ancestors.  
Over the past few decades, thanks to volunteers, librarians and archivists, a great number of indexes to marriage collections have been provided for free online. These searchable indexes provide specific marriage license, bond, and certificate information, and sometimes scanned images of the actual marriage documents themselves. These free online collections have hundreds of millions of records in them in total.
There are a great number of online and offline collections that may include marriage information that are not included in the lists below. These different types can be found in 22 Ways to Find Ancestors Marriage Information.
The lists below are specific marriage indexes and record collections that are available for free online for the state of Texas.
Note 1: Many of the links listed below take you to a FamilySearch Collection of digital images. In many cases there is a link to the digital collection in the middle of the page, but also near the bottom of the page under Film/Digital Notes is the name of each sub-collection. If there is a camera icon at the right of the name (in the Format column) then the collections' images are browsable. If there is a camera with a key icon, it is only available at a Family History Center or affiliated library. If there is a film reel icon, then it is only available in microfilm format, not digital. Please also note that I have listed below only databases that are accessible digitally from your computer (or tablet/phone)
Note 2: I have included links to Free Ancestry records and indexes. You do not need a subscription, but do need an Ancestry account. Without a subscription you can view indexes. If there is an image associated with a record, in most cases you will need a subscription, but the index does include very usable information.
(Updated November 2021; recently added links are in BOLD):
Crosby County, Texas Birth Records, 1903-1937; Index to Marriages, 1886-1953; Marriages 1886-1953 and Deaths, 1840-1970,  
Ector County, Index to Deaths, 1903-1971, Deaths, 1917-1970, Index to Marriages, 1891-1994 and Marriages, 1939-1948,  
Gonzales County Index to Marriages, 1905-1953; Marriage Records, 1829-1955; notice of intention to Marry, 1929-1930,  
Jeff Davis County Marriage Records, 1887-1974; Marriages affidavits, 1887-1913; intention to Marry, 1929-1933; Marriage Licenses, 1910-1944; Index, 1887-1974,  
Navarro County, Index to Births 1860-1946, and Births, 1873-1937; Marriage Records, 1933-1942; Deaths 1963-1965,  
Smith County, Births, 1870-1937; General Index to Marriages, 1848-1975; Marriages, 1848-1951; Deaths, 1910-1967,  
Val Verde County, Death Certificates (1932-1971), Marriage Records (1885-1955), Card Index of Birth Records (1903-1932), and Birth Records (1906-1929),  
Wilbarger County Marriage Records, 1882-1937; Death Records, 1903-1949 and Marriage Indexes, 1882-1934,  
Good Luck and Happy Hunting!
For other Free Texas Links, click on the category of interest:
Newspapers
Obituaries
BMD Records
Photos
Yearbooks
Directories
Divorce Records
Naturalizations
Church Records
School Records
Coroner Records
Voter Records
Probate and Wills
Immigration
Mortuary Records
Alumni Records
Cemetery Records