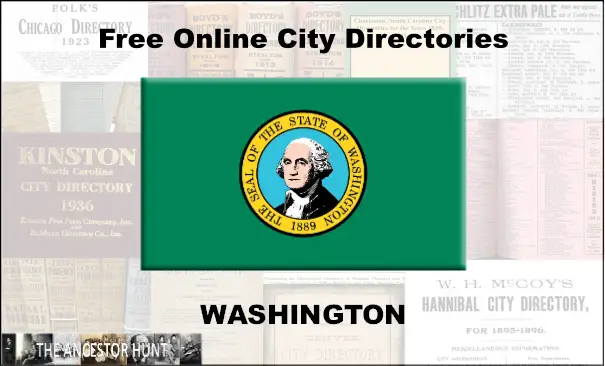 City and business directories are available online from all over the U.S. and are what I consider another important set of information that can assist you in advancing your family history and genealogy research.
This activity of presenting links is a collaborative effort between The Ancestor Hunt and Miriam Robbins, who for years has made available the Online Historical Directories website, which presents links to directories of all types that are available online, including free collections as well as those available only via subscription. I wish to thank Miriam for her help in launching this category of records at The Ancestor Hunt.
So, what kinds of directories are available to the researcher?  Naturally city and business directories, but also telephone directories, and alumni, farm, lodge, rural, and social directories.
What can you find in these records? How about:
Here are a few good primers on the benefits of searching historical city and other directories:​
And here are various places where you can find other city directories online: 
Note: Some of the links listed below take you to a FamilySearch Collection of digital images. Near the bottom of the page under Film/Digital Notes is the name of each sub-collection. If there is a camera icon at the right of the name (in the Format column) then the collections' images are browsable. If there is a camera with a key icon, it is only available at a Family History Center or affiliated library. If there is a film reel icon, then it is only available in microfilm format, not digital.
(Updated September 2021; recently added links are in BOLD)
Links to these free collections are presented initially with statewide collections, followed in alphabetical order by city or county. Generally, the publishing company is included in the reference to the collection, along with the collection title, and the date(s) of the directory:
Statewide
Bellingham
Benton, Franklin, and Kittitas County
Benton, Franklin, and Klickitat County
Cedar Valley
Chelan-Douglas-Grant-Okanogan County
Clark County
Clarkston
Ellensburg & Kittitas County
Enumclaw
Everett
Fairhaven
Ferry, Pend Oreille, and Stevens County
King County
Lewis and Pacific County
Monte Cristo
Olympia
Olympia & Thurston County
Olympia & Whatcom County
Pierce County
Port Angeles
Port Angeles and Port Townsend
Seattle
Sehome
Skagit County
Spokane
Spokane Falls
Tacoma
Thurston and Mason County
Walla Walla
Wenatchee-Chelan-Douglas County
Whatcom
Whitman & Garfield County
Yakima
Yakima County
Good Luck and Happy Hunting!
​For other Free Washington Links, click on the category of interest:​
Newspapers
Obituaries
BMD Records
Photos
Yearbooks
Directories
Divorce Records
Naturalizations
Church Records
School Records
Coroner Records
Voter Records
Probate and Wills
Immigration
Mortuary Records
Alumni Records
Cemetery Records