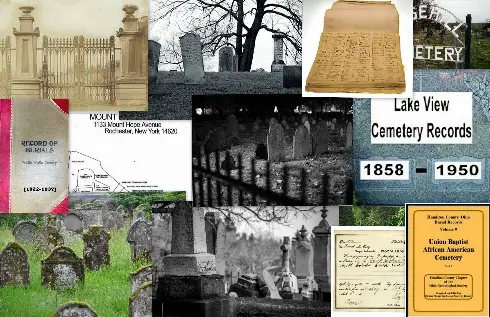 Cemetery records and cemeteries in general are a very large part of our family history and are a significant pursuit for many genealogists.  Sometimes, the information on a headstone is the only information available for certain ancestors.
There are different types of cemeteries. Just being buried in a specific cemetery may provide a clue to ethnicity, religion, military status, or lodge association.
Family Cemetery – Usually located on land owned by a family; may have multiple generations of family members interred.
Church Cemetery – Owned and managed by a church. May be on church grounds or nearby.
Ethnic Cemetery – Provided to support a specific religion or ethnicity.
Military Cemetery – Reserved for veterans and possibly their spouses.
Public Cemetery – Typically owned and operated by a city or county.
Mass Grave – A common grave for multiple people; generally the indigent or those who perished in a disaster.
Commercial Cemetery – For-profit cemeteries. May be owned or affiliated with a funeral home or mortuary.
The tombstone often provides more information than just the name of the deceased, the birth date and/or year, and the death date and/or year. Also, there is a lot of information "behind the scenes" that can be very valuable in your research.
What might we find in cemetery records?
Full name, including maiden name for women
The prior residence address of the deceased
Full birth and/or death dates, including locations
Cause of death
Age at death
Marital status
Who else is buried in the plot
Location of the plot in the Plot map
Plot deed
Cost of the plot and/or burial
Burial Permit
Copy of the obituary
Copy of the death certificate
Names of others involved (e.g., mortuary, headstone company)
Where deceased died, if different from residence
Name of doctor and/or hospital
Name of officiating minister or clergyman
Military affiliation
Transfer to or from that cemetery
Names of other persons related to the deceased,
Military service, religion, occupation, or membership in an organization.
Plot Maps – includes grave locations and plot ownership
Tombstone Inscriptions – birth and death dates. May contain relationships with parents, spouses, and children.
Tombstone decorations – sometimes include symbols or words about occupations, and membership in fraternal organizations, or churches.
Check out links to over 25,000 Free Online Cemetery Record Collections at The Ancestor Hunt's Cemetery Records page.