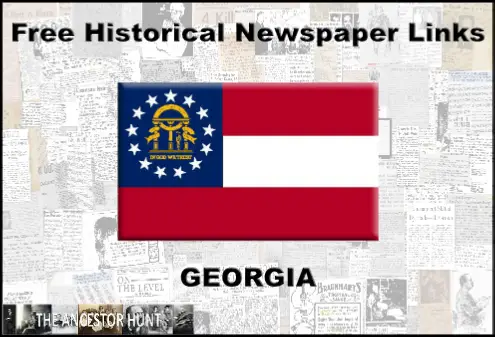 Georgia has one statewide collection for searching historical newspapers. Several states use the Library of Congress Chronicling America site as their main central online site for searching old newspapers and currently, Georgia has just a few newspapers available on that site. There are many free online newspapers also available on other sites and there are collections available on subscription sites. Below is a list of where the titles are stored and the link so that you can access them. 
There are about 2,400 newspapers that have been published in the Peach State – certainly not all of them are searchable online. But there are several that are indeed available. So go for it – find your Georgia ancestors and all the interesting articles that capture the stories of their lives. 
Please note that I have not always entered the dates that are included in the collections, as I suspect they will change as more items are digitized. Also, I suspect that some of these links may change over time – so if there is a dead link – please use your favorite search engine to find their new location. 
(Updated October 2022; recently added links are in BOLD)
Free Sites:
Statewide Collections:
Chronicling America – Georgia Newspapers
Google News Archive
County and Library Collections:
Colquitt County
Moultrie Colquitt County Library
Moultrie Observer 

The Moultrie Observer 
Weekly Moultrie Observer 
Daily Observer 

The Observer
Dawson County
Dawson County Library Archives
Cosmopolite 

Dawson County Advertiser 

Dawson County Advertiser And Dawson County News 

Dawson County News 

Dawson News And Advertiser 

Dawsonville News 

Mountain Chronicle 
Glynn County
Marshes of Glynn Library
Lee County
Lee County Library
Lee County Herald 

Lee County Journal

Leesburg Journal 

Americus Weekly Times Recorder 

Leesburg Hustler 

Lee County Ledger
Morgan County
Azalea Regional Library System
Adairsville Banner

Adairsville Ledger 

Advertiser 

Alpharetta Free Press 

Baptist Banner

Brunswick Daily Advertiser 

Cherokee Georgian 

Chipley Leader 

Confederate Pension 

Cordelean 

Countryman 

Daily Advertiser Appeal 

Daily Madisonian 

Decatur County Advance 

Douglas Enterprise 

Eatonton Messenger

Elbert Beacon 

Elberton Gazette 

Elberton News 

Evening Post 

Farmers Gazette 

Gazette 

Georgia Advocate 

Georgia Journal 

Georgia Reporter And Christian Gazette 

Hancock Advertiser 

Herald 

Ishmaelite 

Jasper County News 

Madison Home Journal 

Madison Yeoman 

Madisonian 

Manchester Star Mercury 

Messenger 

Missionary 

Morgan County Citizen 

Morgan County News 

Mount Zion Presbyterian Church 

Press And Messenger

Rough Rices Ready Reporter 

Southern Miscellany 

Southern Museum 

Southern Tribune 

Sparta Ishmaelite 

Sparta Times And Planters 

Star of The South 

Star 

State Press 

Sunday Madisonian 

The Georgian 

The Ishmaelite And Times And Planter 

The Sparta Ishmaelite 

Voice of The People 

Walker County Messenger 

Walton Tribune 

Weekly Madisonian 

Weekly Southron 

Western Herald 
Worth County
Worth County Library Archives
Sumner Free Trader 

Sylvester Local 

Sylvester Local News 

Worth County Local 

Worth County News 
Andrew W. Cain Newspaper Collection 1864-1905
Dahlonega Nugget

Dahlonega Signal

Signal and Advertiser

Advertiser

Mountain Signal
Bulloch Times (1893-1898; 1905-1906; 1907-1917; 1958-1962)

Bulloch Times and Statesboro News (1917-1920)

Bulloch Times (Statesboro News-Statesboro Eagle) (1920-1957)

Statesboro News (1901-1916)

Statesboro Star (1894, 1899)

The Bulloch County Banner (1893)

The Bulloch Herald (1899)
Student Collections:
Agnes Scott College – Decatur
Albany State University – Albany
Atlanta University – Atlanta
Armstrong College- Savannah
Augusta University – Augusta
Berry College – Rome
Brenau University – Gainesville
College of Coastal Georgia – Brunswick
Columbus State University – Columbus
Covenant College – Lookout Mountain
Dalton State College – Dalton
Emory University – Atlanta
Fort Valley State University – Fort Valley
Gainesville College – Gainesville
Georgia College – Milledgeville
Georgia Perimeter College – Decatur
Georgia State University – Atlanta
Georgia Southern University – Armstrong
Georgia Southern University – Statesboro
Georgia Tech – Atlanta
Kennesaw State University – Kennesaw
Medical College of Georgia – Augusta
Mercer University – Macon
Morehouse College – Atlanta
Morehouse School of Medicine – Atlanta
Oglethorpe University – Atlanta
Piedmont College – Demorest
Savannah State University – Savannah
Spelman College – Atlanta
University of Georgia – Athens
University of North Georgia – ​Daholonega
University of North Georgia – ​Gainesville
University of West Georgia – Carrollton
Valdosta State University – Valdosta
Miscellaneous Collections and Indexes:
Independent Voices – Alternative Newspapers
Polylogue

Rap!

Last harass

Great Speckled Bird
Civilian Conservation Corps (CCC) Newspapers 1933-1942​
Albany GA Daily Herald (1906)Y
Albany GA Patriot Albany (1845, 1846,1866)Y
Americas GA Weekly Sumter Republican (1870-1885)Y
Athens GA Athenian (1927-1932)Y
Athens GA Banner Herald (1923)Y
Athens GA Chronicle (1830-31, 1854-61)Y
Athens GA Constitutionalist Republic (1853-1854)Y
Athens GA Foreign Correspondent (1809-1810)Y
Athens GA Gazette (1814-1820)Y
Athens GA Georgia Weekly Constitutionalist (1848-1855)Y
Athens GA Georgian (1875, 1877)Y
Athens GA Mirror of The Times (1809, 1813-1814)Y
Athens GA Northeast Georgian (1872-73, 1875)Y
Athens GA Southern Banner (1832-33, 1872)Y
Athens GA Southern Literary Gazette (1848-1849)Y
Athens GA Southern Patriot (1806)Y
Athens GA Southern Watchman (1855-56, 1875-82)Y
Atlanta GA Atlanta Daily Herald (1873-1874)Y
Atlanta GA Atlanta Georgian And News (1907, 1911)Y
Atlanta GA Daily Examner (1857)Y
Atlanta GA Daily Herald (1873)Y
Atlanta GA Daily Intelligencer (1856,1860, 63,67,68)Y
Atlanta GA Daily New Era (1869)Y
Atlanta GA Georgian (1906-1907)Y
Atlanta GA Southern Confederacy (1861-1864)Y
Atlanta GA Wolverine Observer (1936, 1954-2001)Y
Augusta GA Augusta Chronicle and Sentinel (1837)Y
Augusta GA Augusta Evening Dispatch (1858-1861)Y
Augusta GA Chronicle (1806-1836)Y
Augusta GA Daily Constitutionalist (1847-1860)Y
Augusta GA Herald (1799-1800, 1821,1865-1866)Y
Augusta GA Southern Field And Fireside (1859-1864)Y
Augusta GA Southern Sentinel (1806-1807, 1809)Y
Augusta GA Triweekly Weekly Chronicle (1839-40, 1851,1872-3, 1875)Y
Augusta GA Weekly Chronicle (1838-42, 1847, 1851-52, 1867)Y
Augusta GA Weekly State Rights Sentinel (1836)Y
Bainbridge GA Democrat (1881-1882)Y
Bainbridge GA Weekly Democrat (1872-73, 1876)Y
Blakely GA County News (1863-64, 1924)Y
Butler GA Herald (1876-78, 1962)Y
Butler GA Taylor County News (1962-1963)Y
Cartersville GA Express (1860)Y
Cedartown GA Cedartown Record (1982-1983)Y
Columbus GA Columbus Inquirer (1828, 32, 1840-44, 1860-61)Y
Columbus GA Columbus times (1841)Y
Columbus GA Daily Sun (1856)Y
Columbus GA Muscogee Democrat (1847-48)Y
Columbus GA Times (1841-43, 66, 67,70, 71, 75)Y
Columbus GA Weekly Times (1859-1862)Y
Covington GA Southern Baptist Messenger (1860, 1862)Y
Cuthbert GA Appeal (1866,67, 1883,84)Y
Cuthbert GA Reporter (1856,57,1860)Y
Dublin GA Dublin Post (1878-79,1886-87)Y
Georgia Journal and Messenger (1823-24, 1846-47)Y
Griffin GA American Union (1851-1866)Y
Griffin GA American Whig (1848)Y
Griffin GA Georegin Jeffersonian (1853-1854)Y
Griffin GA IIndependent South (1858)Y

​Hamilton GA Harris County Organ (1854-1856 )

Hamilton GA Harris County Weekly Visitor (1873-1979)

Hamilton GA Harris County Enterprise (1860-1864)

Hamilton GA Harris County Journal (1876-1972)

Lafayette GA Walker County Messenger (1880-1968)

Louisville GA Amereican Advocate (1916)
Louisville GA Gazette (1800-1807)
Macon GA Georgia Journal and Messenger (1847-48, 1861)
Macon GA Georgia Weekly Telegraph (1826-27,32,1869-70,1879-80)
Macon GA Telegraph Messenger (1847,1871-74,1879)
Milledgeville GA Federal Union (1830-31,58,61,66-66,72)
Milledgeville GA Georgia Argus (1810,12,15)
Milledgeville GA Georgia Journal (189-10,1845)
Milledgeville GA Standard Union (1838)
Millendgeville GA Confederate Union (1862-1865)
Monroe GA Bulletin (1958)
Newman GA Southern Literary Companion (1860-1864)
Newnan GA Banner (1856)
Newnan GA Independent Blade (1859-1860)
Penfield GA Christian Index (1855-1866)
Perry GA Houston Home Journal (1871-1874)
Rome GA Southerner (1850)
Sandersiville GA Central Georgian ()
Sandersiville GA Herald ()
Savannah GA American Patriot (1812)
Savannah GA Argus (1828-1829)
Savannah GA Colombian Museum (1796-97,1814-19)
Savannah GA Daily Republican (1829,31,39-40,55)
Savannah GA Evinging Mirror (1851)
Savannah GA Federal Republican Advocate (1807-1808)
Savannah GA Georgian For the Country (1822)
Savannah GA Journal (1793-94)
Savannah GA Mercury (1829)
Savannah GA Morning News (1829)
Savannah GA Republican (1808-09,1815-16,1853,1855)
Savannah GA Republican Intelligencer (1802-03,1805)
Savannah GA Republican Museum (1796,1821)
Savannah GA Savannah Republican (1858-59,1860,62,65)
Savannah GA Weekly Georgian (1839-1841)
Thomaston GA Upson Pilot (1858-59,1861-62)
Thomasville GA Thomasville Times (1873-74,1888-89)

Trenton GA Dade County Senitnel (1965-2006)

Trenton GA Dade County Times (1925-1976)

Trenton GA Dade State Of Dade News (1891-1938)

Vienna GA Vienna News (1902-03,1918)
Warrenton GA Georgia Clipper (1860)
Washington GA Independent Press (1840)
Washington GA Washington News (1822-24,1830-31)​
International Association of Machinists and Aerospace Workers Archives (1889- 1994)
For Obituary Indexes, transcriptions, and other death/obituary information from historic newspapers, please check out the Obituaries page. 
Other Free Sites:
Atlanta
Augusta
Columbus
Covington
Dahlonega
Darien
Fort Benning
Macon
Rome
Savannah
Smyrna
Subscription or Pay Sites:
Ancestry.com:
There are currently 19 publications available on this site. See all the titles at Ancestry – Georgia Newspapers
Genealogy Bank:
There are currently 215 publications available on this site. See all the titles at Genealogy Bank – Georgia Newspapers
Newspaper Archive:
There are currently 444 publications available on this site. See all the titles at Newspaper Archive – Georgia
Newspapers.com:
There are currently 54 publications available on this site. See all the titles at Newspapers.com – Georgia. 
And Finally:
You also need to visit the Georgia Newspaper Project site from time to time, which can tell you what is occurring in the state with regard to online newspaper availability. 
Please note – even more may be available via a local or state library where a library card is required.  And of course, there is always microfilm for those that have not been made available online as yet.
For more links for different states, provinces, and countries – please see the Newspaper Links page on this website.