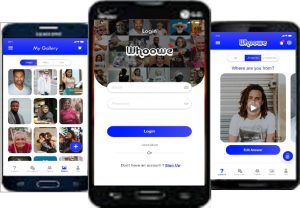 For those of you who follow The Ancestor Hunt, I like to make you aware of new offerings that you might wish to explore.
In late 2020 I was introduced to a new app called Whoowe. I published an interview with the CEO at that time.
Since the app is going to be in the Innovator Showcase at RootsTech, I thought I would update the interview.
Rather than trying to explain Whoowe, I'll let the CEO, Dan Qualiano tell you all about it.
Here's the interview:
Hello, Dan. Thank you for taking the time to answer these questions. Could you provide a short history of the Whoowe company and its mission?
Thank you for the opportunity to introduce the whoowe mobile app, Kenneth. In late 2014, My wife, Kimberly, was diagnosed with stage 4 cancer. She was 10 years younger than I and seemingly the healthiest member of our family. She exercised regularly, ate well, and always tried to leave people better than she found them. She was a wonderful wife and mother to our two young children. Over the next two and a half years of getting the diagnosis, we did everything we could to defeat the disease; lifestyle & diet changes, conventional and holistic treatments, supplements, and anything else that could possibly be helpful. Unfortunately, in November of 2017, we lost the battle and Kim was gone. From that time on, I frequently thought about the fact that our grandchildren, who do not yet exist, would never get to truly know their grandmother. Her vibrant personality, sense of humor, and the many little mannerisms that made her so unique and special. Sure, I could show some photos and home videos one day but younger generations are not really interested in looking through photo albums and hours of videos anymore and still wouldn't really "get to know" the person. We live in a snapshot world of technology now, scrolling quickly to what we want and getting instant gratification delivered at our fingertips. How could we get future generations to embrace their past? Knowing that the most intimate and accurate way to learn about someone is a face to face conversation, I set out to merge our past with modern technology: to create an engaging and interactive way to pass on our life story to our future. My solution is whoowe. Whoowe let's you quickly and easily create an interactive database for friends, family, and future generations to learn about you by simply asking you questions and getting answers as if they were on a face to face video call with you. Think of how much more you can learn about your ancestors this way. As history is being erased and the wonderful people that made us who we are fade away, our world has become more disconnected with each other. This is a growing problem because knowing where we come from gives us an important foundation to build from. Especially now, amid Covid, families are losing loved ones more suddenly, and isolation is a growing problem. My mission is to positively impact families with a new way to connect to each other and pass on their family history, in an intimate and personal way, beyond anything currently available. I believe whoowe can do that.
​
There are a lot of websites and other applications that are emerging with the goal to capture life stories and publish them. Some in hard bound books, others audio and/or video style, etc. What prompted your approach?
Most traditional and emerging methods of documenting family history are still somewhat one dimensional, whether that be having a biography written about you, compiling a digital library of images, doing an audio or video interview, etc.. Many of these methods are laborious, time consuming and expensive so most people put them off and few actually get around to doing them. Furthermore, younger generations are not as interested in looking through photo albums or watching home videos anymore. They seek interactive experiences with immediate gratification. Whoowe was designed with this in mind. The app provides a fast, fun and economical way to tell your story beyond any of these methods, in the palm of your hand, at any time. Using the app for even one minute here and there can quickly become an amazing real life record of yourself, documenting your life as it's happening. Not a recollection. Whoowe gives you the ability to bring your story to life and gives your future loved ones an experience second only to meeting in person.   
I have started capturing my life story as a test of your app and find it quite easy to use, although I admit that I don't like how I look in video, but that's OK (sounds like a personal problem!). Do you have any plans to enhance or make any changes to the user interface in the future?
LOL. Yes. We plan to add some video editing features moving forward, however, the primary goal of whoowe is to pass on an experience that provides an intimate and real time face to face interaction with you for your loved ones. With that being said, whoowe does offer the ability to answer questions in audio or text format if preferred, but the best way to pass on the true whoowe experience is through the video selfie format. To get the best results, we recommend being in a well lit environment when answering the questions. The better the lighting, the smoother the appearance. That may make you a bit more comfortable. Also, injecting your personality in your answers is important. Be a little creative and show who you really are. Your loved ones will appreciate it.  As for future enhancements, we have numerous updates and interesting features being planned out as we speak. Down the road we will implement deep learning so the app will learn about the types of questions you like to answer and the people, places, and things you tend to talk about. Whoowe will then begin to create custom questions specifically designed for you and your family only. The app will actually grow with you and help you build an amazing legacy record to pass on. Other features like memoriam assignment, in app messaging and comment, Integration to popular social media platforms and much more are on the whiteboard. We want whoowe to be the go to app for creating and passing on your life story beyond anything else available.
 
One big question is, how do I ensure that my story will be maintained and available after my passing? Obviously, I won't be around to pay the annual charge.
Currently, if a whoowe account is abandoned but no official cancellation has been made, the account sits dormant in it's encrypted server for a minimum of one year from the subscription lapse date. We make several attempts to contact the owner through the email address or mobile number provided but if there is no response, the folder would eventually be purged. We are implementing a memorium feature in the near future wherein you can designate an heir to the account as well as a multiyear and lifetime subscription option. These options would make it easy for your loved ones to retrieve,  maintain, and keep your whoowe profile alive indefinitely.
 
Is there anything else that potential users/customers should know?
We are happy to announce that whoowe was invited to be part of Rootstech 2022, the largest genealogy & family history tradeshow event in the world from March 3rd to March 5th. This online event is hosted by familysearch.org, a subsidiary of Ancestry.com. Whoowe will be featured in their main stage promotion and in the Innovators Showcase. Visitors will be able to watch our new video on whoowe along with direct links to download and much more.  It's really a great opportunity for us as the virtual tradeshow receives over 1.2 million visitors from all over the world. We were also featured in a new childrens book called "The Adventures of Little Billy". It's the story of a little boy that learns the importance of friends and family and the invaluable wisdom they have to share. This is what whoowe is all about. Passing on wisdom, love, and life experience. Lastly, whoowe will be collaborating with several well known athletes and celebrities in a variety of fundraisers and charities in the near future. It's very important for us to be part of organizations that help people and families in crisis, especially those dealing with children and terminal illness. It's the very thing that whoowe was created around.
In closing, there is so much happening so fast, it's difficult to list everything but we are excited and determined to get our history changing app out to the world. I will keep you updated as we continue to forge ahead. Whoowe is free to download on Google Play and the App Store to get started. You get all the current features to use with some limitations. If you like what you see and want all the bells and whistles, you can easily upgrade to the premium version at a discounted price. Whoowe was designed to help families celebrate the wonderful people in our lives and pass on their essence as we knew them. Don't wait until it's too late to create a record of that special loved one. Do it while they are in good health. Now is the perfect time! I look forward to any comments, questions, and concerns your readers may have as we are always interested in hearing what we can do to make our app better for everyone.
____________________________________________________
I think that WhooWe is something you should check out and see if it helps you document your life story and legacy.  I'm definitely going to give it a go! Check it out at https://www.whoowe.com/