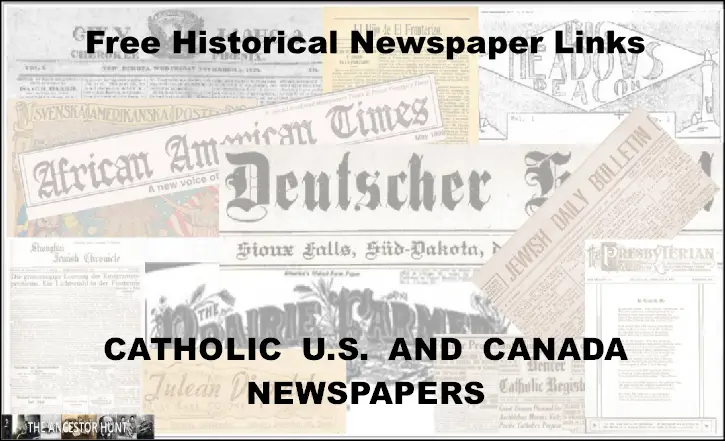 For those of you who have Catholic ancestry in your family tree, there are lots of newspapers that have been published in the past that may help you find some information and stories about your ancestors.
​I recently became aware of the Catholic Newspapers Program, which is a result of a project started in 2011 by the Catholic Research Resources Alliance. From their website: "The goal and scope of the program is to provide access to all extant Catholic newspapers published in North America."
They have created a list of free links to historic and current Catholic newspapers in the U.S. and Canada. As a result of contacting them and reviewing their project and website, they have allowed me to re-sort their list by location and publish it here. I highly recommend that you visit their list, as it includes some useful notes about each newspaper, as well as publishing institutions and other info that will help you.  It can be found at Catholic Newspapers Online. My thanks to Pat Lawton, the Catholic Research Resources Alliance Digital Projects Librarian for her help in this effort.
The list below is a combination of those found in the Catholic Newspapers Program as well as many that I have discovered myself, from many other collections.
Although the majority of the collections on this list are from more recent publication dates, there are quite a few that are from the more distant past. Take a look at these sites and search them for info about your ancestors. I have also added other online Catholic historic newspaper sites.
(Updated February 2023; recently added links are in BOLD)
Canada
British Columbia
Nova Scotia
Ontario
Quebec
Saskatchewan
United States
All States
Alabama
Alaska
Arkansas
Arizona
California
Colorado
Connecticut
Delaware
District of Columbia
Florida
Georgia
Hawaii
Idaho
Illinois
Indiana
Iowa
Kansas
Kentucky
Louisiana
Maryland
Massachusetts
Michigan
Minnesota
Missouri
Mississippi
Montana
North Carolina
North Dakota
Nebraska
New Jersey
New Mexico
New York
Ohio
Oklahoma
Oregon
Pennsylvania
Rhode Island
South Carolina
Tennessee
Texas
Utah
Virginia
Vermont
Washington
Wisconsin
West Virginia
Wyoming
Good Luck and Happy Hunting!