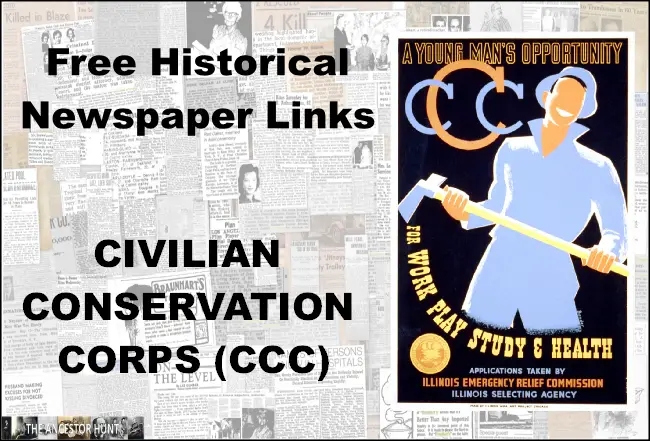 BACKGROUND (per Wikipedia): "The Civilian Conservation Corps (CCC) was a public work relief program that operated from 1933 to 1942 in the United States for unemployed, unmarried men. Originally for young men ages 18–25, it was eventually expanded to ages 17–28…The CCC was a major part of President Franklin D. Roosevelt's New Deal that provided unskilled manual labor jobs related to the conservation and development of natural resources in rural lands owned by federal, state, and local governments. The CCC was designed to provide jobs for young men and to relieve families who had difficulty finding jobs during the Great Depression in the United States. Maximum enrollment at any one time was 300,000. Through the course of its nine years in operation, 3 million young men participated in the CCC, which provided them with shelter, clothing, and food, together with a wage of $30 (about $570 in 2017) per month ($25 of which had to be sent home to their families)"
In June 2017 The Library of Virginia and the Virginia Newspaper Project announced their collaboration to make available online, many newspapers published in Virginia from the various Civilian Conservation Corps (CCC) camps throughout the commonwealth from 1934 to 1941. The complete announcement of the new collection is available at VNP ANNOUNCES THE CCC. At the time of this publication, there are 158 newspapers available from 12 states.
Because of the outstanding recent efforts of the Center for Research Libraries, there are well over 1,000 of these CCC titles available online. The titles listed below are available to the general public. There are hundreds more that are restricted to CRL member institutions and hundreds more available in microform. You can read about their project HERE
There also are a few of these newspapers that have been digitized by a state and the digitized versions are available online. They are included as well.
Here is a list of the current CCC newspapers available online, with city and state of publication (African American companies are indicated with "AA" at the end of the listed title):
(Updated February 2023)
Alabama
Arizona
Arkansas
California
Colorado
Connecticut
District of Columbia
Florida
Georgia
Idaho
Illinois
Indiana
Iowa
Kansas
Kentucky
Louisiana
Maine
Maryland
Massachusetts
Michigan
Minnesota
Mississippi
Missouri
Montana
Nebraska
Nevada
New Hampshire
New Jersey
New Mexico
New York
North Carolina
North Dakota
Ohio
Oklahoma
Oregon
Pennsylvania
Rhode island
South Carolina
South Dakota
Tennessee
Texas
Utah
Vermont
Virginia
Washington
West Virginia
Wisconsin
Wyoming
Many thanks to the Center for Research Libraries and the Commonwealth of Virginia for this outstanding collection!
Good Luck and Happy Hunting!