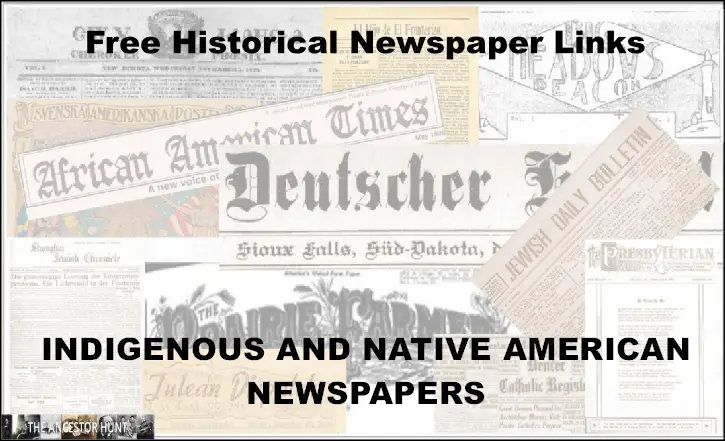 For those of you who have some Indigenous or Native American "blood" in your family tree, there are many Indigenous American newspapers that have been published over the last two hundred or so years that may help you find some information and stories about your ancestors.
Listed are only those that are available online. As always, there are tons more available via microfilm and in the original form via libraries and archives.
Please note that some are free and some require a subscription or a login from a university (or local) library. Some are indexed, and some are not. In the Free Collections, you may see some duplicates – this is because the newspaper is provided on multiple online sites, so you may wish to search or browse each of the duplicates.
​
(Updated August 2023; recently added links are in BOLD)
Alaska
Arizona
California
Florida
Georgia
Hawaii
Kansas
Louisiana
Michigan
Minnesota
Montana
Nevada
North Carolina
North Dakota
New Mexico
New York
Oklahoma
Pennsylvania
South Dakota
Utah
Wisconsin
Wyoming
The Daily Times (Farmington, New Mexico)

The Winslow Mail (Winslow, Arizona)

Montezuma Valley Sun (Montezuma, Colorado)

Cortez Journal (Cortez, Colorado)

Navajo Times (Window Rock, Navajo Nation, Arizona)

Lake Powell Chronicle (Page, Arizona)
​If you know of any more links to Indigenous American newspapers, please let me know in the comments.  For thousands of other online historic newspapers from all over the U.S., the world, and of all types, please visit the  Newspaper Links page.