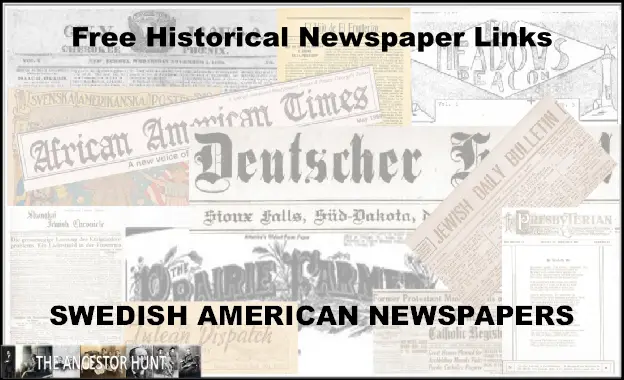 Thanks to a partnership of the Minnesota Historical Society, Kungliga biblioteket (National Library of Sweden), the American Swedish Institute, and the Swenson Swedish Immigration Research Center at Augustana College, Rock Island, Illinois, many historic Swedish American Newspapers are now available to search online!
The newspapers are located on the Minnesota Historical Society's website and are both browsable and searchable. There are over 300,000 pages available from 32 different titles, published in 11 different states. The date range is from 1859 to 2007.
I have also added some other online Swedish-American newspapers that are available to search. Here is the complete list:
(Updated December 2022; recently added links are in BOLD)
California
Colorado
Illinois
Iowa
Massachusetts
Michigan
Minnesota
Nebraska
New York
Oregon
​Texas
Washington
Good Luck and Happy Hunting!