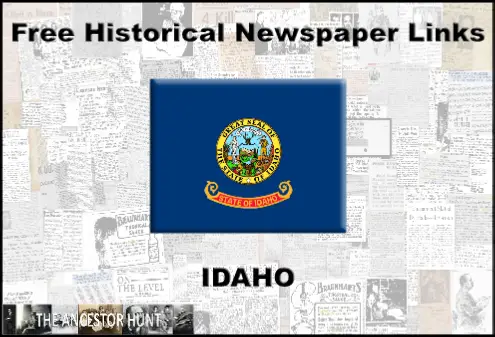 Idaho is one of the states that does not have a single central online state repository for searching historical newspapers, but they use the Library of Congress Chronicling America site as their main site for searching old newspapers. There are several free online newspapers on other sites and collections available on subscription sites. Below is a list of where the titles are stored and the link so that you can access them. 
​There are about 750 newspapers that have been published in the Gem State – certainly not all of them are searchable online. But there are several that are indeed available. So go for it – find your Idaho ancestors and all the interesting articles that capture the stories of their lives. 
Please note that I have not always entered the dates that are included in the collections, as I suspect they will change as more items are digitized. Also, I suspect that some of these links may change over time – so if there is a dead link – please use your favorite search engine to find their new location. 
(Updated July 2023; recently added links are in BOLD)
Idaho Historical Newspapers
Free Sites:
Statewide Collections:
Google News Archive
County and Library Collections:
Bannock County
Marshall Public Library
Idaho State Journal

Semi Weekly Pocatello Tribune

Pocatello Tribune

Idaho Sunday Journal

Weekly Pocatello Tribune

Tribune Journal

The Pocatello Tribune
Idaho State Journal And The Pocatello Tribune
Bear Lake County
Bear Lake County Library 
News Examiner

Montpelier Examiner

The Paris Post 

Bear Lake County News 

Daily News

South Idaho Independent

The Bear Lake Democrat 

Bear Lake Booster 

Post

The Paris Review

Bear Lake Gazette

The Montpelier Examiner 

The Bear Lake County News 
Bingham County
Blackfoot Library
Blackfoot News
Blackfoot Register
Farmers Friend
Idaho News
Idaho Register
Idaho Republican
Resources of Idaho
Cassia County
Burley Public Library
Burley Bulletin 

Burley Herald 

Cassia County Courier 

Rupert Pioneer 

Rupert Pioneer Record 

Southern Idaho Advocate

The Herald-Bulletin
Clearwater County
Elk River Free Library 
Deary Enterprise 

Elk River News

Elk River Sentinel

The Dreary Enterprise
East Bonner County
East Bonner County District Library 
Bonner County Daily Bee 

Bonner County Democrat 

Daily Bee 

Daily Bulletin 

Daily Bulletin And Pend Oreille Review 

Daily Panidan 

Kootenai County Republican

Lewis County Herald 

Northern Idaho News 

Panhandle Citizen 

Pend D Oreille News 

Pend Oreille Review 

Pend Oreille Review And The Daily Bulletin 

Sandpoint Bulletin 

Sandpoint Daily Bee 

Sandpoint News Bulletin 

Sandpoint News Bulletin Bee 

Sandpoint News-Bulletin And The Sandpoint Bee 

The Sandpoint News Bulletin 

The Sandpoint News Bulletin And The Sandpoint Bee 
Franklin County
Franklin County Library District 
Preston Citizen 

Franklin County Citizen 

Preston News 

Fruitland Banner

Cache Valley Clarion

Preston Booster 

Southeastern Advocate 

Sugar City Times 

Preston Standard 

Idaho Enterprise

Cache Valley News 

War Cry 
Jerome County
Jerome Public Library
North Side News​

Northside News

Jerome Northside News

Jerome North Side News
Kootenai County
Hayden Community Library Network
Lewiston Morning Tribune 

Press 
Lemhi County
The Salmon Public Library 
Recorder Herald 

The Recorder Herald 

The Idaho Recorder 

The Salmon Herald 

The Lemhi Herald 

The Lemhi Republic

Idaho Hydraulic Gold Miner

Burley Bulletin

The Boise County Sentinel 

The Idaho Young Democrat 

Gowen Field Beacon

The Boise Weekly Reminder

The Hoot Owl

The Idaho Guardsman

The Sabrejet Times 

The Union Label 

The Semi-Weekly Mining News

Inter-Camp Sporting News 

Payette Lake Star
Payette County
Armoral Tuttle Public Library 
Payette Valley Sentinel 

Fruitland Banner

New Plymouth Sentinel
Teton County
The Valley of The Tetons District Library 
Teton Valley News

Valley Citizen 
Twin Falls County
Twin Falls Newspapers
​Brewin' Evil
Statewide
The Bruin
The Twin Falls Times
Twin Falls Chronicle
Twin Falls News
Valley County
The Star News
The Central Idaho Star-News
The idaho News

The Blackfoot News
Clearwater Valley Historical Newspapers
Orofino Tribune

Orofino Courier

Peck Press

Pierce City Miner
Eastern Idaho Newspapers from BYU Library 1904-1939
The Ashton Herald

The Marysville Republican

The Teton Peak-Chronicle
Rexburg Newspapers from BYU Library
The Current Journal

The Rexburg Standard

The Rexburg Journal

The Rexburg Standard Journal
Twin Falls Public Library Newspaper Archive
Twin Falls Newspapers, 1904-1922
Twin Falls Public Library Newspaper Archives
Weiser Public Library Newspapers
Student Collections:
Boise State University – Boise
Brigham University Idaho – Rexburg
College of Idaho – Caldwell
College of Western Idaho – Nampa
Lewis and Clark State College – Lewiston
North Idaho College – Coeur d'Alene
Northwest Nazarene University – Nampa
Sandpoint High School – Sandpoint
University of Idaho – Moscow
Miscellaneous Collections and Indexes:
Independent Voices – Alternative Newspapers
Covered Wagon, The

Helping Hand
Civilian Conservation Corps (CCC) Newspapers 1933-1942
American Prison Newspapers, 1800-2020
Old Fulton Postcards
For Obituary Indexes, transcriptions, and other death/obituary information from historic newspapers, please check out the Obituaries page. ​​
Other Free Sites:
Boise
Coeur d'Alene
Minidoka
Moscow
Rigby
Twin Falls
Subscription or Pay Sites:
​
Ancestry.com:
There are currently 27 publications available on this site. See all the titles at Ancestry – Idaho Newspapers
Genealogy Bank:
There are currently 135 publications available on this site. See all the titles at Genealogy Bank – Idaho Newspapers
Newspaper Archive:
There are currently 149 publications available on this site. See all the titles at Newspaper Archive – Idaho
Newspapers.com:
There are currently 73 publications available on this site. See all the titles at Newspapers.com – Idaho. 
And Finally:
You also need to visit the Idaho State Archives site from time to time, which can tell you what is occurring in the state with regard to online or other format newspaper availability. 
Please note – even more may be available via a local or state library where a library card is required.  And of course, there is always microfilm for those that have not been made available online as yet.
For more links for different states, provinces, and countries – please see the Newspaper Links page on this website.