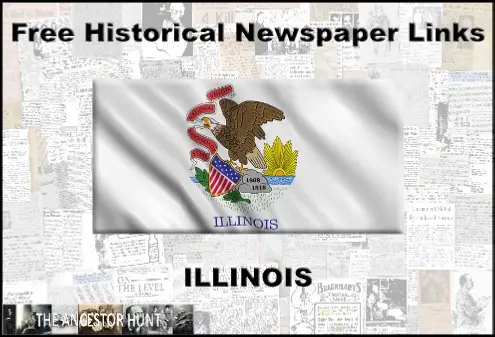 Illinois is one of the states that does have a central online repository for searching historical newspapers. Several states use the Library of Congress Chronicling America site as their main central online site for searching old newspapers. Illinois does have several online newspapers available on that site. Illinois currently has its online availability from many different websites and a few of them house many newspapers. Many are free and many require a subscription. Below is a list of where the titles are stored and the link so that you can access them. 
There are over 8.000 newspapers that have been published in the Prairie State – certainly not all of them are searchable online. But there are quite a few that are indeed available. So go for it – find your Illinois ancestors and all the interesting articles that capture the stories of their lives. 
Please note that I have not always entered the dates that are included in the collections, as I suspect they will change as more items are digitized. Also, I suspect that some of these links may change over time – so if there is a dead link – please use your favorite search engine to find their new location. 
(Updated July 2023; recently added links are in BOLD)
Illinois Historical Newspapers
Free Sites:
Statewide Collections:
Chronicling America – Illinois Newspapers 
Google News Archive
Illinois Digital Newspaper Collection
Farm, Field and Fireside Collection – University of Illinois 
Cairo City Weekly Gazette

Cairo War Eagle

Daily Illinois State Journal

Daily Whig and Republican

Illinois Daily State Journal

Illinois State Journal

Illinois State Register

Jonesboro Weekly Gazette

Quincy Daily Whig and Republican

Rock Island Argus

The Jonesboro Gazette
County and Library Collections:
Adams County
Quincy Historical Newspaper Archive
Daily Evening Call
Daily Quincy Herald
Daily Whig and Republican

Quincy Daily Whig

Quincy Daily Whig and Republican
Quincy Herald
Quincy Herald and Argus

Quincy Herald Whig

Quincy Morning Whig

Quincy Weekly Whig
Quincy Whig
Quincy Whig and Republican
Quincy Whig-Journal

The Daily Quincy Herald

The Quincy Daily Herald

The Quincy Daily Journal

The Quincy Daily Whig
The Quincy Evening Call
The Quincy Herald
The Quincy Journal
The Quincy Morning Whig
The Quincy Weekly Herald
The Quincy Whig
The Camp Point Journal
Golden New Era
Quincy Daily Whig
Quincy Herald Whig
Quincy Morning Whig
The Daily Quincy Herald
The Quincy Daily Journal
Brown County
Brown County Public Library 
Brown County Democrat 

Brown County Democrat Message

Brown County Republican 

Democrat Message 

Examiner

Illinois Weekly Message 

The Brown County Democrat Message
Bureau County
Buda Plain Dealer
Centennial Parade
The Neponset Messenger
Cass County
Beardstown Houston Memorial Library
Illinoian Star 

The Illinoian-Star 

Illinoian Star Daily 

Cass County Star Gazette

Morning Enterprise 

Beardstown Daily Illinoian Star

Beardstown Semi-Weekly Illinoian 

Central Illinoian 

Tri-Weekly Beardstown Enterprise 

Evening Star

Beardstown Illinoian 

Alton Spectator 

Illinoian Democrat 

Quincy Herald Whig And The Quincy Journal 

Weekly Enterprise 

Barrington Review

Democrat News

Beardstown Chronicle And Illinois Military Bounty Land Advertiser 

Weekly Transcript 

Centreville News 

Daily Register 

Batavia Bulletin Record 

Edgewater Uptown News

Beardstown Gazette 

Beardstown Democrat 

Alton Daily Telegraph

Alton Telegraph

Alton Weekly Telegraph

Beardstown Enterprise 

Cass County Messenger 

Gazette

Beardstown Champion

Labor News Review 

Bennington Banner

Cincinnati Commercial 

Times 

Cass County Democrat 

Reporter 

Edinburg Herald 

Rochester Weekly Item

Star of the West

Steeleville Ledger 

Taylorville Journal 

Western Argus 

News And Record 

Daily Alton Telegraph 

Mt. Auburn Tribune

Palmyra Courier  

Alton Telegraph And Democratic Review 

Avon Sentinel 

Calhoun Herald 

Campaign Republican 

Quincy Herald 

Weekly Central Illinoian 

Western Cumberland Presbyterian

Alton Telegraph And Madison County Record 

Illinois State Journal 

Alton Telegraph And Madison Record 
Clark County
Marshall Public Library
Marshall Independent

Clark County Democrat 

Clark County Herald 

Clark County Daily Chronicle 

Independent Choice

The Marshall Herald

Independent Choice 

Marshall Herald

Marshall Advocate 

Marshall Choice 

The Clark County Herald 

Marshall Messenger 

The Marshall Republican 

Marshall Independent Choice 

The Marshall Weekly Messenger

Flag of Our Union 

The Manteno News 

The McLeansboro Times

Macomb Eagle 

The Woodford Sentinel

The Maroa Times 

Mason City Journal 

Marshall Telegraph 

Illinois State Democrat 

The Eastern Illinoisan 

The Hornet

The Macomb Journal 

The Egyptian Press 

The Leader 

The Massac Journal

Marion Intelligencer 

Massac Journal 

Semi-Weekly Eastern Illinoisan 

The Minonk News

Marion Evening Post 

The Promulgator

Metropolis Democrat 

The Marion Post

The Marion Flag 

Daily Clark County Herald 

Mason City Banner

Mattoon Commercial Star 

Metamora Sentinel 

The Mason City Times

Our Flag 

Review Dispatch

Eastern Illinoisan 

The Union Eagle 

M'Donough Independent

Menard Time

Mason City Banner Times 

Metropolis Weekly Sentinel

The Milford Herald 

The Marion Weekly Flag

Macomb Daily Journal 

Marion Monitor

Mascoutah Herald 

Massac Journal Republican 

Medora Messenger 

Metropolis Times

The Acorn

The Illinois State Democrat

The Massac Journal Republican 

The Mattoon Star 

The Metamora Herald

The Moline Review 

The Illinois By-Stander

The Marion Daily Republican

The People's Friend 

Metropolis Register

Clark County Telegraph 

M'Donough Democrat

M'Donough Independent And Democratic Review

Marion Independent 

Mascoutah Anzeiger

Middletown Ledger 

The Illinois Granger 

The Mattoon Journal

The Metropolis City Item 

The Metropolis Herald 

The Metropolis Register

The Metropolitan

The Woodford County Argus 

Woodford Co. Visitor

Martinsville Planet
MTHS Lion
MTHS Weekly News
The Annualette
The MTHS News
Cook County
Bellwood Public Library
Franklin Park Star Sentinel

Maywood Star Sentinel

Melrose Park Star Sentinel

Northlake Star Sentinel

Proviso Star Sentinel

Star Sentinel

The Star – Progress

The Star Progress

West Proviso Herald
Forest Park Review

Review and Forest Parker 

Forest Parker

Village Free Press
Forest Park Village Free Press
Barry Weekly Adage
Belletristisches Journal
Belleville News-Democrat
Belleviller Post Und Zeitung
Belleviller Volksblatt
Blandinsville Star-Gazette
Camp Register
Chicago Daily Tribune
Chicago Printing And Advertising News
Chicago Times
Chicagos American
East Logan County Booster
Elgin Advocate
Elgin Business Mirror
Elgin Chronicle
Elgin Daily Frank
Elgin Daily Leader
Elgin Daily News
Elgin Deutsche Zeitung
Elgin Every Saturday
Elgin Gazette
Elgin Morning Frank
Elgin Weekly Frank
Every Saturday
Fox River Courier
Frankfort Phoenix Advertiser
Freeport Weekly Bulletin
Galesburg Nonpareil
Henry News Republican
Hillsboro Democrat
Human Rights
Illinois State Gazette And Jacksonville News
Illinois Weekly Palladium
Jubilaums-Ausgabe
Kane County Democrat
Kane County Journal
Lady Elgin
Lebanon Advertiser
Lemont Advertiser
Liberia Herald
McLean Register
Minooka Phoenix Advertiser
Mokena Phoenix Advertiser
Montgomery County Herald
Mount Vernon Free Press
Salt
Second District Democrat
Sharps Daily Statesman
Shoaffs Family Gazette
Stark County Democrat
The Advance Guard
The Bloomington Daily Argus
The Bloomington Press
The Bradford Republican
The Breese Journal
The Charleston Courier
The Christopher Progress
The Daily Alaska Empire
The Democratic Union
The Elgin Advocate
The Elgin Courier
The Elgin Daily Courier
The Elgin Daily News
The Elgin Democrat
The Elgin Dial
The Elgin Evening Advocate
The Elgin Times
The Elgin Weekly Dial
The Elgin Weekly Gazette
The Elizabeth Times
The Eureka Journal
The Evening Chronicle
The Family Intelligencer
The Freeport Journal
The Hillsboro Journal
The Informer
The Investigator
The Kansas Weekly Journal
The Litchfield Journal
The Macomb Daily By-Stander
The Marengo News
The McKendree Review
The Moline Independent
The Montgomery News
The National Standard
The Patriot
The Ridge
The Sciota Sentinel
The Sheldon Journal
The State Capital
The Union Monitor
The Valley Chronicle
The Weekly Gazette
The Weekly Magnet
The Weekly Pantagraph
The Weekly Transcript
The Whig
Towanda Booster
Weekly Signal
Western Christian
Worth Jubilee
Midlothian-Bremen Messenger

Midlothian Bremen Messenger 

Bremen Township News Record 

Bremen Township Rooster 

Posen Times

Midlothian Messenger 

Bremen Messenger
Town Topics
The Star Herald
Ad-Visor
Park Ridge Library (in library)
Park Ridge Advocate 

Park Ridge Herald 

Park Ridge Herald Advocate 

Park Ridge Times Herald 
Forest Leaves 

Oak Leaves 

River Forest Forest Leaves 
Riverside Citizen
Riverside News
Riverside News North Riverside Citizen
Riverside Times
Suburban Life
Suburban Life Citizen
The Citizen
The Riversider
The Landmark
DeKalb County
Hinckley Historical Society
Country Courier
Hinckley Review
Review
Waterman Leader
The Hinckley Review
Shabbona-Lee-Rollo Historical Museum
Compton Record 

Dekalb County Express 

Evening Times 

Lee County Times 

Paw Paw News

Shabbona Express 
DeWitt County
Farmer City Public Library
Farmer City Journal

Farmer City Journal And Mansfield Express

Leroy Journal 

Public Reaper 

Peoples Press 

Forreston Weekly Journal

De Witt County Tribune 

Forreston Journal 

Weekly Reaper 

Weekly Transcript 

Wayne County Record 

Clinton Tribune 

Daily Independent

Farmer City Republican 

Standard Atlas of DeWitt County 

Chicago Tribune 

Wayne County Press 

Southern Illinois Journal 

Chicago Daily Tribune 

Times 

Advance 

Chicago Times 

Western Plowman and South and West 

Egyptoglyph 

Journal 

Fairfield Independent Press 

South End Reporter 

Farmer City Weekly Republican

Fairfield Weekly Democrat 

Independent Press

Forreston Herald 

War Democrat 

Wayne County Herald

Farmington Bugle 

Fernwood News 

Weekly Journal 

Peoples Journal 

Sun 

Fairbury Journal 

Freeport Daily Journal

Press and Tribune 

Fairfield Weekly News 

Lebanon Advertiser 

Blooming Press 

DeWitt County Observer 

Farmer City Reporter 

Greenup Press 

Hennepin Journal 

Normalite 

Prairie Pioneer 

Fisher Reporter 

Jacksonville Tribune 

Illinois Gazette 

Murphysboro Daily Independent 

Galena Sentinel 

Riverside Press 

Illinois Patriot 

Restitution 

Danville Republican And Chronotype 

Greenville Advocate 

Leroy Free Press

Brown County Democrat

Daily Republican Era
DuPage County
Addison Public Library
Press and Tribune 
Addison Press
Elgin Daily Courier

Kane County Chronicle
Savanna Times-Journal

St Charles Chronicle

St Charles Leader
St Charles Patriot
St Charles Weekly Argus
St. Charles Patriot And Fox River Advocate
The Saint Charles Review
The St. Charles Chronicle
The Valley Chronicle

Valley Chronicle
Effingham County
Fulton County
Hancock County
Warsaw Public Library 
Daily Warsaw Bulletin 

Daily Warsaw City Bulletin 

Hamilton Pilot 

Hancock County Journal 

Hancock County Journal Pilot 

Hancock County Pilot 

Hancock Democrat 

Hancock Eagle Extra 

Hancock New Era 

The Mississippi Pilot 

Warsaw Bulletin 

Warsaw City Bulletin 

Warsaw Commercial Journal 

Warsaw Express 

Warsaw Message 

Warsaw Signal 

Warsaw Signal Extra

Warsaw Weekly Express 

Western World 
Henry County
Cambridge Library
Cambridge Chronicle
Cambridge Democrat
Chronicle
Daily Chronicle
Fair Budget
Fulton County
Henry County Chronicle
Henry County Dial
Henry County Gazette
Prairie Chief
Clover Public Library District
Wrova Reporter 

Galva News

Woodhull Dispatch

The Woodhull Dispatch
The Galva News

Galva Weekly News 

The Galva Standard

Galva News 

Galva Semi-Weekly News 
Geneseo Republic

The Geneseo Republic

The Henry County News 

Geneseo Republic And Henry County News

The Union Advocate

Henry County News

The Sun

Geneseo Weekly Sun 

The Geneseo Journal 

The Geneseo News

The Geneseo Enterprise 

Republic

The Henry County Arena

The People's Union Mission

Geneseo Daily Arena

The Standard
Kewanee Public Library District
Daily Independent 

Independent 

Kewanee Advertiser 

Kewanee Courier 

Kewanee Daily Star Courier 

Kewanee Independent 

Kewanee Star Courier 

Kewanee Weekly Star Courier 

Star Courier

Atkinson Annawan News
The Star Courier
Western District Library (Orion)
Orion Vidette 

The Orion Times 

The Liberator And Times 

Orion Times 

The New Orion Times 

Orion Gazette 

Gazette 
Kane County
Town and Country Public Library District 
Elburn Enterprise 

Elburn Herald 

Elburn Weekly Record 
Kankakee County
Lake County
The Lake Forester
The Lake Forester and Lake Forest News
The Lake Forester and Lake Bluff News
LaSalle County
Earlville Library
The Earlville Leader

The Earlville Post

Earlville Leader 

The Earlville Gazette 

Earlville Gazette 

LaSalle County Gazette Express
Lawrence County
Lawrence Public Library
American Banner
Birds Review
Campaign Republican
Clay County Herald
Clay County Tribune
Clay County Union
Daily Advocate
Daily News
Daily Record
Democratic Herald
Elks New Home Booster
Fulton Advocate
Fulton Banner
Fulton Democrat
Fulton Gazette
Fulton Republican
Golden Era
Hamilton County Express
Hamilton County Herald
Hamilton Democrat
Hamilton Express
Hamilton Sucker
Herald
Illinois Christian Advocate
Illinois Gazette
Illinois Public Ledger
Illinois Son of Temperance
Kickapoo Press
Knox County Republican
Knox Republican
La Harpe Leader
La Rose Vidette
La Salle Journal
Lacon Herald
Lacon Intelligencer
Lake County Times
Lake Forest Era
Lake Villa Advocate
Lake Zurich Independent
Lake Zurich News
Lawrence County Courier
Lawrence County Democrat
Lawrence County Journal
Lawrence County News
Lawrence County Press
Lawrenceville Banner
Lawrenceville Republican
Le Roy Eagle
Le Roy Exchange
Le Roy Free Press
Le Roy Weekly Exchange
Lebanon Journal
Lebanon Leader
Lena Daily Star
Lerna Weekly Eagle
Lewistown Democrat
Lewistown Lance
Lewistown News
Lewistown Union
Lincoln Evening Star
Lincoln Herald
Lincoln Times
Lincoln Weekly Herald
Litchfield Advocate
Litchfield Union Monitor
Little Rock Press
Local Reporter
Lockport Telegraph
Logan Courier
Lomax Herald
Louisville Ledger
Louisville Ledger Democrat
Louisville Visitor
Louisville Weekly Democrat
Lyons Herald
Mammoth
Marshall County Democrat
Marshall County Sentinel
McLeansboro Times
Montgomery Democrat
Mouser
Quill
Rural Republican
Sentimentalist
Star
Star Spangled Banner
Sumner Advocate
Sumner Democrat
Sumner Press
Voice of the People
Wauconda Independent
Weekly Herald
Western Globe
Wheeling Independent
Logan County
Atlanta Public Library and Museum  
Argus 

Atlanta Argus 

Atlanta Argus And The Armington Helper 

Atlanta Argus Lens

Atlanta Daily Argus

McLean County News 

McLean Lens 
Madison County
Louis Latzer Memorial Public Library
Die Union
Edwardsville Intelligencer
Highland Bote
Highland Bote Und Schutzen-Zeitung
Highland Journal
Highland Leader
Highland News Leader
Highland Union
Square News
The Gazette-Democrat
The Highland News Leader
The Hillsboro Journal
Weekly Telephone
Marshall County
Henry Public Library
Henry News-Republican 

Henry News Republican 

Henry Republican 

The Henry Republican 

Marshall County Republican 

Henry Current News 

Henry Weekly Courier 

Marshall County Telegraph

Henry Courier
McDonough County
McDonough County Genealogical Society
Blandinsville Gazette
Blandinsville Star Gazette
Colchester Independent
Macomb Daily Journal
Macomb Weekly Journal
The Adair Weekly Beacon
The Bardolph News
The Bushnell Record
The Industry Press
The Macomb Journal
The McDonough News
McHenry County
Harvard Diggins Library
Harvard Herald

Harvard Herald Independent 

The Harvard Herald and Independent

Harvard Independent 

The Harvard Independent 

The Harvard Herald

The News Bulletin
Daily Sentinel-Richmond Edition
Hole In The Wall
Home Circle
Marengo Journal
Marengo News
Marengo Republican
Marengo Republican-News
McHenry Star
McHenry Star News
Nu Vue News
Richmond Gazette
Richmond Nu Vue News
Richmond Recorder
The McHenry Plaindealer
The Patrons Advocate
The Woodstock American
The Woodstock Republican
The Woodstock Sentinel
Union News
Woodstock Daily Sentinel
Ogle County
Byron Public Library
Airship Log

Altamont News

Alton Daily Times

Arcola Record

Arlington Heights Herald

Arthur Graphic Clarion

Atwood Herald

Avon Sentinel

Barrington Review

Belleville Daily News Democrat

Belleville Morning Record

Belleville News Democrat

Benld Enterprise

Berwyn Beacon

Bethany Echo

Blandinsville Star Gazette

Bloomington Commonwealth and the Sunday Record

Bloomington Record

Boone County Courier

Broadlands News

Brookfield Enterprise

Brookport Independent

Buda Plain Dealer

Bushnell Market Reporter

Byron Express

Byron News

Byron Record

Byron Times

Byron Tribune

Carlyle Democrat

Casey Banner Times

Casey Daily Reporter

Centralia Daily Democrat

Cerro Gordo News

Chadwick Clarion

Chapin News

Chenoa Clipper

Chester Press

Community Courier

Daily Advocate

Greene County Farm Bureau News Letter

Journal Illinois Sportsman

McLean County Farm and Home Bureau News

Prairie State Tribune

Tempo

Times

Verdurette
Ogle County Press 

Tri County Press 

Tri-County Press 
Peoria County
Brimfield Public Library
The Brimfield News

The Princeville Telephone

The Telephone

The Brimfield Gazette
Pike County
Griggsville Historical Society
The Independent Press
The Independent Press
The Pike County Republican
Randolph County
The Republican
The Coulterville News
Rock Island County
Rock Island County Historical Society
De Nieuwe Wereld
Gazette van Detroit
Gazette van Moline
Our Sunday Visitor
Moline Daily Dispatch 

Daily Dispatch

Moline Daily Journal

Daily Journal 

Evening Mail 

Sunday Mail 

Moline Evening Mail And Journal 

Moline Sunday Mail And Journal

Moline Mail And Journal 

Moline Independent 

Moline Review

Review Dispatch 

Moline Review Dispatch 

Moline Weekly Journal 

Weekly Mail 

Moline Weekly Mail 

Moline Workman 

The Daily Dispatch
The Dispatch
Sangamon County
Chicago Record-Herald
Daily Courier
Illinois State Democrat
Lincoln Daily Courier
Lincoln Herald
News-Record
Petersburg Observer
Pleasant Plains Advocate
Springfield Evening News
Springfield News-Record
The Lincoln Courier
The Lincoln Daily Courier
The Lincoln Times Courier
The Menard Index
The Menard Weekly Index
The Petersburg Observer
The Public Patron
The Rochester Weekly Item
The Springfield Evening News
The Springfield News
The Tri City Register
The Weekly Enterprise
Schuyler County
Rushville Illinois
Rushville Times

Schuyler Citizen

Rushville Times and Schuyler County Herald

Jersey County Journal

Prairie Telegraph

Rushville Journal
Stark County
Bradford Public Library District
Bradford Republican

Bradford Stark County Republican

Stark County Republican

Bradford Independent

Bradford Weekly Independent

Bradford Daily Revivalist 

Cambridge Chronicle
Goreville Record
Molly Daily Stark
Molly Tri Weekly Stark

Prairie Times

Red Bud Pilgrim

Stark County News

Stark County Sentinel

Stark County Union

The Piatt County Republican
The Sunday Herald
Tri Weekly Call
Wyoming Public Library District
Daily Post-Herald
Marion Semi-Weekly Leader
The Daily Post-Herald
The Post-Herald
The Wyoming Post
The Wyoming Post And Bradford Chronicle
The Wyoming Post-Herald
Wyoming Post-Herald
St. Clair County
Freeburg Area Library District
Tazewell County
Morton Public Library
Tazewell News

Tazewell County News

Morton Times News

The Morton News

Morton Courier

Cauldron

Courier

The Tazewell News
Whiteside County
Sterling Public Library
Daily Gazette
Evening Gazette
Fulton Journal
Republican and Gazette
Sauk Valley Sunday
Sterling Daily Gazette
Sterling Daily Gazette And Daily Standard
Sterling Daily Standard
Sterling Evening Gazette
Sterling Gazette
Sterling Republic
Sterling Semi Weekly Gazette
Sterling Standard
Telegraph
The Daily Gazette
Will County
Plainfield Public Library
Enterprise 

The Enterprise
The Enterprise Advantage
Winnebago County
Talcott Free Library
Rockton Herald

The Rockton Herald

Rockton-Roscoe Herald 

North Suburban Herald 

Rockton Roscoe Herald 

Herald
Woodford County
Illinois Prairie District Public Library
Herald

Hornet

Illinois State Democrat

Marshall Messenger

Marshall Telegraph

Marshall Weekly Messenger

Mascoutah Anzeiger

Mascoutah Herald

Mason City Banner

Mason City Banner Times

Mason City Journal

Mason City Times

Massac Journal

Massac Journal Republican

Mattoon Commercial Star

Mattoon Journal

Mattoon Star

Medora Messenger

Menard Time

Metamora Herald

Metamora Sentinel

Metropolis City Item

Metropolis Democrat

Metropolis Herald

Metropolis Register

Metropolis Times

Metropolis Weekly Sentinel

Metropolitan

Middletown Ledger

Milford Herald

Minonk News

Moline Review

Promulgator

Review Dispatch

Roanoke Review

Semi Weekly Eastern Illinoisan

Varna Leader

Washburn Leader

Woodford Co Visitor

Woodford County Argus

Woodford Sentinel
Algonquin Area Local Newspapers
Algonquin Countryside
Algonquin Township Life
Cardunal Free Press
Courier News
Daily Herald
Lake in the Hills Countryside
Northwest Herald
Cook County Memorial Public Library District Newspapers
Lake County Independent

Lake County Independent and Waukegan Weekly Sun

Libertyville Independent

Lake County Register
Elgin Area Newspapers
Flora Public Library Digital Newspapers 
Southern Illinois Journal & Weekly Journal

Southern Illinois Journal

Southern Illinois Record

Flora Record

Flora Journal Record
Highland Park Local Newspapers
Highland Park News
Highland Park Press
Sheridan Road News-Letter
Highland Park News-Letter
North Shore News-Letter
Waukegan Weekly Sun
Libertyville Independent
Independent Register
Southwest News Sun (Waukegan)
Waukegan News Sun
Lake County Independent and Waukegan Weekly Sun
Lake County Independent
Libertyville Review
Libertyville Independent Register
Wilmette Public Library Newspapers
Wilmette Life
Lake Shore News
The Wilmette Beacon
Wilmette Local Newspapers
Chicago Tribune
Evanston Press
Wilmette Bulletin
Evanston Review
The Inter Ocean
Lake Shore New
Chicago Sun Times
Student Collections:
Antioch Community High School – Antioch
Augustana College – Rock Island 
Benedictine University – Lisle
Bradley University – Peoria
Columbia College – Chicago
DePaul University – Chicago
Eastern Illinois University – Charleston
Elmhurst University – Elmhurst
Glenbard West High School – Glen Ellyn
Governors State University – University Park
Granite High School – Granite City
Illinois Central College – East Peoria
Illinois Institute of Technology – Chicago
Illinois State University – Normal
Illinois Wesleyan University – Bloomington
Illinois Woman's College – Jacksonville
Joliet Junior College – Joliet
Lake Forest College – Lake Forest
Lake Land College- Mattoon
Loyola University – Chicago
Marist High School – Chicago
Millikin University – Decatur
Mundelein College – Chicago
New Trier High School – Winnetka
Niles Township High School – Skokie
Niles West High School – Skokie
North Central College – Naperville
North Park University – Chicago
Northeastern Illinois University – Chicago
Northwestern University – Evansville
Northern Illinois University – De Kalb
Saint Viator High School – Arlington Heights
Saint Xavier University – Chicago
South Suburban College – South Holland
Southern Illinois University – Carbondale
Southern Illinois University – Edwardsville
University High School, Midway – Chicago
University of Chicago – Chicago
University of Illinois – Urbana
University of St. Francis – Joliet
Vienna High School – Vienna
Western Illinois University – Macomb
Miscellaneous Collections and Indexes:
Independent Voices – Alternative Newspapers
2 3 Many

A Four-year bummer

Action Bulletin
Ad Hoc Bulletin (Marxist-Lenninist
Arsenal: Surrealist Subversion

Black Maria

Blazing Star

But We Didn't Know

CWLU News

Dull Brass

Feminist Voice

Fight Back!

GI News

Great Lakes Torpedo

Harass the Brass

Inside-Out

Kaleidoscope Chicago

Korea free press

Lavender Woman

Living Hand

Logistic, The

Milk Quarterly
Mother-country
Movement for Democratic Military

Navy Times Are Changin'

Operation County fair Newsletter
Other Half, The

Rag, The

Rising Up Angry

Secret Storm

Seed, The

Spokeswoman, The

Student Mobilization Committee to end the War in Vietnam
Vet Cong
Veteran, The (Chicago)

Veterans stars And stripes For Peace

Vietnam GI

Vietnam GI (Stateside Edition)Y

Vietnam Veterans Against the War

Voices of the Women's Liberation Movement

War Bulletin
Wildcat

Winter soldier
Civilian Conservation Corps (CCC) Newspapers 1933-1942
Illinois Swedish Language Newspapers
Old Fulton Postcards
Newspaper Abstracts – Illinois
For Obituary Indexes, transcriptions, and other death/obituary information from historic newspapers, please check out the Obituaries page. 
Other Free Sites:
Antioch
Barrington
Belleville
Chicago
Decatur
Downers Grove
Galesburg
Granite City
Huntley
Hyde Park
Jacksonville
Joliet
Lake Forest
Macomb
McHenry
Mt. Carroll
Niles
Nokomis
Oak Lawn
Oak Park
Peoria
Proviso
River Forest
Rockford
Skokie
Springfield
Urbana
Subscription or Pay Sites:
Ancestry.com:
There are currently 101 publications available on this site. See all the titles at Ancestry – Illinois Newspapers
Genealogy Bank:
There are currently 624 publications available on this site. See all the titles at Genealogy Bank – Illinois Newspapers
Newspaper Archive:
There are currently 851 publications available on this site. See all the titles at Newspaper Archive – Illinois
Newspapers.com:
There are currently 797 publications available on this site. See all the titles at Newspapers.com – Illinois 
And Finally:
You also need to check out the University of Illinois Newspapers Database site, which can tell you what is happening in the state with regard to all the newspapers that are listed in the database and whether they are available via paper, microfilm, and/or online. 
Please note – even more may be available via a local library where a library card is required. And of course, there is always microfilm for those that have not been made available online as yet.
For more links for different states, provinces, and countries – please see the Newspaper Links page on this website.