You may not know this, but Newspaper Archive has a new management team, after their acquisition in October 2020. From the Press release, "Charles Thayne Capital, a growth-oriented private investment firm focused on technology and based in Chicago, has acquired World Archives, the operator of NewspaperArchive.com."
The new CEO, Kendall Hulet, formerly of Ancestry.com, answered a few questions for me about the "new" Newspaper Archive. I was particularly interested in their customer service and subscription handling improvements, due to issues in the past.
I was particularly impressed with their forward-thinking, and their focus on improved customer service.
Make sure that you look at the end of the interview notes below for a unique discount, offered only to friends and followers of the Ancestor Hunt.
1. Hello, Kendall. Thank you for taking the time to answer these questions. Could you provide a short history of the NewspaperArchive company?
This will come as a surprise to many, but the company was actually founded in the 1950s as a microfilming company, providing microfilms of newspapers to libraries and educational institutions around the country.
In the late 1990s, new ownership took over and began digitizing the newspaper content and making it available online. They launched the original NewspaperArchive.com website, which was the first major online source of historical newspaper content that we know of.
2. There was a recent acquisition by Charles Thayne Capital in October of last year. What is now the goal/mission of NewspaperArchive, and what can the newspaper research community expect as a result of this acquisition?
Yes, in the fall of 2020, Charles Thayne Capital started a new company and purchased the assets of the existing NewspaperArchive company, including the website domain and the newspaper content. They asked me to come onboard as CEO of the new company.
Given my background in leading product management and user experience at Ancestry for several years, I was excited to join and help introduce new ways to improve the research experience here. We want to make it easier for our customers to find the content they are looking for.
The company's mission is clear and concise: To help people across the world share in the discovery of their rich history.
To do this, the team is focused on adding new content to the site and improving the user experience. We have already revamped parts of the search interface, enhanced the browse experience, improved the newspaper clipping experience, and have many more improvements on the way.
3. A very important issue to the genealogy community is what has been perceived as "shady business practices" in the past, especially relating to subscriptions. As you know, perception is reality. What is NewspaperArchive doing to regain the trust of genealogists and family history researchers?
We are a new company with new management and a new customer-first focus.
We've introduced a free trial option so that, if desired, people can try it before they buy. We revamped the online cancel experience to ensure you can stop your membership at your convenience. And we've tried to clearly articulate a reasonable refund policy to make the experience better for our customers.
In the last 12 months, we have doubled the size of our customer service team and introduced a brand new Help Center so people can find answers faster and more easily.
We've also introduced more customer surveys and user testing in order to give customers a voice in how we develop the product going forward.
4. NewspaperArchive has been one of the mainstays of the subscription newspaper database community for many years (in fact, you were the first newspaper subscription that I ever purchased, in the early 2000s). How do you differentiate yourself from your competition?
I love hearing that we were your first newspaper subscription. That's fantastic.
As you may know, we maintain a strong focus on small-town newspapers that have richer genealogical information, which leads to a richer family history narrative for our customers.
In addition, the large majority of our newspaper pages are exclusive to NewspaperArchive–you can't find those pages on any other large family history website.
5. What can genealogists, historians, and other researchers have to look forward to in the coming 12 to 18 months from NewspaperArchive?
We will be launching an automated search tool to help you find content across our entire collection of newspapers based on names, dates, and places from your family tree.
More content is definitely on the way–we're adding newspaper pages to the site every day.
And we continue to conduct user testing and customer surveys to better understand what users want so that we can build those features into the platform.
So far, customer response to all the changes has been outstanding. We've seen substantial subscriber growth over the last year as we've focused on making these improvements.
We can't wait for what the future holds as we continue to invest in the product, add more content, and improve customer service for the community of passionate newspaper researchers.
---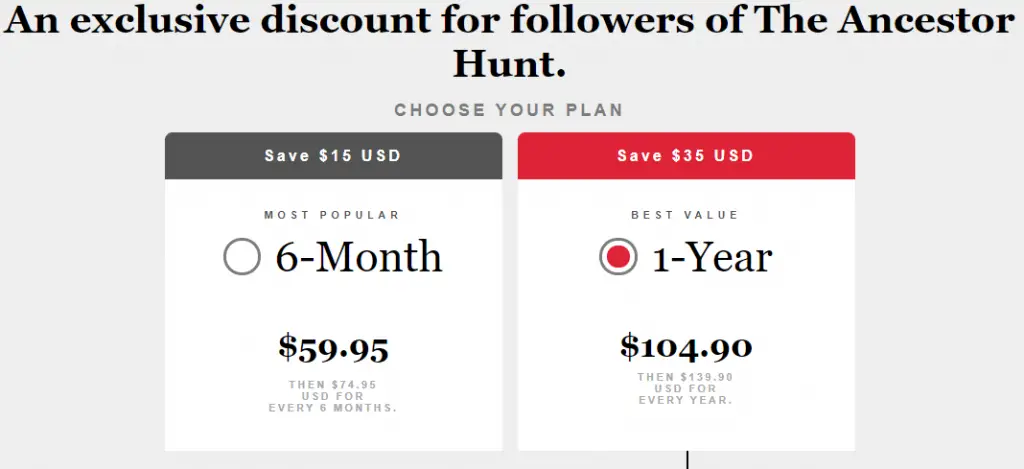 As I stated at the outset, I am impressed so far with Newspaper Archive's direction, and look forward to what we can see from them in the future. I do know one thing: I've been tracking their additions to the titles in their collections, and they are numerous.
Click HERE  to access the discount and to check out the subscription details