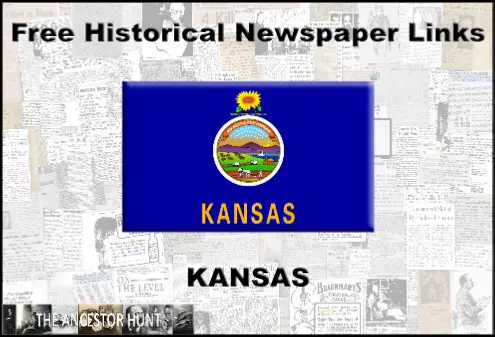 Kansas is one of the states that has an excellent single central online state repository for historical newspapers, There are many free online newspapers on other sites and collections available on subscription sites. Below is a list of where the titles are stored and the link so that you can access them. 
There are over 6,000 newspapers that have been published in the Sunflower State – certainly not all of them are searchable online. So go for it – find your Kansas ancestors and all the interesting articles that capture the stories of their lives. 
Please note that I have not always entered the dates that are included in the collections, as I suspect they will change as more items are digitized. Also, I suspect that some of these links may change over time – so if there is a dead link – please use your favorite search engine to find their new location. 
(Updated July 2023; recently added links are in BOLD)
Kansas Historical Newspapers
Free Sites:
Statewide Collections:
Chronicling America – Kansas Newspapers
Google News Archive
Kansas Digital Newspapers – collaboration with newspapers.com; for Kansas residents only for all titles –  However, there is Open Access for  Kansas Historical Society content published on Newspapers.com for more than three years; no residency verification required.  Here is the list of Open Access titles that are available to all:
County and Library Collections:
Allen County
Humboldt Public Library
Humboldt Union

Union

Marketplace News

Humboldts Marketplace New

Market Place

Tri City Herald
Anderson County
Garnett Public Library
Advocate Community News 

Advocate Free Press

Advocate Free Press And Community News

Advocate 

Advocates Community News Press
Anderson County Advocate Advisor News

Anderson County Advocate And Advisor News 

Anderson County Advocate And Community News 

Anderson County Advocate 

Anderson County Area Community News

The Advocates Community News-Press

The Advocates Community News-Press And Advisor News

The Anderson County Advocate Advisor News

The Anderson County Review
Bourbon County
The Fort Scott Tribune And The Fort Scott Monitor
Brown County
Morrill Public Library
Brown County World 

Daily Brown County World 

Hiawatha Daily World 

Hiawatha World 
Butler County
Douglass Tribune
The Burden Eagle
The Burden Enterprise
The Church Record
The Douglas Index
The Douglass Tribune
The New Enterprise
Chase County
Chase County Historical Society
Coffey County
Lebo Branch-Coffey County Library
Allegre Rexall Capsule 

Gridley Star 

Halls Summit News 

Hampden Expositor 

Lebo Courier 

Lebo Enterprise 

Lebo Leader 

Lebo Light 

Lebo Star 
Coffey County Library-Gridley Branch
The Gridley Light
The Gridley Gleam
Cowley County
Arkansas City Public Library
Arkansas City Traveler 

Arkansas City Daily Traveler 

Arkansas City Daily Republican 

Daily Republican Traveler 

Arkansas City Republican Traveler 

The Arkansas City Traveler
Ford County
Dodge City Daily Journal
Dodge City Democrat
Dodge City Messenger
Dodge City Reporter
Dodge City Times
Ford County Globe
Kansas Cowboy
The Dodge City Daily Globe
The Dodge City Globe
The Dodge City Journal