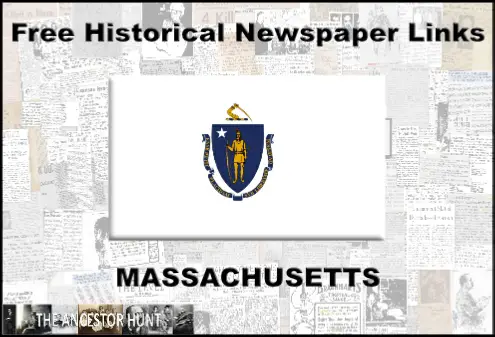 Massachusetts is one of the states who do not have a central online repository for searching historical newspapers. Several states use the Library of Congress Chronicling America site as their main central online site for searching old newspapers. And a few have a central portal for many of the newspapers that have been digitized. The online newspaper titles are available from several different sites, many free and many require a subscription. Below is a list of where the titles are stored and the link so that you can access them. 
There are around 4,500 newspapers that have been published in the Bay State – certainly not all of them are searchable online. But there are quite a few that are indeed available. So go for it – find your Massachusetts ancestors and all the interesting articles that capture the stories of their lives. 
Please note that I have not always entered the dates that are included in the collections, as I suspect they will change as more items are digitized. Also, I suspect that some of these links may change over time – so if there is a dead link – please use your favorite search engine to find their new location. 
(Updated July 2023; recently added links are in BOLD)
Massachusetts Historical Newspapers
Free Sites:
Statewide Collections:
Chronicling America – Massachusetts
Google News Archive
County and Library Collections:
Barnstable County
Brooks Free Library Historical Newspapers
Harwich Independent
Harwich Oracle
Central Cape Press
Orleans Record
Cape Cod Republican
The Falmouth Enterprise
Cape Cod Independent
New Beacon
Provincetown Advocate
Provincetown Banner
Provincetown Beacon
Provincetown News
Academy Breezes
Cape Cod Advocate and Nautical Intelligencer
Cape Cod Gazette
Cape Cod News
Casino Bulletin
Sandwich Broadsider
Sandwich Independent
Sandwich Observer
The Barnstable Press
The Bourne Independent
The Cotuit Citizen
The Falmouth Journal
The Hyannis Tribune
The Independent
The Osterville Times
The Sagamore Herald
The Sandwich Enterprise
The Sandwich Independent
The Sandwich Observer
The Sandwich Review
The Seaside Press
The Village Broadsider
The Wareham Courier
The Weekly Review
Barnstable Patriot
The Patriot
Yarmouth Register
Dennis-Yarmouth Register
Hyannis Patriot
Sandwich Observer
The Register
Berkshire County
Adams News And Transcript
Hoosac Valley News And Transcript
The Adams Freeman
The Adams Transcript
The North Adams Transcript
The Weekly Transcript And Berkshire County Intelligencer
Weekly Transcript
Berkshire Gleaner

Valley Gleaner
Bristol County
The Attleboro Sun
The Sun Chronicle
Mansfield News
Foxboro Times
The Mansfield News and The Foxboro Times
The Evening Chronicle
Fall River Globe

The Herald News
Fall River Herald
Fall River Herald and Evening News
Fall River Herald News
The Evening Herald
Essex County
Amesbury Public Library
Amesbury Advocate

Amesbury and Salisbury Villager

Amesbury Daily

Amesbury Daily News

Amesbury Hospital Courier

Amesbury News

Amesbury Times

Daily News

Essex Transcript

Leader

Merrimac Valley Times

Merrimac Valley Echo

Morning Courier

River Side Press

The Stranger in Lowell

Transcript

Village Transcript

Villager

Weekly News
Beverly Citizen

Beverly Evening Times

Saturday Morning Citizen
Pennysaver

Tri Town Transcript

Tri Town Transcript and Pennysaver

US News and World Report
Tri Town Transcript

US News and World Report

Tri Town Transcript and Pennysaver

Pennysaver
Gloucester Lyceum and Sawyer Free Library
Gloucester Daily Times And Cape Ann Advertiser
Gloucester Daily Times
Columbian Centinel
Ipswich Bulletin
Ipswich Independent
Ipswich Observer
Ipswich Register
Ipswich Today
National Gazette And Literary Register
The Ipswich Chronicle
Today's Magazine
Beetle and Wedge
Cape Ann Advertiser
Manchester Cricket
Manchester Cricket and Essex Echo
Beetle and Wedge
Cape Ann Advertiser
Manchester Cricket
Manchester Cricket and Essex Echo
The Manchester Cricket
The Methuen Transcript
Methuen Transcript And Essex Farmer
Marblehead Messenger

Marblehead Reporter

Reporter
American Signal

Boston Courier

Boston Daily Bee

Boston Gazette

Comet

Daily American Signal

Daily Bee

Daily Herald

Essex Journal

Essex Journal And Merrimack Packet

Essex Journal And New Hampshire Packet

Essex Journal And The Massachusetts And New Hampshire

Essex Journal Or New Hampshire Packet

Essex Journal Or The New Hampshire Packet

Herald

Herald Of The United States

Herald Office

Herald Office

Impartial Herald

Independent Chronicle And Boston

Independent Whig

Massachusetts Spy Or Worcester Gazette

Morning Star

New York Morning Post

Newburyport Daily Herald

Newburyport Daily News

Newburyport Daily News and Newburyport Herald

Newburyport Herald

Newburyport Herald And Commercial Gazette

Newburyport Herald And Country Gazette

Newburyport Herald Commercial And Country Gazette

Pennsylvania Packet And Daily Advertiser

Political Gazette

Salem Gazette

Statesman

Sun

Thomas Massachusetts Spy Or Worcester Gazett
Peabody Institute Library of Danvers
Danvers Mirror
Danvers Herald
Franklin County
Montague Public Library Digital Archives
The Turners Falls Reporter

Turners Falls Reporter

Turners Falls Herald 
Orange Journal

Orange Enterprise

Enterprise and Journal

Millers Falls News

Orange Enterprise and Journal
Hampden County
Westfield Athenaeum Library
Hampden County Leader
The Valley Echo
The Westfield Journal
Times and News-Letter
Western Hampden Leader
Western Hampden Times
Western Hampden Times and Westfield News-Letter
Westfield Daily Journal
Westfield Daily Times
Westfield Evening Echo
Westfield Evening Journal
Westfield News Letter
Westfield Times
Wilbraham Hampden Times

Times
Middlesex County
Acton Memorial Library
Acton Beacon
Acton Bedford Enterprise
Acton Enterprise
Acton Liberty Bell
Assabet Valley Beacon
Concord Enterprise
Concord Maynard Enterprise
The Acton Beacon
The Beacon
Groton Public Spirit
Public Spirit
The Public Spirit
The Weekly Public Spirit
Turners Public Spirit
Bedford Minute-Man
Bedford Minute-Man and Bedford Times
Bedford Bulletin
Bedford Enterprise
Bedford Minuteman
The Telephone
Lexington Independent
Lexington Minute-Men
Lexington Townsman
Lexington Townsman And Lexington Times-Minute-Man
The Lexington Patriot
The Lexington Times
The Lexington Times And Lexington Minute-Men
Citizen

Fence Viewer

Lincoln Citizen

Sudbury Citizen

Sudbury Enterprise

Sudbury Tab

Sudbury Town Crier

Sudbury Town Crier and Fence Viewer

Sudbury Town Crier and Tab

Wayland Citizen
Hudson Daily Sun

Hudson News Enterprise

News Enterprise

Hudson News-Enterprise
Marlboro Daily Enterprise
Eagle

Westford Eagle

Rustic

Liberty Bell
Beacon
The Maynard News
Maynard Enterprise
Melrose Free Press
Melrose Journal
Melrose Record
Melrose Weekly Visitor
The Melrose Free Press
The Melrose Reporter
The Melrose Visitor
Natick Bulletin
Natick Bulletin and Tab
Natick Suburban Press
Natick Suburban Press and Recorder
NewsWest
Suburban Free Press and The County Recorder
Suburban Press and Recorder
The Bulletin Board
The Natick Bulletin
The Natick Bulletin and Natick Sun
The Natick Citizen
The Natick Herald
The Natick Observer
The Natick Sun
The Natick Times
Everett Evening News-Gazette
Everett Leader-Herald
Everett Leader-Herald And News Gazette
The Everett Leader-Herald
Daily Times Chronicle
Reading Chronicle
Reading Weekly News And Chronicle
The Daily Times And Chronicle
The Daily Times Chronicle
The Reading Chronicle
Middlesex Journal
Arlington Advocate
Arlington Daily News
Arlington Enterprise
Arlingtonian Herald
Index to Arlington Advocate
Index to Arlington Enterprise
Index to Arlington News
Middlesex Townsman
The Arlington News
The Arlington News The Arlington Press
The Arlington Press
The Arlingtonian
Stoneham Independent

Independent

Holiday Independent

Stoneham Daily Independent

Stoneham Press
Stoneham Ledger
The Stoneham Independent
Merrimack Valley Advertiser

Scroll

Tewksbury Advertiser

Tewksbury Advocate

Tewksbury Town Crier

Times Advertiser
Norfolk County
Brookline Public Library
The Chronicle
Brookline Chronicle
Brookline Independent
Brookline News
Brookline Transcript
Brookline Tribune
The Brookline Journal News
The Brookline News
The Brookline Press
The Brookline Townsman
The Suburban
Brookline Chronicle Citizen
Brookline Citizen
Brookline Citizen and Brookline Press
Brookline Press
Brookline Citizen Journal
Brookline Spy
The Brookline Bulletin
The Brookline Journal
The Brookline Standard
The Brookline Tab
Foxborough Historical Commission
Foxboro Reporter
Norfolk County Chronicle
The Eagle and Flag
The Foxboro Courier
The Foxboro Gazette
The Foxboro Times
The Home Library
The Salmagundi Journal
The Foxboro Reporter
Franklin Sentinel
Franklin Register
Morrill Memorial Library (in library)
Advertiser and Review 1887 – 1894

Norwood Advertiser 1894 – 1905

Norwood Free Press 1937 – 1950
Norfolk County Free Press 1950 – 1962
Norfolk County Press 1962 – 1965
Holbrook Sun

Holbrook Times
The Holbrook Sun
Sharon Advocate

Sharon Enterprise

Sharon Item

Sharon Ozone

Sharon Sentinel

Sharon Transcript

The Sharon Advocate

Times Advocate
Stoughton Chronicle
Stoughton News
The Easton Journal
The Stoughton News Sentinel
The Stoughton Sentinel
Turner Free Library Digital Archive
Randolph Herald

Randolph Mariner
Plymouth County
The Hull Beacon
Hull News Mirror
Middleboro News
Middleborough Gazette
Namasket Gazette
The Middleboro Gazette
The Middleborough Gazette and Old Colony Advertiser
Cohasset Cottager

Marshfield Mail

Mirror

Scituate Herald

Scituate Mariner

Scituate Mirror

Scituate Mirror Summer

South of Boston

South of Boston Mirror

South Shore Mirror

South Shore News

South Shore Weekly Mirror
Suffolk County
Bunker Hill Community College
The Third Rail
The Monument
Worcester County
Beals Memorial Library
Winchendon Courier
The Winchendon Courier
The Winchendon Journal
The Times
The Webster Times
The Webster Weekly Times
Webster Daily Times
Webster Evening Times
Webster Times
North Brookfield Journal
The Journal
Leominster Daily Enterprise

Leominster Enterprise

Enterprise

The Pioneer
The Daily Sentinel and Leominster Enterprise
Andovr Memorial Hall Library Historical Newspaper Collection (1853–1925)
Andover Advertiser

Andover Townsman

Lawrence American
Belmont Public Library Historical Newspapers
Belmont Bulletin Mar. 8, 1890 – Feb. 26, 1898

Belmont Tribune Nov.14, 1902 – Apr. 14, 1916

Belmont Courier Jan. 2, 1889 – Dec. 1, 1917

Belmont Patriot Jan. 5, 1918 – Dec. 28, 1918

Belmont Citizen Mar. 29, 1919 – Mar. 31, 1988

Belmont Herald Jan. 5, 1945 – April 1, 1988

Belmont Citizen Herald April 7, 1988 – 2015
Brookline Public Library Newspapers – (index only)
Brookline Chronicle

Brookline Chronicle-Citizen

Brookline Citizen (1980s-1990s)

Brookline Citizen (1930s-1950s)

Brookline Citizen Journal

Brookline Independent

Brookline Journal

Brookline Journal-News

Brookline News (1880s)

Brookline News (1930s)

Brookline Press

Brookline Spy

Brookline Standard

Brookline Suburban

Brookline TAB

Brookline Townsman

Brookline Transcript

Brookline Tribune

Boston Globe

Boston Herald-Traveler

Boston Herald

Brookline Magazine

Our Town Brookline
Cambridge Public Library – Historic Cambridge Newspaper Collection
Concord Free Public Library – Cambridge Newspapers Up To the Civil War
Eldredge Public Library Chatham and Cape Cod Collection
Chatham Monitor

The Chatham Shopper News

The Chatham News 

Lower Cape Cod Chronicle

Cape Cod Chronicle
Nantucket Atheneum's Digital Historic Newspaper Archive
Nantucket Gazette: 1816-17
Nantucket Commerce Gazette: 1816-17
Nantucket Weekly Magazine: 1817-18
Nantucket Journal: 1826-28
The Islander: 1840-43
Weekly Telegraph: 1843
The Telegraph: 1843
Daily Telegraph: 1843-44
Morning Telegraph: 1844-45
The Warder: 1846
The Daily Warder: 1846
Island Review: 1874-78
Island Review: 1874-78
Nantucket Journal: 1878-99
The Daily Nantucket: 1889-99
Nantucket Light: 1964-65
Nantucket Inquirer: July 5, 1821 to Dec.29, 1847
Nantucket Weekly Mirror: June 14, 1845 to March 1865
Inquirer: Jan. 5, 1848 to June 29, 1855
Nantucket Inquirer: July 6, 1855 to March 22, 1865
The Inquirer and Mirror: April 1, 1865 to 2013
Student Collections:
Amherst College – Amherst
Assumption College – Worcester
Assumption High School – Worcester
Babson College – Wellesley
Bay Path University – Longmeadow
Bentley University – Waltham
Boston Latin School – Boston
Boston College – Boston
Boston College Law School – Boston
Boston University – Boston
Brandeis University – Waltham
Bridgewater State Normal School – Bridgewater
Bridgewater State University – Bridgewater
Cape Cod Community College
Center School – Longmeadow
College of the Holy Cross – Worcester
Concord-Carlisle High School – Concord
Eastern Nazarene College – Quincy
Emerson College – Boston
Emmanuel College – Boston
Fitchburg State University – Fitchburg
Framingham State University – Framingham
Gordon College – Wenham
Greenfield Community College – Greenfield
Harvard University – Cambridge
Lasell University – Newton
Lincoln-Sudbury Regional High School – Sudbury
Lowell Textile/Technological Institute – Lowell
Malden High School – Malden
Massachusetts Institute of Technology – Cambridge
Massachusetts College of Optometry – Boston
Massachusetts School of Optometry – Boston
Mount Holyoke College – South Hadley
Newton North High School – Newton
Northeastern University – Boston
Perkins School for the Blind – Watertown
Phillips Academy – Andover
Radcliffe College – Cambridge
Roxbury Community College – Boston
Smith College – Northampton
Springfield College – Springfield
Tufts University – Medford
University of Massachusetts – Amherst
University of Massachusetts – Lowell
Wayland High School – Wayland
Wellesley College  – Wellesley
Wellesley High School – Wellesley
Westfield State University – Westfield
Williams College – Williamstown
Worcester Polythechnic Institute – Worcester
Miscellaneous Collections and Indexes:
Annotated Newspapers of Harbottle Dorr, Jr. 
Woburn Public Library Newspaper Indexes
Grattan Echo Index, 1881-1882

Guide-Post Index, 1847-1848

Union Weekly Index, 1884

Weekly Advertiser Index, 1846

Woburn Citizen 1935-1936 Newspaper Index

Woburn City Press Index, 1889-1891

Woburn Daily City Press Index, 1891-1892

Woburn Gazette Index, 1844-1846

Woburn Telegram Index, 1914

Woburn Townsman Index, 1864

Woburn Weekly Budget Index, 1857-1863

Woburn/Middlesex Journal Index, 1851-1913, A-D
Woburn Advertiser Index, 1871-1888
Woburn Daily Times Index, 1904-1980 non-consecutive, 1995-2014
Civilian Conservation Corps (CCC) Newspapers 1933-1942
Independent Voices – Alternative Newspapers
99TH BUMMER

Alcheringa

Amazon Quarterly

Audience
BDRG Newsletter

Black Belt Woman

Bring the Troops Home Now Newsletter

Catharsis

Fire Exit
Free Fire Zone

Lavender Vision

Liberation News Service
Modern Occasions

Morning Report

New England Military News

No More Fun and Games

Old Mole

Origin

Osawatomie

Osiris

Raw Truth, The

Reservists Against War
Resist

Second Wave: A Magazine for the New Feminism

Shell

Sojourner

Top Secret

United Artists
Franklin County News Archive Index
Greater Lowell Newspaper Archive
Lowell Courier

Lowell Daily Courier

Lowell Daily Journal and Courier

Lowell Morning Courier

Lowell Sun

Lowell Patriot
Lowell Free Press
Old Fulton Postcards
Portuguese American Digital Newspaper Collections
Diario de Noticias 

O Colonial 

O Heraldo Portuguez
Digital Commonwealth Newspaper Clippings 
James Michael Curley Notebook Collection – clippings
Middlesex County Massachusetts Newspaper Abstracts 1822-1971
Newspaper Abstracts – Massachusetts
For Obituary Indexes, transcriptions, and other death/obituary information from historic newspapers, please check out the Obituaries page. 
Other Free Sites:
Agawam
Barre
Becket
Belchertown
Berkshire
Boston
Braintree
Cabotville
Chestnut Hill
Chicopee
Cohasset
Danvers
East Cambridge
Fairhaven
Falmouth
Fitchburg
Franklin County
Groton
Lenox
Lowell
Marion
Mattapoisett
Milford
New Bedford
Orleans
Palmer
Plymouth
Quincy
Salem
South Hadley
Springfield
Sturbridge
Waltham
Wellesley
Wendell
Weymouth
Wilbraham
Wilmington
Winchester
Worcester
Subscription or Pay Sites:
Ancestry.com:
There are currently 35 publications available on this site. See all the titles at Ancestry – Massachusetts Newspapers
Genealogy Bank:
There are currently 707 publications available on this site. See all the titles at Genealogy Bank – Massachusetts Newspapers
Newspaper Archive:
There are currently 91 publications available on this site. See all the titles at Newspaper Archive – Massachusetts
Newspapers.com:
There are currently 39 publications available on this site. See all the titles at Newspapers.com – Massachusetts 
And Finally:
You also need to check out the Boston Public Library site, which can tell you what is happening in the state with regard to the newspapers that have been digitized and are becoming available via microfilm or online. Also, they have a catalog of all newspapers in microfilm or original form that can be accessed.
Please note – even more may be available via a local library where a library card is required. And of course, there is always microfilm for those that have not been made available online as yet.
For more links for different states, provinces, and countries – please see the Newspaper Links page on this website.