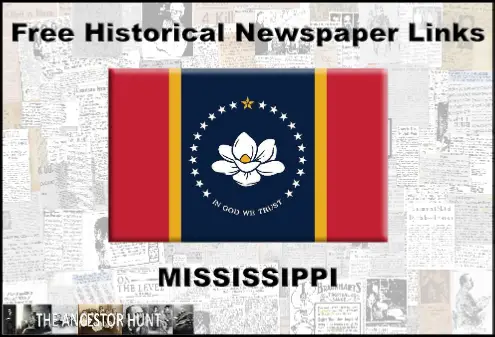 ​Mississippi is one of the states that does not have a central online state repository for searching historical newspapers. Several states use the Library of Congress Chronicling America site as their main central online site for searching old newspapers and Mississippi has most of its online newspapers available on that site. Mississippi also has additional newspapers from other websites. Some are free and many require a subscription. Below is a list of where the titles are stored and the link so that you can access them.
There are over 1,500 newspapers that have been published in the Magnolia State – certainly not all of them are searchable online. But there are quite a few that are indeed available. So go for it – find your Mississippi ancestors and all the interesting articles that capture the stories of their lives. 
Please note that I have not always entered the dates that are included in the collections, as I suspect they will change as more items are digitized. Also, I suspect that some of these links may change over time – so if there is a dead link – please use your favorite search engine to find their new location.
(Updated July 2023; recently added links are in BOLD)
Mississippi Historical Newspapers
Free Sites:
Statewide Collections:
Chronicling America – Mississippi​
Google News Archive
County and Library Collections: 
Coahoma County
Carnegie Public Library
Clarksdale Blues Star

Clarksdale Challenge

Clarksdale Daily Press

Clarksdale Daily Press Register

Clarksdale Daily Register

Clarksdale Daily Register and Daily News

Clarksdale Press Register

Clarksdale Register

Clarksdale Register and Daily News

Coahoma Living

Coahomian

Compass

Daily Clarion Ledger

Daily Democrat Times

Daily Register

Delta People

Delta Register

Fort Adams Item

Friars Point Coahomian

Friars Point Delta

Friars Point Gazette

Friars Point Weekly Delta

Gainesville Advocate

Mahogany

McInnis Porter

Natchez Democrat

New Coahomian

News Register

Press Register

Profile

The Dragon

The Traveller

Women Voter
Lincoln County
Lincoln Lawrence Franklin Regional Library
Brookhaven Semi-Weekly Leader
Monticello Advocate
Franklin Advocate
Wayne County
Waynesboro Wayne County Library System (in library only)
Student Collections:
Alcorn State University – Lorman
Belhaven University – Jackson
Blue Mountain College – Blue Mountain
Delta State University- Cleveland
East Mississippi Community College – Scooba
Hinds Junior College – Raymond
Jackson State University – Jackson
​Millsaps College – Jackson
Mississippi College – Clinton
Mississippi Delta Community College – Moorhead
Mississippi State University – Starkville
Mississippi University for Women – Columbus
Mississippi Valley State University – Itta Bena
Saint Stanislaus School – Bay St. Louis
Southwest Mississippi Community College – Summit
Tougaloo College – Tougaloo
University Southern Mississippi  – Hattiesburg
University of Mississippi – Oxford
William Carey College – Hattiesburg
Miscellaneous Collections and Indexes:
Southern Miss History Digital Collection
The Reveille

Vardaman's Weekly

Teachers College News

Gulf, Mobile & Northern Railroad News

New Standard Newspaper

The Golden Age Newspaper

Fayette Chronicle
Civilian Conservation Corps (CCC) Newspapers 1933-1941
Independent Voices – Alternative Press
Old Fulton Postcards
Newspaper Abstracts – Mississippi
For Obituary Indexes, transcriptions, and other death/obituary information from historic newspapers, please check out the Obituaries page.
Other Free Sites:
​
Biloxi
Brandon
Choctaw
Clinton
Columbus
Corinth
Hattiesburg
Hernando
Holly Springs
Jackson
Natchez
Oxford
Paulding
Port Gibson
Vicksburg
Woodville
Yazoo City
Subscription or Pay Sites:
Ancestry.com:
There are currently 26 publications available on this site. See all the titles at Ancestry – Mississippi Newspapers
Genealogy Bank:
There are currently 318 publications available on this site. See all the titles at Genealogy Bank – Mississippi Newspapers
Newspaper Archive:
There are currently 204 publications available on this site. See all the titles at Newspaper Archive – Mississippi
Newspapers.com:
There are currently 425 publications available on this site. See all the titles at Newspapers.com – Mississippi 
And Finally:
You also need to check out the Mississippi Department of Archives and History site, which can tell you what is happening in the state with regard to newspaper projects.
Please note – even more may be available via a local library where a library card is required. And of course, there is always microfilm for those that have not been made available online as yet.
For more links for different states, provinces, and countries – please see the Newspaper Links page on this website.