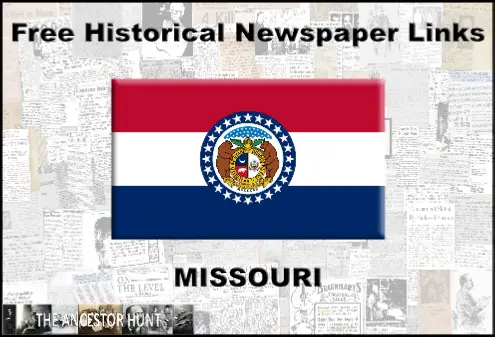 Missouri has several free online collections for searching historical newspapers. Many states use the Library of Congress Chronicling America site as their main central online site for searching old newspapers and currently Missouri has quite a few newspapers available on that site. There are free online newspapers also available on other sites and there are collections available on subscription sites. Below is a list of where the titles are stored and the link so that you can access them. 
There are over 4,700 newspapers that have been published in the Show Me State – certainly not all of them are searchable online. But there are several that are indeed available. So go for it – find your Missouri ancestors and all the interesting articles that capture the stories of their lives. 
Please note that I have not always entered the dates that are included in the collections, as I suspect they will change as more items are digitized. Also I suspect that some of these links may change over time – so if there is a dead link – please use your favorite search engine to find their new location. 
(Updated November, 2020; recently added links are in BOLD)
Free Sites:
Statewide Collections:
Chronicling America – Missouri 
Google News Archive
Historic Newspapers Collection 1835-1975 (By County)
Index to Selected Missouri Newspapers, 1808-1929
Boonville Weekly Advertiser (Jan 2, 1880-Dec 30, 1927)
Boonville Eagle (May 2, 1868-July 12, 1878)
Boonville Observer (March 13, 1844-March 18, 1854)
Boonville Observer (March 25, 1854-December 27, 1856)
Boonville Western Emigrant (January 10, 1839-March 26, 1840)
Columbia Missouri Intelligencer (May 4, 1830-December 12, 1835)
Columbia University Missourian (September 14, 1908-August 1, 1916)
Columbia Missourian (August 2, 1916-December 30, 1922)
Columbia Missourian (January 2, 1923-December 31, 1929)
Columbia Statesman (1843-1886)
Fayette Missouri Intelligencer (June 29, 1826-April 9, 1830)
Franklin Missouri Intelligencer (April 23, 1819-June 16, 1826)
Jackson Independent Patriot (December 23, 1820-December 15, 1826)
Jackson Missouri Herald (August 13, 1819-August 26, 1820)
Jefferson City Inquirer (September 10, 1840-January 26, 1861)
Jefferson City Jeffersonian Republican (April 30, 1831-August 10, 1844)
Jefferson City People's Tribune (October 4, 1865-December 25, 1878)
Jefferson City People's Tribune (January 1, 1879-December 26, 1883)
Jefferson City Daily Tribune (January 1, 1875-December 30, 1926)
Jefferson City Weekly Tribune (January 2, 1884-December 31, 1884; January 4, 1888-December 27, 1888)
Liberty Tribune (April 4, 1846-January 29, 1869)
St. Louis Missouri Argus (May 22, 1835-July 4, 1840)
St. Louis Missouri Gazette (July 26, 1808-March 6, 1822)
St. Louis Missouri Republican (March 20, 1822-December 23, 1828)
Missouri Digital Heritage – Newspapers 1835-1975 (some overlap with above collection)
Albany Capital
Albany Ledger
Bevier Appeal
Bland Courier
Bolivar Free Press
Boonville Weekly Observer
Border Star Newspaper [also Weekly Border Star]
Brookfield Gazette
Brunswick Weekly Brunswicker
Buffalo Reflex
Butler Bates County Record
Calhoun Clarion
California Loyal Missourian, Loyal Journal, and Moniteau Journal
California Moniteau County Democrat and California Democrat
Cameron Sun
Canton Press
Cape Girardeau Argus
Carrollton Wakenda Record
Carter County Journal
Carter County News
Carthage Banner
Caruthersville Democrat, Twice-a-week Democrat, and Democrat-Argus
Caruthersville Southeast Scimitar and Pemiscot Press
Cassville Republican
Charleston Courier
Clarence Courier
Clarence Republican
Clinton Advocate
Clinton Eye
Columbia Missourian
Commerce Dispatch
Current Local
Crawford County Democrat
Crawford Mirror
Cuba Review and Telephone
Daily Evening Herald and Commercial Advertiser
Darlington Record
Deepwater World
Doniphan Prospect
Douglas County Herald
Edina Sentinel
Ellington Press
Far West
Franklin County Observer
Franklin County Record
Franklin County Tribune
From the Darkroom: Springfield's Historic Newspaper Photographs
Fulton Telegraph
Gallatin North Missourian
Gasconade County Republican
Gerald Journal
German Language Newspapers
Grand River and Trenton Republican
Grandin Herald
Grant City Star
Hannibal Clipper
Hannibal Courier-Post
Hannibal Messenger
Hayti Critic
Hayti Pemiscot Argus
Henry County Democrat
Henry Republican
Hermann Advertiser and Advertiser-Courier
Hermitage Index
Higbee News
Howell County Gazette
Hunnewell Graphic
Index to Selected Missouri Newspapers
Iron County Register
Jackson Missouri Cash-Book
Jefferson City Missouri State Times
Jefferson City Peoples' Tribune
Kansas City Daily Journal of Commerce
Kansas City Journal
Kansas City Journal-Post's Diamond Jubilee Section
King City Chronicle
King City Democrat
King City Tri-County News
Kirksville North Missouri Tribune and Register
La Plata Home Press
La Plata Republican
Lamar South-west Missourian
Lancaster Excelsior
Lathrop Optimist
Lawrence Chieftain
Lexington Missouri Valley Register
Liberty Banner (March 3, 1844)
Liberty Tribune
M.S.U. Independent
Macon Argus
Macon Bevier Appeal
Macon Chronicle-Herald
Macon Citizen
Macon Daily Chronicle
Macon Daily Herald
Macon Gazette
Macon Granger
Macon Republican
Macon Times
Marion County Herald
Marion County Standard
Marshall Democrat
Marshall Republican
Marshall Saline County Progress
Marthasville News
Marthasville Record
Maryville Nodaway Democrat
McFall Mirror
Memphis Reveille
Missouri Gazette
Missouri Hayti Herald
Missouri Intelligencer
Missouri Sharp Shooter
Missouri Valley Independent and the Fraternalist
Montgomery Tribune
Montrose Recorder
Montrose Tidings
Mountain View Standard
MSU Student Newspaper – The Standard
Mt. Vernon Fountain and Journal
Neosho Times
New Cambria Leader
New Haven Leader
Oregon County Democrat
Oregon County Leader, Times, and Times Leader
Oregon County South Missourian
Osceola Herald
Our County Paper
Ozark County News and Weekly News
Ozark County Times
Pacific City Herald
Pacific Transcript
Palmyra Spectator
Palmyra Whig
Phelps County New Era
Platte County Reveille
Plattsburg Leader
Pleasant Hill Leader
Pulaski County Democrat
Randolph Citizen
Rolla Express
Rolla Herald
Rolla New Era
Rolla Weekly Herald
Salem Monitor
Salem Post and Democratic Bulletin
Scott County Kicker
Sedalia Democratic Press, Democrat, and Sedalia Weekly Democrat
Sedalia Weekly Bazoo
Shannon County Current Wave
Shannon County Democrat
Shelbina Democrat
Shelbina Torchlight
Springfield Leader
Springfield Mirror
Springfield Missouri Weekly Patriot
St. Charles Demokrat
St. Clair Chronicle
St. Clair Ozark News
St. Joseph Adventure and Commercial Cycle
St. Joseph Eye
St. Joseph Gazette
St. Joseph Herald
St. Joseph Journal
St. Joseph Morning Herald
St. Joseph Observer
St. Joseph Standard
St. Joseph Stock Yard Journal
St. Joseph Times Review
St. Joseph Union
St. Joseph Union-Observer
St. Joseph Weekly Free Democrat
St. Joseph Weeky West
St. Louis Daily Missouri Republican, 1854-1872
St. Louis Missouri Republican
St. Louis Republican
Stanberry Headlight-Owl
Stanberry Herald
Steele Enterprise
Steelville Ledger
Stockton Journal
Sullivan News
Sullivan Sentinel
Union Republic Headlight
Union Republican Tribune
Unofficial MSU Student Newspapers
Urich Herald
Urich Herald-Montrose Tidings
Van Buren Current Local
Van Buren Echo
Vienna Courier
Walnut Grove Tribune
Warrenton Banner
Warrenton Herald
Washington Citizen
Washington Missourian
Webb City Register
Weekly California News and Central Missourian
Wentzville Union
West Plains Journal
Weston Border Times
Wheaton Journal
Windsor Review
Word and Way and Central Baptist
County and Library Collections:
Grundy County
Grundy County Library
Grundy County Gazette 
Trenton Times
Trenton Republican Tribune
Trenton Tribune
Trenton Republican Times 
Trenton Weekly Republican Tribune 
Daily Evening Republican
Daily Evening Republican Star 
Grand River Republican 
Trenton Times Republican
Grundy County Gazette 
Grundy County Gazette 
The Republic 
Laredo Tribune
Trenton Weekly Tribune 
Trenton Times News 
Trenton Weekly News
Trenton Times Weekly News 
Rambler
Trenton Weekly Times
Trenton Weekly Republican 
Trenton Republican
Western Pioneer 
Republican Times 
Republican Times And Grundy County Gazette
Daily Star Journal
Putnam County
Putnam County Library
Lucerne Standard 
Chronicle 
Powersville Record 
Unionville Democrat 
Putnam County Leader 
New Century 
Putnam County Journal 
Putnam Journal 
Unionville Weekly Republican 
Unionville Republican 
Unionville Weekly Republican And Putnam County Ledger 
Putnam Ledger 
Unionville Republican And Putnam County Journal 
Unionville Weekly Argus 
Worthington Gazette 
Chillicothe Constitution Tribune Archives
Jefferson County Newspaper Index

Jefferson County Leader
Jefferson Democrat
Scenic Regional Library (Franklin, Gasconade, and Warren counties) 
Licht-Freund –  1843-1845
Hermamaner Volksblatt u. Gasconade Zeitung –  1872-1873
Hermanner Wochenblatt –  1872-1873
Franklin County Record –  1874-1890
Hermanner Volksblatt –  1875-1879, 1923-1928
Hermann Advertiser and Advertiser-Courier –  1875-1922
Pacific Our County Paper –  1882-1887
Franklin County Tribune –  1887-1919, 1927-1966
Pacific City Herald –  1889-1891
Pacific Transcript –  1895-1921, 1923-1933
Warrenton Herald –  1898-1905
Sullivan Sentinel –  1901-1914
Warrenton Volksfreund –  1902-1918
Warrenton Banner –  1902-1968
New Haven Leader –  1903-1918
Sullivan News –  1910-1952, 1955-1966
Washington Citizen –  1924-1939,1943-1965
St. Clair Chronicle –  1927-1977
Die Gasconade Zeitung –  1873-1874
Der Missionar –  1881-1883
Franklin County Observer –  1893-1926
Marthasville News –  1896-1897
Gasconade County Republican –  1897-1898,1903-1905,1918-1921,1925-1966
Tribune-Republican –  1897-1919, 1927-1966
Marthasville Record –  1901-1966
Union Republican Headlight –  1904-1919
Bland Courier –  1904-1951, 1963-1966
Union Republican Tribune –  1919-1922
The Gerald Journal –  1922-1928, 1962-1965
The Washington Missourian –  1939-1964

Springfield-Greene County Library – Ozarks News and Historical Newspaper Index
Advertiser
Daily News
Gateway Heritage
Greene County Commonwealth
Leader & Press
Missouri Municipal Review
Missouri Weekly Patriot
News-Leader
OzarksWatch
Springfield Business Journal
Springfield Newspaper
The Leader
The Ozarks Mountaineer
Student Collections:
Avila University – Kansas City
Fontbonne University – St. Louis
Francis Howell Central High School – St. Charles
Jefferson City High School – Jefferson City
Lincoln High School – Kansas City
Lindenwood University – St. Charles
Maryville University – St. Louis
Missouri Southern State University – Joplin
Missouri State University – Springfield
Missouri University of Science and Technology – Rolla
Missouri Western State University – St. Joseph
Northwest Missouri State University – Maryville
Parkway Central High School – Chesterfield
Southeast Missouri State University – Cape Girardieu
St. Louis Community College – Forest Park
St. Louis Community College – Meramec
St. Louis Country Day School – St. Louis
St. Louis University – St. Louis
St. Louis University High School – St. Louis
Truman State University – Kirksville
University of Central Missouri – Warrensburg
University of Missouri – Columbia
University of Missouri – Kansas City
University of Missouri – St. Louis
 Washington University – St. Louis
Miscellaneous Collections and Indexes:
Independent Voices – Alternative Press
Underwood
Both Sides Now
Heresy II
Leavenworth Brothers Offense/Defense Committee
Other Voice
Pawns Pawn, The
River Styx
Veterans Voice
Woodpecker
Civilian Conservation Corps (CCC) Newspapers 1933-1941
Newspaper Abstracts – Missouri
For Obituary Indexes, transcriptions, and other death/obituary information from historic newspapers, please check out the Obituaries page.
Other Free Sites:
Cape Girardeau
Chillicothe
Independence
Jefferson City
Kansas City
Springfield
St. Louis
Subscription or Pay Sites:
Ancestry.com:
There are currently 49 publications available at this site. See all the titles at Ancestry – Missouri Newspapers
Genealogy Bank:
There are currently 547 publications available at this site. See all the titles at Genealogy Bank – Missouri Newspapers
Newspaper Archive:
There are currently 508 publications available at this site. See all the titles at Newspaper Archive – Missouri
Newspapers.com:
There are currently 481 publications available at this site. See all the titles at Newspapers.com – Missouri 
And Finally:
You also need to visit the State Historical Society site from time to time, which can tell you what is occurring in the state with regard to online newspaper availability. 
Please note – even more may be available via a local or state library where a library card is required. And of course there is always microfilm for those that have not been made available online as yet.
Good Luck and Happy Hunting!
For more links for different states, provinces, and countries – please see the Newspaper Links page on this website.
For other Free Missouri Links, click on the category of interest: