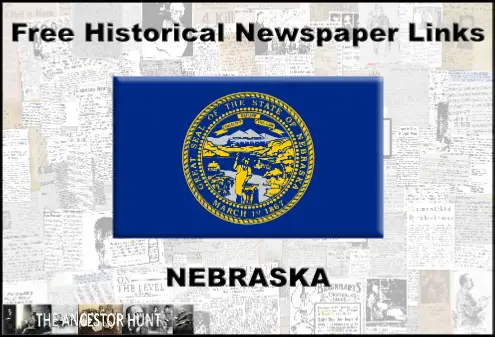 Nebraska is one of the states that does has a single central online state repository for searching historical newspapers. Several states use the Library of Congress Chronicling America site as their main central online site for searching old newspapers and currently, Nebraska has several newspapers available on that site. There are many free online newspapers also available on other sites and there are collections available on subscription sites. Below is a list of where the titles are stored and the link so that you can access them. 
There are almost 4,000 newspapers that have been published in the Cornhusker State – certainly not all of them are searchable online. But there are several that are indeed available. So go for it – find your Nebraska ancestors and all the interesting articles that capture the stories of their lives. 
Please note that I have not always entered the dates that are included in the collections, as I suspect they will change as more items are digitized. Also, I suspect that some of these links may change over time – so if there is a dead link – please use your favorite search engine to find their new location. 
(Updated July 2023; recently added links are in BOLD)
Nebraska Historical Newspapers
Free Sites:
Statewide Collections:
Chronicling America – Nebraska Newspapers
Google News Archive
County and Library Collections
Antelope County
Neligh Public Library
Antelope Tribune 

Daily Neligh Leader 

Neligh Leader 

Neligh News 

Neligh News And Leader 

Neligh Republican

Neligh Weekly News 

News And Leader 
The Orchard News
The Orchard News And Antelope County News
Boone County
Albion Public Library
Boone County News

Albion Semi Weekly News 

Albion Weekly News

Albion Argus 

Albion News
Brown County
Ainsworth Public Library
Ainsworth Star Journal

Brown County Democrat

Johnstown Enterprise

Ainsworth Star

Star Journal

Ainsworth Herald

Ainsworth Home Rule

Ainsworth Journal

Home Rule

Western News

Long Pine News

New Idea
Burt County
Burt County Herald
Burt County Plaindealer
Nebraska Advocate
Tekamah Burtonian
Tekamah Journal
The Burt County Herald
The Burtonian
The Tekamah Journal
The Weekly Burtonian
Decatur Herald
Decatur Advertiser
Decatur News
Vindicator
Alliance Sun 

Lyons Mirror

Lyons Mirror Sun 

Lyons Sun 

Logan Valley Mirror 

Logan Valley Sun 

Lyons Weekly Sun 
Craig News 

Oakland Independent 

Oakland Independent and Republican 

Oakland Mail 

Oakland Republican 

Republican 
Cass County
Cass County Nebraska
Alliance Junior Normal

Alliance News

Alliance Tribune

Antelope County Review

Axtell Times

Brownville Democrat

Capitol City News

Carroll Index

Cass County Sentinel

Cherry County Republican

Criterion

Daily Bulletin

Daily Democrat

Daily Evening Bulletin

Daily Evening Chief

Daily Neligh Leader

Daily State Democrat

Daily Wymorean

Dawson County Herald

Dawson County Pioneer

Die Bestliche Rundschau

Elm Creek Beacon

Elmwood Bulletin

Elmwood Echo

Elmwood Leader

Elmwood Leader Echo

Emerson Tri County Press

Evening Chronicle

Farmers Advocate

Farmers Labor Herald

Fillmore County Review

Fort Robinson Assembly

Free Press

Gazette Oakdale

Geneva Review

Grafton Gazette

Hemingford Ledger

Independent Eagle

Jewish Press

Lexington Clipper

Litchfield Monitor

Loup Valley Eagle

Loupe Valley Eagle

Mason City Transcript

McCook Democrat

Murray Weekly Journal

Nebraska Advertiser

Nebraska Atlas

Nebraska City Daily Times

Nebraska City News

Nebraska Democrat

Nebraska Endeavor News

Nebraska Register

Nebraskian

Neligh Times

Norfolk Anzeiger

Northwest News

Ogalalla Reflector

Omaha Daily Republican

Omaha Daily World Herald

Omaha Public Ledger

Omaha Tribune

Osceola Daily Record

Osceola Record

Our Independent

Pattsmouth Democrat

Peru Times

Platte Valley Herald

Plattsmouth Herald

Plattsmouth Jeffersonian

Plattsmouth Journal

Pleasant Dale News

Record

Republican

Richardson County Courier

Rulo Independent

Rulo Reporter

Rulo Times

Rulo Weekly Star

Sarpy County Sentinel

Sarpy Sentinel

Sartoria Independent

Seward County Independent

Shelton Clipper

Silver Creek Oriole

Spalding Enterprise

Spalding Grit

Sterling Press

Strang Reporter

Sumner News

Sunday Journal and Star

Sutton Advertiser

Thomas County Clipper

Thomas County Herald

Thomas County Herald Clipper

Tobias American

Tri State Bugle

Tribune Record

True Voice

Union Worker

University Place Service Mens Whos Who and Where

Venango Independent

Waco Star

Weekly Gazette

Weekly News Messenger

Weekly Observer

Weeks Review

Western Daily Wave

Western Round Up

York County Press

York Daily Press

York Independent
Cheyenne County
Dalton Delegate
Cheyenne County Record

Peoples Poniard

Plaindealer Telegraph

Potter Review

Sidney Daily Sun

Sidney News

Sidney Republican

Sidney Sun-Telegraph

Sidney Telegraph

Sidney Telegraph And The Peoples Poniard

Telegraph

Telegraph News
Colfax County
The Howells Journal
Howells Journal
Cuming County
Cuming County Democrat
The Progress
The West Point Progress
West Point News
West Point Newspapers
West Point Republican
West Point Republican And Cuming County Advertiser
Custer County
Sargent Township Library
New Era
Sargent Echo
Sargent Leader
The Sargent Leader
West Union Gazette
Dixon County
Dixon County Archives
The Allen News

The Dixon Journal

Newcastle Times 

The Newcastle News

Emerson Cresent 

Dakota County Enterprise

Emerson Echo 

Emerson Era

Emerson Enterprise 

Emerson Times

Emerson Weekly Times

Emerson Tri County Press
Dixon County Advocate

Ponca Gazette 

Northern Nebraska Journal 

Nebraska Journal Leader

Homer Star 

Wayne Herald 
Dodge County
North Bend Public Library
North Bend Argus

Eagle

North Bend Republican

Mors Bluf Orel 

Morse Bluff Eagle 
Hooper Sentinel 

Rustler Sentinel 

Scribner Weekly News 

The Scribner News 

The Scribner Rustler 

The Snyder Banner
Douglas County
The Reader
Our Sunday Visitor
The Catholic Voice Omaha Archdiocesian Newspaper
The True Voice
Fillmore County
Libraries of Fillmore County
Exeter Enterprise

Fairmont Bulletin

Fairmont Tribune

Fillmore Chronicle

Fillmore County Bulletin

Fillmore County Democrat

Fillmore County News

Fillmore County Republican

Fillmore County Review

Fillmore Weekly Chronicle

Friday Journal

Friday Journal and The Nebraska Signal

Geneva Gazette

Geneva Review

Grafton Bulletin

Grafton Clarion

Grafton Gazette

Grafton Leader

Grafton News

Grafton Sun

Herald Sentinel

Milligan Journal

Milligan Review

Milligan Times

Nebraska Bulletin

Nebraska Signal

Nebraska Weekly Bulletin

Ohiowa Advertiser

Ohiowa Ohiowan

Ohiowa Opinion

Ohiowa Spot Light

Ohiowan

Our Independent

Record

Republican Journal

Shickley Herald

Signal

Strang Reporter

Sutton Advertiser

The Nebraska Signal

Tuesday Journal

Tuesday Journal and The Nebraska Signal

Tuesday Republican
Furnas County
Arapahoe Public Library
Public Mirror

Holbrook Observer 

Edison Echo 

Arapahoe Pioneer 

Arapahoe Weekly Pioneer 

Edison News 

Holbrook Herald 

Edison Record 

Herald

Edison Record 
Cambridge Clarion

Cambridge Kaleidoscope

The Cambridge Kaleidoscope

Clarion 

Kaleidoscope 
Gage County
Hometown Adams
Adams Gazette

Adams Globe

Adams Weekly Globe

Alliance Times

Alma Daily Herald

Amherst Fairplay

Anselmo News

Ashby Argus

Atlanta Record

Barneston Star

Bassett Bulletin

Beatrice Courier

Beatrice Daily Express

Beatrice Illustrated

Beatrice Presse

Beaver City Weekly Times

Bellevue Enterprise

Bellevue Press

Bellevue Record

Benedict Gazette

Blaine County Democrat

Blair Republican

Blue Springs Motor

Bradshaw Express

Brady Review

Brainard Eagle

Bromfield Gazette

Brownlee Booster

Brownville Biograph

Brownville Courier

Brownville Letter

Brownville Record

Byron Gleaner

Capital Times

Carleton Weekly Reporter

Cedar Bluffs Opinion

Cortland Herald

Custer Leader

Daily Beatrice Republican

Daily Democrat

Daily Morning Republican

Daily Report

Daily Republican

Dundy Democrat

Elgin Advance

Era

Fairfield Auxiliary

Farnam Caprice

Free Lance

Garfield County Gazette

Journal And Star

Justice

Kaleidoscope

Kicker

Leader

Liberty Journal

Lincoln Monthly

Litchfield Monitor

Odell Enterprise

Omaha Guide

Omaha World Herald

Otoe Herald

Platte Valley Times

Saunders County Leader

Spalding Enterprise

St Edward Advance

Sugar Beet Era

Thedford Tribune

Twice A Week News

Unionist

War Whoop

Washington Pulse

Weekly Arbor State

Weekly Nebraska Times

Weekly Sentinel

West Beatrice News

Wheeler County News

Word

Wymore Union
Greeley County
Scotia Public Library and Heritage Center
Greeley Citizen

Greeley Herald

Scotia Herald 

Scotia Register 
Hall County
Hall County
Arlington Defender

Banner

Battle Creek Enterprise

Beatrice Illustrated

Beatrice Presse

Blair Republican

Butler County Press

Centennial News

Central Nebraska Republican

Coplanter

Daily Evening Times

Daily Morning Republican

Danbury Topics

David City Tribune

Dawson County Pioneer

Decatur Advertiser

Doniphan Eagle

Dwight Doodles

Evening News

Fairbury Journal-News

Grand Island Daily Press

Grand Island Daily Republican

Grand Island Herald

Grand Island independent

Grand Island Times

Grand Island Weekly Journal

Harlan County Times

Indianola Weekly Courier

Logan County Star

Madison Democrat

Meadow Grove Press

Morning Bulletion

Nebraska Chronicle

Nebraska City Daily Times

Nebraska Courier

North Platte Democrat

Omaha World-Herald Bilzzard of 1949

Palisade Pioneer Press

Peoples Banner

Platte Valley Independent

Republican Valley Sentinel

Rising City Independent

Shubert Gazette

Spalding Grit

Strictly GI

Syracuse Daily Journal

Syracuse Journal-Democrat

The Alma Herald

The Alma Weekly Tribune

The Anti-Monopolist

The Arlington Herald

The Barneston Star

The Beatrice Courier

The Bellevue Enterprise

The Bellwood Gazette

The Blue Springs Motor

The Brainard Clipper

The Brownlee Booster

The Buffalo County Beacon

The CAAPtion

The Cairo Record

The Cairo Tribune

The Capital Times

The Central Star

The Cortland Herald

The Cowles Enterprise

The Culbertson

The Daily Democrat

The Daily Report

The Daily Republican

The Democrat

The Doniphan Enterprise

The Doniphan Herald

The Doniphan Index

The Elgin Advance

The Elkhorn Independent

The Elkhorn Leader

The Elmcreek Beacon

The Evening Times

The Fairfield Auxiliary

The Farnam Caprice

The Firth Weekly Times

The Free Press

The Friend Free Press

The Genoa Banner

The Gibbon Gazette

The Gibbon Journal

The Grand Island Daily Independent

The Grand Island Daily Press

The Grand Island Democrat

The Grand Island Herald

The Grand Island Herald Combined With The Grand Island Shopping News

The Harlan County Press

The Hitchcock County News

The Humboldt Sentinel

The Kangaroo

The Kearney Daily Hub

The Kearney Enterprise

The Kearney Junction Times

The Lexington Gazette

The Liberty Journal

The Lincoln Monthly

The Litchfield Monitor

The Loup County News

The Mead Advocate

The Morning Free Press

The Morning Herald

The Mullen Enquirer

The Nebraska Register

The Nebraska Wheat Grower

The Norfolk Herald

The Odell Enterprise

The Odell Oracle

The Omaha Guide

The Oshkosh Herald

The Peoples Banner and David City Tribune

The Peoples Defender

The Peoples Rip-Saw

The Platte Valley Independent

The Plattsmouth Journal

The Register

The Schuyler Sun

The Spalding Enterprise

The Spalding Sentinel

The St Edward Advance

The Stratton News

The Sugar Beet Era

The Sunbeam

The Suprise Gazette

The Syracuse Democrat

The Tank Buster

The Taylor Clarion

The Twice-A-Week News

The Union Weekly News

The Unionist

The Waterloo News

The Weekly Arbor State

The Weekly Sentinel

The West Nebraska Register

The Wood River Sunbeam

The Word

The Wymore Union

The York Monitor

Thedford Tribune

Valparaiso Hi-Lites

Waterloo Review

Weeping Water Herald

Wellfleet Argus

West Nebraska Register

West Point News

West Point Republican

Western Nebraskian

Wood River
Holt County
Atkinson Library
Atkinson Enterprise 

Atkinson Graphic 

Atkinson Plain Dealer 

Holt County Republican 

Republican

The Akinson Graphic
Howard County
Saint Paul Library
Dannebrog News 

Howard County Herald 

Phonograph 

Phonograph Herald 

Phonograph Press 

Press 

Republican 

Saint Paul Press 

Saint Paul Republican 

St. Paul Phonograph 

St. Paul Press 

St. Paul Republican 
Kearney County
The Minden Courier
The Workman
Kimball County
Kimball Public Library
Western Nebraska Observer
Kearney Morning Times
Kimball Observer
Nebraska Observer
The Bushnell Record
The Western Nebraska Observer
Knox County
Creighton Public Library
Creighton Courier 

Creighton Liberal 

Creighton News 

Knox County News 

Nebraska Liberal 

Peoples News 

Surprise 

The Creighton News
Centennial

Centennial Addendum

Centennial Index

Verdigre Citizen

Verdigre Eagle

Verdigre Progress
Lincoln County
North Platte Genealogical Society
Current 

Daily Telegraph 

Enterprise 

Evening Telegraph 

Farmer Labor Herald 

Independent Democrat and Era 

Independent Era 

Lincoln County Advertiser 

Lincoln County Journal 

Lincoln County Tribune 

Nebraska Republican 

North Platte Daily Bulletin 

North Platte Daily Record 

North Platte Daily Telegraph 

North Platte Daily Telegraph Bulletin 

North Platte Democrat 

North Platte Enterprise 

North Platte Herald

North Platte Nebraskian 

North Platte Republican 

North Platte Semi Weekly Tribune 

North Platte Sunday Herald 

North Platte Telegraph 

North Platte Tribune 

Peoples Government 

Platte Valley Independent 

Saturday Record 

Semi Weekly Telegraph 

Telegraph 

Telegraph Bulletin 

Tribune 

Tribune Shopper 

Weekly Republican 

Western Nebraskian 
Madison County
Tilden Newspapers
Meadow Grove News

Meadow Grove Tribune

Tilden Citizen

Tilden Citizen Meadow Grove News
Norfolk Daily News
Special Editions
The Nebraska Press
The Norfolk Daily News
The Norfolk Merchants News
The Norfolk Sunday News
The Norfolk Weekly News
The Saturday Evening News
Merrick County
Central City Public Library
Central City Courier

Central City Democrat

Central City Nonpareil

Central City Record

Central City Record and Central City Democrat

Central City Republican

Central City Republican and Record

Central City Republican-Nonpareil

Clarks Enterprise

Clarks Leader

Clarks News

Enterprise

Lone Tree Courier

Madison County Chronicle
Madison County Review

Merrick County Item

Nonpareil

Palmer Express

Palmer Journal

Palmer Record

Silver Creek Sand
Silver Creek Times
The Clarks Enterprise
The Clarks News
The Palmer Journal
Twin City Post
Weekly Review
Morrill County
Nuckolls County
Nelson Public Library
Hardy Herald

Nelson Gazette

Oak News

Ruskin Leader

Superior Express
Otoe County
Otoe County Archives
Burr Oak
Burr Star

Daily Nebraska City News

Douglas Enterprise
Dunbar Review
Enterprise
Items

Journal Democrat

McCook Daily Gazette
Nebraska Advertiser

Nebraska City Daily News

Nebraska City News

Nebraska City News Press
Nebraska City News-Press

Nebraska Daily News Press

Nebraska News

Otoe County Grit
Otoe Gazette
Otoe Optic
Otoe Union
Palmyra Bee
Palmyra Items

Syracuse Democrat

Syracuse Herald

Syracuse Journal

Syracuse Journal Democrat

Talmage Topics
Talmage Tribune
Times
Union
Volunteer Fire Dept
Wyoming Post
Wyoming Telescope
The News-Press
The Osceola Record
Perkins County
Hastings Memorial Library
Grant Tribune Sentinel 

Leader 

Madrid Era 

Madrid Herald 

Madrid News 

Perkins County Herald Sentinel 

Perkins County News 

Perkins County Newspaper 

Perkins County Pioneer

Perkins County Sentinel

Perkins County Tribune 

The Elsie Leader 

The Grant Tribune Sentinel 

Tribune Sentinel 

Venango Argus 

Venango Union 
Pierce County
Lied Pierce Public Library
Pierce County Call

Pierce County Leader 

The Pierce Times-Call
Plainview Gazette 

Plainview News 

Plainview Republican 

Republican 

Semi Weekly Republican 
Platte County
Humphrey Library
Cornlea Hustler
Creston News
Creston Statesman

Democrat

Humphrey Democrat

Humphrey Herald
Humphrey Independent
Lindsay Post
Lindsay Weekly Post
Platte County Leader
The Humphrey Democrat
Polk County
Polk County Historical Society 
Headlight 

Homesteader 

Osceola Record 

Polk County Democrat 

Polk County Farmers Advocate 

Polk County Independent 

Polk County News

Polk County Republican 

Polk Progress

Polking Around 

Shelby Sun 

Stromsburg News 

Stromsburg Republican 

Stromsburg Weekly News 

Sun 
Saline County
Crete Heritage Society
Crete Democrat

Crete Globe

Crete Herald

Crete News

Crete Vidette

Crete Vidette Herald

Saline County Post

Saline County Union

State Vidette

Vidette
Doane Owl
Owl
Doane Owl Daily
Scotts Bluff County
Mitchell Public Library
Index
Mitchell Index
The Mitchell Index
The Nebraska Homestead
The Voice News
The Wilber Republican
The Saline County Democrat
Seward County
Seward Memorial Library
Beaver Crossing Bugle

Beaver Crossing Newsletter

Beaver Crossing Times

Bellevue Press

Blue Valley Blade

Blue Valley Record

Cass County Chronicle

Clay County Sun

Daily Helmet

Democrat

Deutsche Farmer Zeitung

Deutsches Journal

Echo

Farmer Patriot and Bugle Journal

Fort Calhoun Herald

Garland Herald

Germantown Gleaner

Goehner News

Gresham Review

Herman Advertiser

Hooker County Tribune

Independent

Independent

Independent Examiner

Kearney Hub Shopping News

Life

Lincoln Tribune

Litchfield Northwestern

Louisville Courier

Loup Valley Queen

Malmo Clipper

Mead Advocate

Metro Magazine

Milford Monitor

Milford Nebraskan

Milford Ozone

Milford Review

Milford Times

Milford Times And Continuing The Seward Citizen

Milford Weekly Nebraskan

Miller Sun

Morning Nation

Nebraska Advocate

Nebraska Deutsche Farmer Zeitung

Nebraska Guide

Nebraska Reporter

Nebraska Standard

Nebraska Weekly Reporter

New Era

New Era Review

Omaha Excelsior

Palmyra Pilot

Pilger Herald

Pleasant Dale Quiz

Pleasant Dale Quiz1

Pleasant Dale Quiz2

Pleasant Dale Quiz3

Polk Progress

Pride of Beaver Crossing

Pritel Lidu

Progress

Red Cloud Democrat

Rising City Independent

Seward Advocate

Seward Blue Valley Blade

Seward Citizen

Seward County Democrat

Seward County Independent

Seward County Tribune

Seward Daily News

Seward Independent

Seward Independent Democrat

Seward Journal

Seward Semi Weekly Reporter

Seward Weekly Reporter

Sherman County Homesteader

Silver Blade

Stanton Bugle

Stanton Index

Staplehurst Sentinel

Tamora Lyre

Tamora Register

Tamora Weekly Register

The Milford Times

Ulysses Monitor

Union Worker

Utica Record

Utica Sun

Utica Weekly Sun

Valley and Range

Wabash News

Wahoo Republican

Weekly Nebraskan

Weekly Review
Stanton County
Stanton Public Library
Stanton Register

Stanton Weekly Register

Weekly Stanton Register 

Register Stanton 
Valley County
North Loup Public Library
The North Loup Loyalist 

North Loup Loyalist

The Loyalist
Wheeler County
Village of Bartley
Logan Valley Herald (1884)
Nebraska Democrat (1898-1938)
Wayne Democrat (1892-1897)
Wayne Herald (1888-2022)
Wayne Herald Tribune (1884-1885)
Wayne Journal (1892)
Wayne News (1938-1943)
Wayne Republican (1895-1903)
Wayne Review (1876)
Student Collections:
Benson High School – Omaha
Chadron State College – Chadron
Clarkson College – Omaha
Creighton University – Omaha
Doane University – Crete
Hastings College – Hastings
Holdrege High School – Holdredge
Midland University – Fremont
Nebraska Wesleyan University – Lincoln
Northwest High School – Grand Island
Omaha Central High School – Omaha
Peru State College – Peru
University of Nebraska – Kearney
University of Nebraska – Lincoln
University of Nebraska – Omaha
University of Nebraska Medical Center – Omaha
Wayne State College – Wayne
Westside High School – Omaha
York College – York
Miscellaneous Collections and Indexes:
Civilian Conservation Corps (CCC) Newspapers 1933-1941
American Prison Newspapers, 1800-2020
Independent Voices – Alternative Press
Danish American Newspapers and Journals 
Episcopal Diocese of Nebraska Newspaper Collection
The Guardian
The Diocese of Nebraska
NE Newspaper Extraction Project (Index only)
Newspaper Abstracts – Nebraska
For Obituary Indexes, transcriptions, and other death/obituary information from historic newspapers, please check out the Obituaries page.
Other Free Sites:
Kearney
Lincoln
Omaha
Ord
Scottsbluff
Seward
Subscription or Pay Sites:
Ancestry.com:
There are currently 32 publications available on this site. See all the titles at Ancestry – Nebraska Newspapers
Genealogy Bank:
There are currently 148 publications available on this site. See all the titles at Genealogy Bank – Nebraska Newspapers
Newspaper Archive:
There are currently 149 publications available on this site. See all the titles at Newspaper Archive – Nebraska
Newspapers.com:
There are currently 2,514 publications available on this site. See all the titles at Newspapers.com – Nebraska. 
And Finally:
You also need to visit the Nebraska Digital Newspaper Project site from time to time, which can tell you what is occurring in the state with regard to online newspaper availability. 
Please note – even more may be available via a local or state library where a library card is required. And of course, there is always microfilm for those that have not been made available online as yet.
For more links for different states, provinces, and countries – please see the Newspaper Links page on this website.