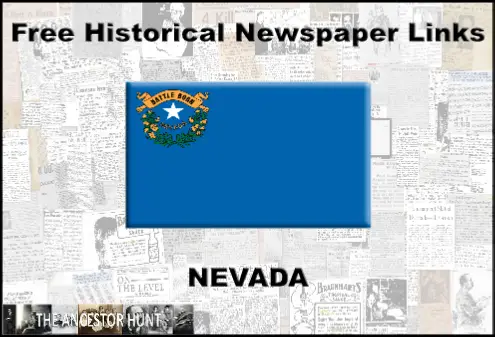 Nevada is one of the states that does not have a single central online state repository for historical newspapers, but they use the Library of Congress Chronicling America site as the main site for searching old newspapers. There are some free online newspapers on other sites and collections available on subscription sites. Below is a list of where the titles are stored and the link so that you can access them. 
There are about 650 newspapers that have been published in the Silver State – certainly not all of them are searchable online. But there are several that are indeed available. So go for it – find your Nevada ancestors and all the interesting articles that capture the stories of their lives. 
Please note that I have not always entered the dates that are included in the collections, as I suspect they will change as more items are digitized. Also, I suspect that some of these links may change over time – so if there is a dead link – please use your favorite search engine to find their new location. 
(Updated July 2023; recently added links are in BOLD)
Nevada Historical Newspapers
Free Sites:
​
Statewide Collections:
Google News Archive
Cooperative Libraries Automated Network
County and Library Collections:
​Douglas County
Douglas County Public Library
Carson Valley News 

Courier 

Gardnerville Record 

Genoa Courier 

Genoa Weekly Courier 

Minden Times 

Record 

Record Courier 

The Record-Courier
Nevada Daily Appeal

Morning Appeal

Carson Daily Index

Daily Index 
Henderson Digital Public Library
The Big Job

Basic Bombardier

Henderson Home News
Nye County
RMGC Valley View
Smoky Valley Sentinel
The Smoky Valley Memo
Pershing County
Lovelock Review Miner
Lovelock Review-Miner
Lovelock Review-Miner and Lovelock Tribune
Lovelock Tribune
Mining Topics
Nevada New Era
Northern Nevada Weekly Mine Review
Review Miner
Rochester Journal
Seven Troughs and Lovelock Review Miner
Seven Troughs District News
Seven Troughs Miner
The Argus
The Chafey News
The Daily Humboldt Register
The Humboldt Register
The Humboldt Register and Workingmans Advocate
The Lovelock Review
The Lovelock Tribune
The Lovelocks Courier
The Rochester Miner
Vernon Miner
Vernon Review
White Pine County
Ely Daily Times
The White Pine News
Bristlecone Tribune
Student Collections:
Basic High School – Henderson
College of Southern Nevada – Las Vegas
Nevada State College – Henderson
Sierra Nevada College – Incline Village
Truckee Meadows Community College – Reno
University of Nevada – Reno
University of Nevada – Las Vegas
Miscellaneous Collections and Indexes:
Civilian Conservation Corps (CCC) Newspapers 1933-1942​
Independent Voices – Alternative Press
Small Town Papers
Old Fulton Postcards
For Obituary Indexes, transcriptions, and other death/obituary information from historic newspapers, please check out the Obituaries page.​​​​
Other Free Sites:
​Aurora
Las Vegas
Virginia City
Subscription or Pay Sites:
Ancestry.com:
There are currently 30 publications available on this site. See all the titles at Ancestry – Nevada Newspapers
Genealogy Bank:
There are currently 110 publications available on this site. See all the titles at Genealogy Bank – Nevada Newspapers
Newspaper Archive:
There are currently 41 publications available on this site. See all the titles at Newspaper Archive – Nevada
Newspapers.com:
​
There are currently 42 publications available on this site. See all the titles at Newspapers.com – Nevada. 
And Finally:
You also need to visit the Nevada Digital Newspaper Project for updates for the state-wide activities in digitizing new Nevada newspaper collections.
Please note – even more may be available via a local library where a library card is required. And of course, there is always microfilm for those that have not been made available online as yet.
For more links for different states, provinces, and countries – please see the Newspaper Links page on this website.