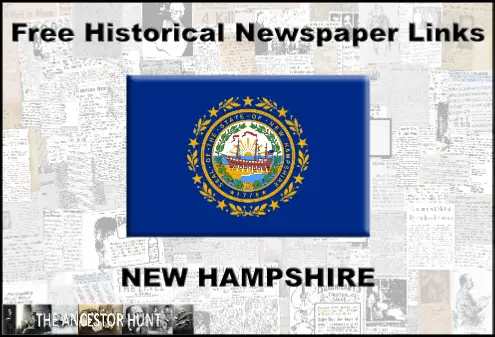 New Hampshire is one of the states that does not have a single central online state repository for historical newspapers, nor do they use the Library of Congress Chronicling America site as their main site for searching old newspapers. There are several free online newspapers on other sites and collections available on subscription sites. Below is a list of where the titles are stored and the link so that you can access them. 
There are about 1,300 newspapers that have been published in the Granite State – certainly not all of them are searchable online. But there are several that are indeed available. So go for it – find your New Hampshire ancestors and all the interesting articles that capture the stories of their lives. 
Please note that I have not always entered the dates that are included in the collections, as I suspect they will change as more items are digitized. Also, I suspect that some of these links may change over time – so if there is a dead link – please use your favorite search engine to find their new location. 
(Updated July 2023; recently added links are in BOLD)
New Hampshire Historical Newspapers
Free Sites:
Statewide Collections:
Google News Archive
Boston Sunday Globe NH Weekly 1989-June 2001

Business NH 1989-

Concord Monitor 1984-August 2005

Historical New Hampshire 1984-

Nashua Telegraph 1984-1995

New Hampshire Bar Journal June 2003-

New Hampshire Bar News 2003-

New Hampshire Premier 1990-1995

New Hampshire Profiles 1985-1991

Northern NH Magazine 1998-

Spectator 1990-1991

Union Leader 1984-2002
County and Library Collections:
Carroll County
Conway Public Library
Reporter

White Mountain Reporter

Fryeburg Reporter

The Reporter
Coos County
Colebrook Public Library
The Colebrook Sentinel
The Essex County Sentinel
The News and Sentinel
The Northern Sentinel
The Upper Coos Herald
Grafton County
Bethlehem Public Library
The Lisbon Courier
The Littleton Courier
Bristol Weekly Enterprise
Enterprise
The Bristol Enterprise
The Record Enterprise
Weekly Enterprise
Hillsborough County
Fuller Public Library
Hillsboro Enterprise 

Hillsboro Messenger 

Hillsborough Messenger 

Messenger 

Messenger 

Messenger Outlook 

News Messenger 
Nashua Daily Telegraph

Nashua Telegraph

L'Impartial
Contoocook Transcript
Hillsboro County Republican And State Clarion
Hillsborough Republican
Hillsborough Republican And New Hampshire Clarion
Jaffrey Recorder Transcript
Millers Paper
Monadnock Ledger
Monadnock Ledger Transcript
Monadnock Ledger-Transcript
New Hampshire Land Surveyor
New Hampshire Underground Railroad
Peterborough Messenger
Peterborough Transcript
The Peterborough Transcript
Transcript
Cabinet

Farmers Cabinet 

Farmers Cabinet and Milford Advance 

Milford Cabinet 

Milford Cabinet and Wilton Journal 

Milford Daily Pointer 

Wilton Journal 

The Cabinet
The Milford Cabinet And Wilton Journal 
Merrimack County
New Hampshire State Library
New Hampshire Sentinel
Keene Evening Sentinel
Rockingham County
Derry Public Library
Derry Enterprise
Derry News
Derry News And Salem Enterprise
Derry Serviceman
Derry Times
Evening Record
Manchester Advertiser
Nutfield News
Nutfield News Tri Town Times
The Derry News
The Derry Star
The Enterprise
Thursday
Exeter News-Letter
Exeter News-Letter and Rockingham Advertiser
Exeter News-Letter and Rockingham County Advertiser
Exeter News-Letter and Rockingham Probate Advertiser
The Exeter News-Letter
Annual Reports 

The Windham News

Windham Independent 

Windham News 
Strafford County
Fosters Daily Democrat
Fosters Democrat
Fosters Weekly Democrat
Fosters Weekly Democrat And Dover Enquirer
The Public Forum
​Sullivan County
Fiske Free Library​
National Eagle 

The National Eagle
Argus Champion

New Hampshire Argus And Spectator

Republican Champion

Argus Champion And Newport Lake Sunapee Times 

News Leader

Newport Guardian And Kearsarge Sunapee Sun

Lake Sunapee Echo 

Newport Lake Sunapee Times 

Tuesday Argus 

Whip And Spur

Daily Champion
Lane Memorial Library Hampton Newspapers
Hampton snippets from old historical newspapers (1700s-1800s)
Atlantic News
Beachcomber
Beach News
Exeter News-Letter
Hampton Union
Hampton-NorthHampton Patch.com
Student Collections:
Antioch University New England – Keene
Colby Sawyer College – New London
Dartmouth College – Hanover
​Franklin Pierce University – Rindge
Granite State College – Concord
Hanover High School – Hanover
Keene State College – Keene
Manchester Community College – Manchester
New England College – Hanniker
Oyster River High School – Durham
Phillips Exeter Academy – Exeter
Plymouth State University – Plymouth
Rivier University – Nashua
Saint Anselm College – Goffstown
Southern New Hampshire University – Manchester
University of New Hampshire – Durham
Miscellaneous Collections and Indexes:
Independent Voices – Alternative Press
Civilian Conservation Corps (CCC) Newspapers 1933-1941
Newspaper Abstracts – New Hampshire
For Obituary Indexes, transcriptions, and other death/obituary information from historic newspapers, please check out the Obituaries page. ​​​​
Other Free Sites:
Berlin
Concord
Lebanon
Manchester
Portsmouth
Subscription or Pay Sites:
Ancestry.com:
There are currently 19 publications available on this site. See all the titles at Ancestry – New Hampshire Newspapers
Genealogy Bank:
There are currently 138 publications available on this site. See all the titles at Genealogy Bank – New Hampshire Newspapers
Newspaper Archive:
There are currently 17 publications available on this site. See all the titles at Newspaper Archive – New Hampshire
Newspapers.com:
There are currently 12 publications available on this site. See all the titles at Newspapers.com – New Hampshire. 
And Finally:
You also need to visit the New Hampshire Newspaper Project site, which can tell you what is occurring in the state with regard to newspaper projects and also where some microfilmed newspapers are available in the state. 
Please note – even more may be available via a local library where a library card is required. And of course, there is always microfilm for those that have not been made available online as yet.
For more links for different states, provinces, and countries – please see the Newspaper Links page on this website