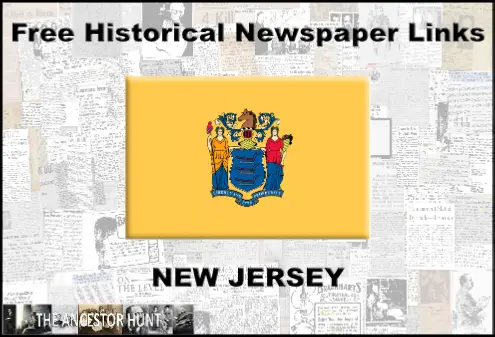 New Jersey is one of the states who do not have a central online repository for searching historical newspapers. Several states use the Library of Congress Chronicling America site as their main central online site for searching old newspapers. New Jersey just starting adding digitized titles to that site. The online newspaper titles are available from several different sites, many free and some require a subscription. Below is a list of where the titles are stored and the link so that you can access them. 
There are around 2,000 newspapers that have been published in the Garden State – certainly not all of them are searchable online. But there are quite a few that are indeed available. So go for it – find your New Jersey ancestors and all the interesting articles that capture the stories of their lives. 
Please note that I have not always entered the dates that are included in the collections, as I suspect they will change as more items are digitized. Also I suspect that some of these links may change over time – so if there is a dead link – please use your favorite search engine to find their new location. 
(Updated May 2021; recently added links are in BOLD)
Free Sites:
Statewide Collections:
Chronicling America – New Jersey
Google News Archive
New Jersey Digital Highway – Newspapers
New Jersey Media Group Archives (index; articles must pay)
County and Library Collections:
Atlantic County Digitized Newspapers
The Crab
Coast Advertiser
Ocean Grove Times
Coast Echo
The Ramsey Journal
The Journal
The Waldwick Journal
Cape May Court House Library (in library access only)
Chatham Courier
Chatham News
Chatham Press
Chester Library (Library access only)
Observer-Tribune 
The Mendham-Chester Tribune
Clark Public Library Historical Newspapers 
Clark Patriot 
The Eagle 
Union County Local Source
Elizabeth Public Library
Englewood Public Library Newspapers
Fanwood Memorial Library & Scotch Plains Public Library
Franklin Township (Library access only)
Record (1948-1958)
Franklin News (1954-1958)
Franklin News-Record (1958-1998)
Franklin Focus (1989-1997)
Spectator (1992-1998)
Strictly Somerset (1994-1997)
The Haddon Gazette
The Haddon Gazette Suburban
The Suburban
Excelsior
Hightstown Gazette
Village Record
Daily Graphic
Independent
Independent Weekly
Reporter
Hillside Public Library Newspapers
Bergen County Gazette and Jersey City Advertiser
Daily Courier and Advertiser
Daily Evening Times
Daily Sentinel and Advertiser
Daily Times
Jersey City Advertiser and Bergen Republican
Jersey City Daily Times
Jersey City Gazette and Bergen County Advertiser
Jersey City Times
Jersey City Weekly Courier
The Bergen County Courier
The Evening Sentinel
The Hudson County Courier
The Jersey City Advertiser and Hudson County Republican
The Jersey City Herald
Lambertville Free Library Newspapers
Beacon
Beacon and Lambertville Record
Lambertville Beacon
Peoples Beacon
The Beacon

The Lambertville Beacon
Matawan Aberdeen Public Library
Metuchen Recorder
Metuche Review
New Brunswick Public Library
New Providence Memorial Library
Millburn-Short Hills Independent Press
Berkeley Heights New Providence Press
Berkeley Heights New Providence Independent Press
Newark Public Library Digitized Newspapers
Ocean City Free Public Library Newspaper Archive
Daily Sentinel (in library)
Daily Reporter (in library)
Ledger (in library)
Ocean City News (in library)
Ocean City Sentinel (in library)
Cape May County Gazette (in library)
Somers Point Herald (in library)
Ocean City Sentinel Ledger (in library)
Cape May County Gazette
Daily Reporter
Ledger
Ocean City Sentinel
Sentinel Ledger
Plainfield Historical Newspaper Collection
Princeton University Library
Randolph News-Journal
The Home News Of Randolph Township
The Randolph Reporter
Red Bank Public Library
Riverton Historical Newspapers
Rockaway Township Free Public Library
Sadie Pope Dowdell Public Library
South Brunswick Public Library
Central Post
South Brunswick Post
Asbury Park Journal
Coast Echo
Coast Star
Manasquan Seaside
Summit Free Public Library Historical Newspapers
Herald
Observer
Dispatch
Herald-Dispatch
Union County Local Source
Record
Post
Post Boy
Sunday Republican
Watertown Journal
Watertown News
Westfield Memorial Library Newspapers
Woodbridge Township Historic Newspapers
Student Collections:
Bergen Community College – Paramus
Bordentown Manual Training School – Bordentown
Caldwell University – Caldwell
Centennary College – Hackettstown
College of New Jersey – Ewing
Drew University – Madison
Essex County College – Newark
Farleigh Dickinson University – Teaneck
Farleigh Dickinson University – Florham
Georgian Court University – Lakewood
Highland Park High School – Highland Park
John P Stevens High School – Edison Township
Kean University – Union
Monmouth University -West Long Branch
Montclair State University – Montclair
New Jersey City University – Jersey City
New Jersey Institute of Technology – Newark
New Jersey School for the Deaf – Ewing Township
North Plainfield High School – North Plainfield
Princeton University – Princeton
Rider University – Lawrenceville
Ramapo College – Mahwah
Rutgers University – New Brunswick
Summit High School – Summit
Seton Hall University – South Orange
St. Peters University – Jersey City
Stevens Institute of Technology – Hoboken
Stockton University – Galloway Township
The College of New Jersey – Ewing Township
Thomas Edison State University – Trenton
West Essex Regional High School – North Caldwell
William Paterson University – Wayne
Miscellaneous Collections and Indexes:
Independent Voices – Alternative Press
Common Sense
Fort Dix 38 Speak Out
Forward
Fragging Action
Mailing List of Organizations opposed to the War in Vietnam
New Directions for Women
New Directions for Women in New Jersey
Shakedown
SPD News
Talisman
Tamarisk
Civilian Conservation Corps (CCC) Newspapers 1933-1942
Asbury Park NJ Daily Press (1876-1901)
Asbury Park NJ Journal (1898-1901)
Atlantic City NJ Daily Union (1889-1900)
Belmar NJ Coast Advertiser (1918-27, 1929-30, 1933-74)
Bernardsville NJ News (1897, 1903-1922)
Bloomfield NJ Citizen ( 1872-1913 )
Bloomfield NJ Independient Press (1891-1961 )
Bloomfield NJ Record (1873-1936 )
Bridgeton NJ Pioneer (1884-1917)
Bridgeton NJ West Jersey Pioneer (1852-1884)
Clifton NJ Jewish Community News (1980-1985 )
Cranford NJ Chronicle (1894,95,97,1899-1909)
Cranford NJ Citizen (1906-1921)
Dover NJ Iron Era (1872-1905)
Fair Lawn NJ Israelight (1960-1970 )
Hackettstown NJ Forum ( 1974-1978 )
Hackettstown NJ Gazette (1857-1962 )
Hackettstown NJ Gazetteold ( )
Hackettstown NJ Warren Republican ( 1883-1920 )
Hightstown NJ Gazette (1862-1898)
Hightstown NJ Independent (1846, 1881-1900)
Hightstown NJ Village Record (1849-1861)
Jersey City NJ Jewish Standard ( 1931-1936 )
Jersey City NJ News (1889-1906)
Little Falls NJ Herald (1929-1960)
Little Falls NJ Passaic Valley Journal (1975-1982)
Little Falls NJ Reporter (1919-1929)
Little Falls NJ Times Herald ( 1960-1975)
Matawan NJ Journal (1869-1922)
Ocean Grove NJ Times (1875-1922)
Paterson NJ Evening News (1895-1896)
Paterson NJ Morning Call (1885-1922)
Paterson NJ The Jewish Post (1934-1941 )
Pattern NJ Federation News  (1970-1986 )
Perth Amboy NJ Evening News (1903-1921)
Peterson NJ Daily Gardian (1857-1895)
Peterson NJ Evening News (1912-1922)
Plainfield NJ Constitutionalist ( )
Princeton NJ Town Topics 1946-1956 (1946-1956)
Rahway NJ Daily Record (1911-1919)
Rahway NJ National Democrat (1873-1889)
Red Bank NJ Register (1878-1891)
Summet NJ Herald (1896-1923)
Summet NJ Record (1883,89-92,96,14,16,21,23)
Wayne NJ Passaic Valley Today (1986-1989)
Newspaper Abstracts – New Jersey
For Obituary Indexes, transcriptions, and other death/obituary information from historic newspapers, please check out the Obituaries page.
Other Free Sites:
Bernardsville
Boonton
Burlington
Caldwell
Camden
Carlstadt
Clifton
Dover
Flemington
Fort Dix
Haddonfield
Hoboken
Lawrenceville
Long Branch
Maplewood
Matawan
Metuchen
Montclair
Morristown
Newark
New Brunswick
Nutley
Parsippany
Passaic
Paterson
Plainfield
Princeton
Secaucus
Trenton
Tuckerton
Washington
West Orange
Woodland Park
Subscription or Pay Sites:
Ancestry.com:
There are currently 29 publications available at this site. See all the titles at Ancestry – New Jersey Newspapers
Genealogy Bank:
There are currently 275 publications available at this site. See all the titles at Genealogy Bank – New Jersey Newspapers
Newspaper Archive:
There are currently 99 publications available at this site. See all the titles at Newspaper Archive – New Jersey
Newspapers.com:
There are currently 146 publications available at this site. See all the titles at Newspapers.com – New Jersey 
And Finally:
You also need to check out the New Jersey Digital Newspaper Project site, which can tell you what is happening in the state with regard to the newspapers that have been digitized and are becoming available via microfilm or online. 
Please note – even more may be available via a local library where a library card is required. And of course there is always microfilm for those that have not been made available online as yet.
Good Luck and Happy Hunting!
For more links for different states, provinces, and countries – please see the Newspaper Links page on this website.
For other Free New Jersey Links, click on the category of interest:
Newspapers
Obituaries
BMD Records
Photos
Yearbooks
Directories
Divorce Records
Naturalizations
Church Records
School Records
Coroner Records
Voter Records
Probate and Wills
Immigration
Mortuary Records
Alumni Records
Cemetery Records
Share on facebook
Share on twitter
Share on linkedin
Share on email